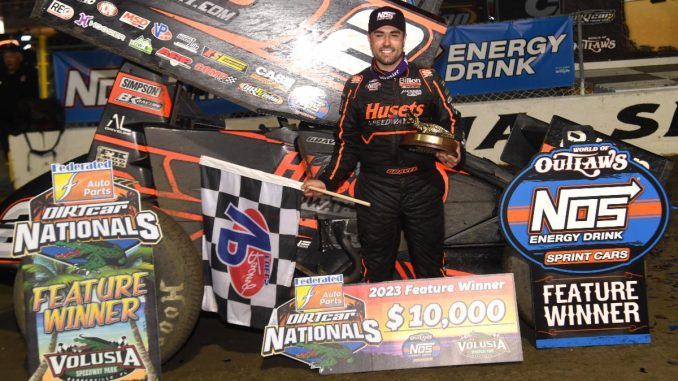 Inside Line Promotions
BARBERVILLE, Fla. (Feb. 16, 2023) – Big Game Motorsports driver David Gravel captured the first two World of Outlaws NOS Energy Drink Sprint Car Series main events of the season last weekend during the Federated Auto Parts DIRTcar Nationals hosted by Volusia Speedway Park.
Gravel's victories, which both came on Friday evening only a few hours apart after Thursday's opener was postponed because of rain, made him only the sixth driver to win twice on the same day and just the seventh driver to capture the first two main events of a season. It also marked three straight World of Outlaws triumphs at the track dating back to the DIRTcar Nationals finale in 2021.
"Volusia has been a good track for us," he said. "We were pretty strong every night. We were happy to unload and be in the ball game. We lacked a little qualifying speed, but we had one of the best cars in race trim."
Gravel entered the event on Tuesday when he qualified fourth quickest overall and won both a heat race and the dash to garner the pole position for the Tezos All Star Circuit of Champions main event.
"I felt we had a really good car early on," he said. "As the track got slicker and our fuel burned off we got out of the race track. After the A Main we knew exactly what we needed to do to be better for that night. We were overall happy with the first night and knew what to work on moving forward."
Gravel's third-place finish was his eighth straight top five at the event behind the wheel of the Big Game Motorsports sprint car.
The team returned to the half-mile track on Wednesday for another All Star race. Gravel timed in 30th quickest overall, but a rally from eighth to fifth place in a heat race locked him into the main event. He then charged from 20th to 10th to pass the second-most cars in the feature.
"The track was different this year and it was a good learning experience," he said. "We didn't qualify good and had work to do. We were able to pass cars in the heat race to get ourselves in the A Main. We knew we had to pass a lot of cars in the feature and we did that to work our way into the top 10."
The World of Outlaws season got underway in a strong way on Thursday with Gravel qualifying fourth quickest. A heat race win was followed by a run from seventh to fourth place in the dash. Gravel lined up on the outside of the second row in the main event, which was postponed until Friday as rain hit the track just as the feature was about to begin.
"Even though we drew a seven for the dash we didn't let that bother us," he said. "We passed some cars and that was huge to get to fourth. If we started seventh we weren't winning that feature. Once the feature started on Friday we got a good jump and able to get to third. (Danny) Dietrich was running low and we were good up the track. We got to second early and then as far as getting the lead we waited for traffic and I was able to get by (Anthony) Macri.
"It's hard to get these Outlaws wins. You always want to start off strong. From year to year you don't know. We have the same equipment, but things seem to change over time. We were able to have a fast race car because the guys did a good job in the offseason."
Gravel took the momentum from the feature victory into Friday's regular program as he timed in seventh quickest. He placed second in a heat race and gained a spot to end third in the dash. Gravel continued his winning ways by taking over second place near the midpoint of the 30-lap feature before he drove into the lead with nine laps remaining.
"Buddy (Kofoid) got by (Cory) Eliason in traffic and we were able to get by him after," he said. "I thought Buddy was going to win the race. A caution came out and we were able to rip the top and get around him. From there we were able to control the race. It got tricky the last couple of laps with the track changing, the fog rolling in, the curb. It was tricky. Fortunately, we were able to hang on for the win."
The event finale on Saturday showcased Gravel qualifying 13th quickest overall. A run from fourth to third place in a heat race locked him into the ninth starting spot in the A Main, which was postponed because of rain.
The team will be off for the next couple of weeks before returning to Volusia Speedway Park March 5-6 during the Lowe-E Insulation Spring Showdown, which also features the rained out feature from the DIRTcar Nationals. Gravel enters the event with a 12-point lead in the DIRTcar Nationals standings.
QUICK RESULTS –
Feb. 7 – Volusia Speedway Park in Barberville, Fla. – Qualifying: 4; Heat race: 1 (2); Dash: 1 (1); Feature: 3 (1).
Feb. 8 – Volusia Speedway Park in Barberville, Fla. – Qualifying: 30; Heat race: 5 (8); Feature: 10 (20).
Feb. 9 – Volusia Speedway Park in Barberville, Fla. – Qualifying: 4; Heat race: 1 (1); Dash: 4 (7); Feature: 1 (4).
Feb. 10 – Volusia Speedway Park in Barberville, Fla. – Qualifying: 7; Heat race: 2 (2); Dash: 3 (4); Feature: 1 (3).
Feb. 11 – Volusia Speedway Park in Barberville, Fla. – Qualifying: 13; Heat race: 3 (4); Feature: Rained Out (9).
SEASON STATS –
4 races, 2 wins, 3 top fives, 4 top 10s, 4 top 15s, 4 top 20s
UP NEXT –
March 5-6 at Volusia Speedway Park in Barberville, Fla., for the Lowe-E Insulation Spring Showdown with the World of Outlaws NOS Energy Drink Sprint Car Series
MEDIA LINKS –
Twitter: https://twitter.com/BigGameMotorspt