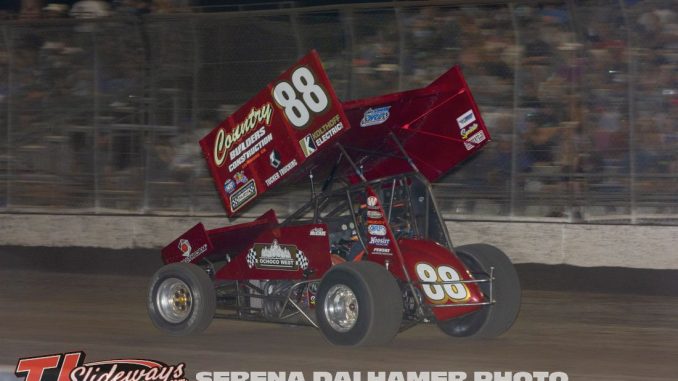 By Bill Wright
West Burlington, IA- Austin McCarl picked up the IRA/MOWA checkered flag at 34 Raceway Saturday night. Following McCarl was Cory Eliason, Parker Price-Miller, Joe B Miller and Corbin Gurley.
The 30-lapper saw C. McCarl lead early over Balog and Randall. Nienhiser spun in turn one just one lap in, bringing the first caution. Kinser went off on the hook at the same time. Randall had passed Balog for second before getting across the line before the caution was thrown, so he restarted third. Balog took the lead on the low side of two when the green fell, and Randall followed him into second on lap three. Five laps in, Chr. Martin spun bringing another slowdown. Balog led Randall, C. McCarl and A. McCarl back to green. Randall pressured Balog for the lead for several laps, going high in turn three and exiting low in four. Schuerenberg spun on lap eight, bringing another yellow. Another lap occurred under green, when Randall tried a pass on Balog. His left rear contacted Balog's left front, sending the veteran into a series of wild flips. He exited under his own power. Randall assumed the lead ahead of A McCarl, who had gotten by his brother, Crouch and Miller. Price-Miller was the next to surge, taking fifth on the restart and then gaining fourth from Crouch on lap 11. Randall entered lapped traffic at the halfway point and put some distance between himself and A. McCarl. On lap 16, Price-Miller claimed third from C. McCarl. On lap 20, Randall had stretched his lead to over three seconds on A. McCarl. That was erased with a Goldesberry spin. Randall kept his lead, while Eliason entered the top four when the green fell again. He then took third from Price-Miller with seven to go. Randall was cruising back into lapped traffic with four to go, and looked to be on his way to win when Borland spun on the white flag lap. That set up a green, white, checker finish, but Randall was not phased and went on to cross the checkers first. Unfortunately for him, he was light at the scales, handing the win to A. McCarl. Blackhurst was the hard-charger.
IRA/MOWA
48 cars
Two groups of qualifying saw Kaleb Johnson (10th car out to time) set the standard with the first group on the 3/8-mile at 12.596 seconds. Chase Randall (9th car out) was second quick, followed by Carson McCarl (3rd), Kraig Kinser (17th) and Jake Neuman (12th). Parker Price-Miller (13th car out) set quick time in the second group, and quick time overall at 12.347 seconds. Austin McCarl (20th) was second quick, followed by Jordan Goldesberry (17th), Joe B. Miller (15th) and Bill Balog (23rd). Bryce Norris and Hunter Schuerenberg both had issues in hot laps and neither got a time in.
Heat one (started): 1. Neuman 3N (2) 2. Corbin Gurley 12 (1) 3. C. McCarl 6 (3) 4. Zach Hampton 35 (5) 5. K. Johnson 22K (4) / 6. Danny Schlafer 25 (6) 7. Cam Martin 4c (8) 8. Aaron Rixmann 3A (9/) 9. Cole Mincer 15 (10) 10. Shelby Bosie 3B (7) DNS – Tyler Tischendorf 26, Gunner Ramey 21
8-lap heats took the top five to the feature. Neuman led the distance. Bosie got over the top of turn two with three to go, setting up a restart that saw Hampton nab fourth from Johnson.
Heat two (started): 1. Randall 9 (4) 2. Brenham Crouch 1 (2) 3. Russel Borland 23 (1) 4. Blake Nimee 79 (5) 5. Tyler Drueke 12T (7) 6. Scott Neitzel 2w (6) 7. Kris Spitz 4K (8) 8. Colton Fisher 11 (10) 9. Steve Short 8s (9) 10. McCain Richards 31 (11) 11. Kinser 11K (3) DNS – Bryce Norris 37
Randall shot to the lead immediately and won going away. Crouch snagged second from Borland on the last lap.
Heat three (started): 1. Balog 17B (2) 2. Cory Eliason 71 (1) 3. Price-Miller 29 (4) 4. Riley Goodno 22 (6) 5. Goldesberry 65 (3) / 6. Kyle Schuett 9K (5) 7. Carson Short 44 (10) 8. Josh Schneiderman 49 (9) 9. Travis Arenz 25T (8) 10. Sawyer Phillips 3P (7) 11. Scott Conger 24 (11) 12. William Huck 39V (12)
Balog led all eight laps. Eliason passed Price-Miller for second on lap two, while Goodno took fourth from Goldesberry on the same circuit.
Heat four (started): 1. Paul Nienhiser 50 (2) 2. Miller 51B (3) 3. Chris Martin 44c (1) 4. A. McCarl 88 (4) 5. Jake Blackhurst 96 (6) / 6. Jack Vanderboom U2 (7) 7. Austin Hartmann 87A (5) 8. Hunter Schuerenberg 55 (12) 9. Preston Ruh 26R (8) 10. Lane Warner 122 (10) 11. Hunter Custer 29 (9) 12. Chase Edwards 4 (11)
Nienhiser led Ch. Martin early, but Miller quickly took second and the lead pair pulled awy from the rst of the field.
Dash one (started): 1. C. McCarl (2) 2. Crouch (1) 3. Randall (4) 4. Neuman (5) 5. Johnson (3)
The 4-lapper set up the inside starting spots for the first five rows. C. McCarl led the distance in a mostly single-file affair.
Dash two (started): 1. Balog (2) 2. A. McCarl (1) 3. Price-Miller (4) 4. Goldesberry (5) 5. Nienhiser (3)
Balog shot by A. McCarl early and led flag to flag.
B main one (started): 1. Kinser (1) 2. Schlafer (2) / 3. Neitzel (3) 4. Spitz (5) 5. Ca. Martin (4) 6. Colton Fisher 11 (6) 7. Bosie (10) 8. M. Richards (11) 9. Mincer (9) 10. Rixmann (7) 11. S. Short (8) DNS – Tischendorf, Norris, Ramey
10-lap B's transferred the top two to the A. Schlafer got the jump on Kinser and Neitzel early. Rixmann spun four laps in bringing caution. Schlafer held the lead in a good battle with Kinser, until Kraig shot by in the last corner for the win.
B main two (started): 1. Schuerenberg (6) 2. Vanderboom (2) / 3. Schuett (1) 4. Schneiderman (5) 5. Arenz (7) 6. Hartmann (3) 7. Warner (10) 8. Custer (11) 9. Ruh (8) 10. C. Edwards (13) 11. Conger (12) 12. Huck (14) 13. C. Short (4) 14. Phillips (9)
Schuett led Vanderboom, Schuerenberg and C. Short early. On lap two, Vanderboom took the lead from Schuett. On lap four, Schuerenberg took the high line for the lead around Vanderboom, but that was negated when Phillips got upside down in turn four. After the green fell again, Schuerenberg took the low line this time for the win. Vanderboom held on for the final transfer.
A main (started): 1. A. McCarl (4) 2. Eliason (14) 3. Price-Miller (6) 4. Miller (12) 5. Gurley (11) 6. C. McCarl (1) 7. Blackhurst (20) 8. Crouch (3) 9. Hampton (15) 10. Drueke (19) 11. Neuman (7) 12. Goodno (18) 13. Goldesberry (8) 14. Schlafer (23) 15. Ch. Martin (16) 16. Nimee (17) 17. Vanderboom (24) 18. Borland (13) 19. Johnson (9) 20. Balog (2) 21. Schuerenberg (22) 22. Nienhiser (10) 23. Kinser (21) DQ (Crossed 1st, Light at Scales) Randall (5)