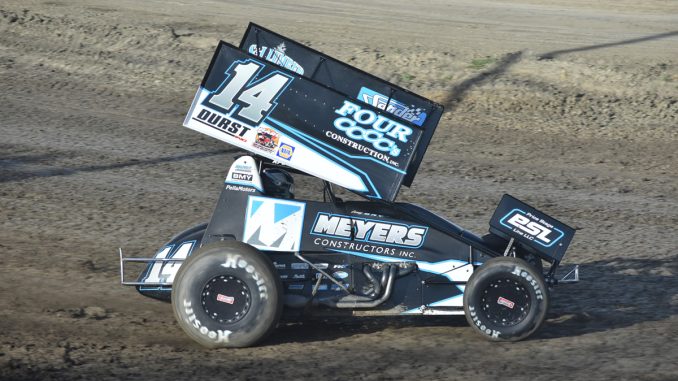 Ben Deatherage
(4/14/23 ) Tulare, CA … Eleventh starting Corey Day continued his tight grip of dominance in NARC 410 Sprint Series action as he won the Prelude To The Dennis Roth Classic at Thunderbowl Raceway. His winning ride in the 30-lap NAPA Auto Parts feature was the Jason Meyers-owned Meyers Constructors/Four C's Construction #14 Kistler-powered KPC. It is Day's eighth career victory with the tour for the Clovis kid and the first time he has bested the field at the Tulare County Fairgrounds 1/3-mile clay oval.
The feature was a caution-plagued affair in the opening laps, including a lap one red flag incident. Shane Golobic, driving the Works Limited #57 Speedway/EMI, had the initial lead but got collected in the aforementioned stoppage. That gave the top position to Washington-hired gun Trey Starks, driving for Scelzi Motorsports.
Starks, in the Scelzi Motorsports/Whipple Superchargers/Red Line Oil #4R Kistler/Maxim, had to deal with several restarts but managed to keep all challengers in check. However, Day built a boatload of positive momentum late in the race to maneuver via the bottom to his way to P1. Corey successfully obtained the top spot on lap twenty-seven to be the new trailblazer and held on the balance of the distance.
"I didn't think my first Tulare win would have come like that!" said Corey Day, "People usually think I like only running top don't know I like running the bottom just as much. That was a good race for us. I have to take my hat off to Shane (Bowers) because we struggled early in the night, and he always makes the right decisions at critical times to get us where we need to be."
Trey Starks managed to end the evening runner-up the while his teammate Dominic Scelzi, driving his Scelzi Motorsports/Whipple Superchargers/Red Line Oil #41 Kistler/Maxim, posted a third-place result.
Cory Eliason, racing for Dennis and Theresa Roth for the first time since 2018, put the Roth Enterprises/HR Livestock Transportation/Roth Motorsports #83 Speedway/Maxim in fourth. Lastly, driving for car owner Demo Mittry, Justin Sanders completed the top five, in fifth, after having to come from the back in the Farmer's Brewing/North County Plastering/MittryConstruction.com #2X Shark Racing Engines/Maxim.
Tim Kaeding, driving the Williams Motorsports/Dalton's Landscaping/Kiwi Transportation #0 Maxwell/Maxim, earned the Williams Roofing Hard Charger Award with a plus-thirteen run in the main event.
The balance of the top ten was Ryan Bernal, Chase Johnson, Dylan Bloomfield, and Bud Kaeding.
NAPA AUTO PARTS FEATURE (30 laps): 1. 14-Corey Day[11]; 2. 4R-Trey Starks[3]; 3. 41-Dominic Scelzi[10]; 4. 83-Cory Eliason[5]; 5. 2X-Justin Sanders[2]; 6. 0-Tim Kaeding[19]; 7. 22-Ryan Bernal[13]; 8. 24-Chase Johnson[17]; 9. 83V-Dylan Bloomfield[18]; 10. 69-Bud Kaeding[14]; 11. 88N-DJ Netto[20]; 12. 16A-Colby Copeland[6]; 13. 88A-Joey Ancona[1]; 14. 83JR-Kraig Kinser[15]; 15. 42X-Justyn Cox[9]; 16. 36-Craig Stidham[23]; 17. 21-Cole Macedo[7]; 18. 83T-Tanner Carrick[16]; 19. 37-Michael Pombo[24]; 20. 115-Nick Parker[25]; 21. 18T-Tanner Holmes[12]; 22. 21S-Jesse Schlotfeldt[21]; 23. 57W-Shane Golobic[4]; 24. 2K-Kaleb Montgomery[8]; 25. 26-Billy Aton[22]
WILLIAMS ROOFING HARDCHARGER: Tim Kaeding 19th to 6th
METTEC TITANIUM LAP LEADERS: Shane Golobic 1, Trey Starks 2-26, Corey Day 27-30
ARP FAST QUALIFIER (26 Cars): Shane Golobic 13.322 seconds
BROWN AND MILLER RACING SOLUTIONS HEAT ONE (8 laps): Justin Sanders, Cole Macedo, Justyn Cox, Shane Golobic, Bud Kaeding, Chase Johnson
KIMO's TROPICAL CAR WASH HEAT TWO (8 laps): Colby Copeland, Cory Eliason, Dominic Scelzi, Corey Day, Kraig Kinser, Dylan Bloomfield
BEACON WEALTH STRATEGIES – RAYMOND JAMES HEAT THREE (8 laps): Trey Starks, Joey Ancona, Kaleb Montgomery, Tanner Holmes, Ryan Bernal, Tanner Carrick
SUNNYVALLEY "POWERED BY BACON" TROPHY DASH (6 laps): Joey Ancona, Justin Sanders, Trey Starks, Shane Golobic, Corey Eliason, Colby Copeland