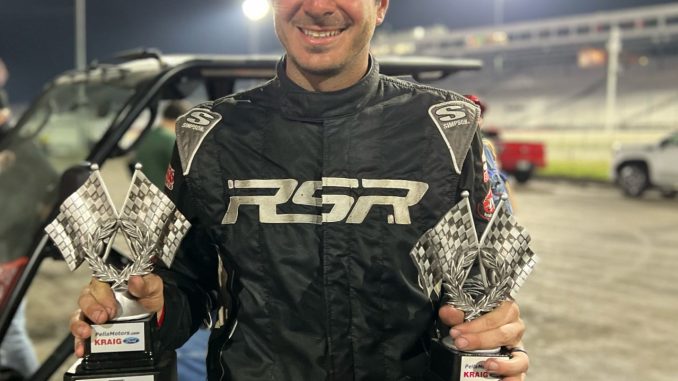 From Bill Wright
KNOXVILLE, Iowa (May 6, 2023) — Aaron Reutzel became the fifth different driver in Knoxville Raceway history to sweep both a 410 and 360 feature event in one evening, joining Terry McCarl (4 times), Brian Brown (3), Justin Henderson (3) and Dennis Moore Jr. in the feat. The Clute, Texas native now living in Knoxville dominated the night's action on both ends, earning $5,000 for his 410 victory and $2,000 for his 360 win aboard the Ridge & Sons Racing #8 in the Kraig Ford/Pella Motors Season Opener. Matthew Stelzer moved atop the all-time win list in the Pro Sprints series, earning the sixteenth victory of his career here.
Reutzel started the 20-lap feature from the pole and shot out to an immediate lead ahead of Kerry Madsen, Lynton Jeffrey, Chase Randall and Austin McCarl. He was quickly into lapped traffic, but a spin by Matt Juhl negated his early lead on lap seven.
Two laps later, Jeffrey slid in front of Madsen to take over the second spot, while Reutzel pulled away and was back amongst lappers on the twelfth circuit. Garet Williamson flexed his muscle a bit as action heated in the top five, by getting by McCarl and pressuring Randall.
With five to go, Scott Bogucki slid sideways, but kept rolling, blending into the field on the restart. The five lap Dash saw Jeffrey, Madsen, Randall, Williamson and McCarl chasing Reutzel. The action was intense behind the leader, with Madsen taking second late, and drivers swapping spots fourth through eighth.
In the end, Reutzel was victorious for the seventh time in a 410 here, ahead of Madsen, Jeffrey, Randall and Williamson. Hard-charger, Tasker Phillips, Davey Heskin, Austin McCarl, Justin Henderson and Kaleb Johnson rounded out the top ten. Dusty Zomer, Heskin and Williamson were heat race winners. Madsen set quick time. Gage Pulkrabek tipped over in qualifying but returned for his heat.
"It's badass," said Reutzel of his sweep. "Anyone that's been watching knows we've had a rough start to our year. Trying to figure out the new tires has been a struggle, and (Tyler) Swank never gave up. We're finally on to something that worked with the 360, and worked with this car. We lost a cylinder there about five laps in. I just wanted to win both to say I did it. Not too many people have done that."
John Carney II got into the wall to start the 18-lap 360 feature. Tyler Groenendyk surged to an early lead over Terry McCarl and Reutzel. Reutzel slid in front of McCarl on the dry-slick surface in turn four to take second on lap two. Chase Randall was also on the move, claiming fourth from Garet Williamson on lap three.
On lap four, Reutzel entered low in turn one and passed Groenendyk for the lead as the pair entered lapped traffic. The same lap, Randall got by McCarl for third, and then slid by Groenendyk in turn three to take second on lap five. Williamson moved up to third by lap seven.
Josh Higday stopped in turn four on lap nine, bringing the final caution. No one had anything for Reutzel down the stretch, but some excitement came when he banged the turn four wall and flattened a tire coming to the checkers for his fifth win here in a 360. He held on over Randall, Williamson, McCarl and Garner. Jamie Ball, Kaleb Johnson, Groenendyk, Cam Martin and Ryan Giles completed the top ten. Randall set quick time over the 29-car field, while McCarl, Joe Beaver and Johnson claimed heats. Grae Anderson got upside down in his heat race, but was uninjured.
"It blew a power steering line on the white flag lap on the backstretch," Reutzel said about his final lap. "Immediately, my shield got covered with the power steering fluid, and I couldn't see anything. I was trying to get a tear-off entering the corner, and the steering locked up. I couldn't see anything and drove straight in the fence. If that happened any sooner, we would have been done. The car was really good all night."
Ryan Navratil paced the Pro Sprints field early in the 15-lap main ahead of Mike Mayberry and Joel Thorpe. Stelzer worked on Mayberry, passing him on the low side to take second five laps in. JJ Beaver had worked himself into the top five before going up in smoke on lap eight.
Navratil led Stelzer, Mayberry, Kade Higday and Chase Young back to green. Using the high side of turn two, Stelzer shot into the lead. Navratil threatened to get back up front, but Josh Jones spun over the bottom of the turn one berm to ring the final caution. The third running Mayberry also came to a stop and exited at the time.
Stelzer drove away from there, while Young moved from fourth to finish second, followed by Navratil, Matt Allen and Young. Mike Johnston, AJ Johnson, Jeff Wilke, Jones and Thorpe rounded out the top ten. Higday set quick time over the field and won a heat, along with Mayberry.
"It's the third time I've heard it," Stelzer said of moving on top of the all-time win list with 16. "I assume Devin's (Kline) going to be in the car next week to tie me back. The gang's back together…the gang that was here in 2019, when we went on a hot streak.
Knoxville Raceway
Knoxville, Iowa
Saturday, May 6, 2023
Winged 410 Sprint Cars
410 Qualifying
1. 5X-Kerry Madsen, 16.298[27]
2. 2-Lynton Jeffrey, 16.320[11]
3. 88-Austin McCarl, 16.370[7]
4. 8-Aaron Reutzel, 16.397[13]
5. 6-Carson McCarl, 16.413[26]
6. 20-AJ Moeller, 16.438[14]
7. 1-Justin Henderson, 16.455[18]
8. 2KS-Chase Randall, 16.494[8]
9. 25-Scott Bogucki, 16.504[19]
10. 22-Riley Goodno, 16.554[25]
11. 3-Ayrton Gennetten, 16.651[12]
12. 09-Matt Juhl, 16.708[3]
13. 22K-Kaleb Johnson, 16.753[23]
14. 16-Brooke Tatnell, 16.766[5]
15. 24W-Garet Williamson, 16.777[4]
16. 3J-Dusty Zomer, 16.821[6]
17. 2M-Davey Heskin, 16.877[21]
18. 24T-Christopher Thram, 16.891[10]
19. 44-Chris Martin, 16.963[9]
20. 49-Josh Schneiderman, 16.966[15]
21. 3P-Sawyer Phillips, 17.016[16]
22. 7W-Dustin Selvage, 17.215[22]
23. 7TAZ-Tasker Phillips, 17.281[2]
24. 76-Nathan Mills, 18.412[1]
25. 15-Bobby Mincer, 18.448[24]
26. 56-Joe Simbro, 18.610[17]
27. 5-Gage Pulkrabek, 18.610[20]
28. 6X-Frank Rodgers, 18.610[28]
410 Heat Race #1 (8 Laps)
1. 3J-Dusty Zomer[1]
2. 22K-Kaleb Johnson[2]
3. 1-Justin Henderson[4]
4. 8-Aaron Reutzel[5]
5. 5X-Kerry Madsen[6]
6. 22-Riley Goodno[3]
7. 44-Chris Martin[7]
8. 7W-Dustin Selvage[8]
9. 15-Bobby Mincer[9]
10. 6X-Frank Rodgers[10]
410 Heat Race #2 (8 Laps)
1. 2M-Davey Heskin[1]
2. 16-Brooke Tatnell[2]
3. 2KS-Chase Randall[4]
4. 2-Lynton Jeffrey[6]
5. 7TAZ-Tasker Phillips[8]
6. 6-Carson McCarl[5]
7. 3-Ayrton Gennetten[3]
8. 49-Josh Schneiderman[7]
9. 56-Joe Simbro[9]
410 Heat Race #3 (8 Laps)
1. 24W-Garet Williamson[2]
2. 88-Austin McCarl[6]
3. 24T-Christopher Thram[1]
4. 25-Scott Bogucki[4]
5. 09-Matt Juhl[3]
6. 20-AJ Moeller[5]
7. 3P-Sawyer Phillips[7]
8. 5-Gage Pulkrabek[9]
9. 76-Nathan Mills[8]
410 A-Main (20 Laps)
1. 8-Aaron Reutzel[1]
2. 5X-Kerry Madsen[2]
3. 2-Lynton Jeffrey[3]
4. 2KS-Chase Randall[6]
5. 24W-Garet Williamson[10]
6. 7TAZ-Tasker Phillips[19]
7. 2M-Davey Heskin[14]
8. 88-Austin McCarl[4]
9. 1-Justin Henderson[5]
10. 22K-Kaleb Johnson[11]
11. 6-Carson McCarl[7]
12. 3-Ayrton Gennetten[18]
13. 25-Scott Bogucki[9]
14. 16-Brooke Tatnell[13]
15. 22-Riley Goodno[15]
16. 3P-Sawyer Phillips[21]
17. 3J-Dusty Zomer[12]
18. 44-Chris Martin[20]
19. 24T-Christopher Thram[17]
20. 09-Matt Juhl[16]
21. 49-Josh Schneiderman[22]
22. 15-Bobby Mincer[26]
23. 56-Joe Simbro[27]
24. 6X-Frank Rodgers[28]
25. 5-Gage Pulkrabek[25]
26. 20-AJ Moeller[8]
27. 76-Nathan Mills[24]
Winged 360 Sprint Cars
360 Qualifying
1. 9-Chase Randall, 16.601[23]
2. 70-Calvin Landis, 16.632[1]
3. 8-Aaron Reutzel, 16.669[3]
4. 17-Tyler Groenendyk, 16.719[6]
5. 4W-Jamie Ball, 16.770[4]
6. 1E-Josh Higday, 16.841[16]
7. 24W-Garet Williamson, 16.877[9]
8. 4-Cameron Martin, 16.903[20]
9. 40-Clint Garner, 16.907[11]
10. 24-Terry McCarl, 16.928[15]
11. 9G-Ryan Giles, 16.941[13]
12. 22K-Kaleb Johnson, 16.972[28]
13. 22-Ryan Leavitt, 17.012[19]
14. 53-Joe Beaver, 17.029[7]
15. 99-Tony Rost, 17.061[18]
16. 33-Alan Zoutte, 17.075[12]
17. 6A-Alex Vande Voort, 17.102[10]
18. 7A-Jack Anderson, 17.270[24]
19. 7B-Ben Brown, 17.287[2]
20. 8H-Jacob Hughes, 17.313[25]
21. 4J-John Carney II, 17.361[21]
22. 83-Austin Miller, 17.368[14]
23. 5M-Collin Moyle, 17.705[8]
24. 4C-Tuesday Calderwood, 17.882[17]
25. 86-Timothy Smith, 17.962[27]
26. 1A-Grae Anderson, 18.592[5]
27. 41D-Dan Henning, 19.057[26]
28. 14-Aidan Zoutte, 59.000[29]
29. 1K-Kelby Watt, 59.000[22]
360 Heat Race #1 (7 Laps)
1. 24-Terry McCarl[3]
2. 24W-Garet Williamson[4]
3. 9-Chase Randall[6]
4. 22-Ryan Leavitt[2]
5. 17-Tyler Groenendyk[5]
6. 7B-Ben Brown[7]
7. 83-Austin Miller[8]
8. 86-Timothy Smith[9]
9. 14-Aidan Zoutte[10]
10. 33-Alan Zoutte[1]
360 Heat Race #2 (7 Laps)
1. 53-Joe Beaver[2]
2. 6A-Alex Vande Voort[1]
3. 4-Cameron Martin[4]
4. 9G-Ryan Giles[3]
5. 4W-Jamie Ball[5]
6. 70-Calvin Landis[6]
7. 8H-Jacob Hughes[7]
8. 5M-Collin Moyle[8]
9. 1A-Grae Anderson[9]
DNS: 1K-Kelby Watt
360 Heat Race #3 (7 Laps)
1. 22K-Kaleb Johnson[3]
2. 8-Aaron Reutzel[6]
3. 40-Clint Garner[4]
4. 1E-Josh Higday[5]
5. 7A-Jack Anderson[1]
6. 99-Tony Rost[2]
7. 4J-John Carney II[7]
8. 41D-Dan Henning[9]
9. 4C-Tuesday Calderwood[8]
360 A-Main (18 Laps)
1. 8-Aaron Reutzel[5]
2. 9-Chase Randall[6]
3. 24W-Garet Williamson[4]
4. 24-Terry McCarl[1]
5. 40-Clint Garner[10]
6. 4W-Jamie Ball[8]
7. 22K-Kaleb Johnson[11]
8. 17-Tyler Groenendyk[2]
9. 4-Cameron Martin[9]
10. 9G-Ryan Giles[13]
11. 70-Calvin Landis[3]
12. 53-Joe Beaver[12]
13. 22-Ryan Leavitt[15]
14. 99-Tony Rost[16]
15. 7B-Ben Brown[18]
16. 7A-Jack Anderson[17]
17. 8H-Jacob Hughes[19]
18. 5M-Collin Moyle[23]
19. 86-Timothy Smith[24]
20. 83-Austin Miller[21]
21. 4C-Tuesday Calderwood[25]
22. 41D-Dan Henning[26]
23. 14-Aidan Zoutte[27]
24. 6A-Alex Vande Voort[14]
25. 33-Alan Zoutte[22]
26. 1E-Josh Higday[7]
27. 4J-John Carney II[20]
Hot Laps 1
1. 1A-Grae Anderson[5]
Pro Sprints
Pro Sprints Qualifying
1. 24-Kade Higday, 18.410[12]
2. 71-Brandon Worthington, 18.496[4]
3. 99-Matthew Stelzer, 18.886[6]
4. 26-Chase Young, 18.942[8]
5. B29-JJ Beaver, 19.040[1]
6. 3TJ-Joel Thorpe, 19.109[7]
7. 12P-Ryan Navratil, 19.214[11]
8. 0-Mike Mayberry, 19.300[13]
9. 41-Jeff Wilke, 19.330[10]
10. 17-Matt Allen, 19.454[3]
11. 14J-Mike Johnston, 19.480[2]
12. 8J-AJ Johnson, 19.505[5]
13. 02S-Josh Jones, 19.951[9]
14. 55-Toby Mosher, 20.028[14]
Pro Sprints Heat Race #1 (6 Laps)
1. 24-Kade Higday[6]
2. B29-JJ Beaver[4]
3. 14J-Mike Johnston[1]
4. 99-Matthew Stelzer[5]
5. 12P-Ryan Navratil[3]
6. 02S-Josh Jones[7]
7. 41-Jeff Wilke[2]
Pro Sprints Heat Race #2 (6 Laps)
1. 0-Mike Mayberry[3]
2. 26-Chase Young[5]
3. 8J-AJ Johnson[1]
4. 17-Matt Allen[2]
5. 3TJ-Joel Thorpe[4]
6. 71-Brandon Worthington[6]
7. 55-Toby Mosher[7]
Pro Sprints A-Main (15 Laps)
1. 99-Matthew Stelzer[5]
2. 26-Chase Young[7]
3. 12P-Ryan Navratil[1]
4. 17-Matt Allen[10]
5. 24-Kade Higday[8]
6. 14J-Mike Johnston[9]
7. 8J-AJ Johnson[11]
8. 41-Jeff Wilke[12]
9. 02S-Josh Jones[13]
10. 3TJ-Joel Thorpe[2]
11. 55-Toby Mosher[14]
12. 0-Mike Mayberry[4]
13. B29-JJ Beaver[6]