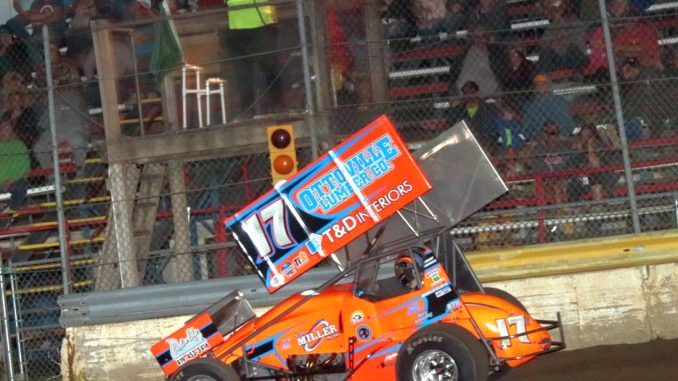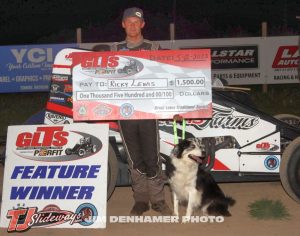 LAKE ODESSA, Mich. (May 12, 2023) — Jared Horstman and Ricky Lewis picked up feature victories Friday night at I-96 Speedway with the Great Lakes Super Sprints and Great Lakes Traditional Sprints.
Horstman, from Cloverdale, Ohio, moved up from sixth starting position to take the lead early in the 25-lap main event. Horstman held off 11th starting Brad Lamberson and 7th starting Devon Dobie for his first win of the 2023 season. Max Stambaugh from 12th starting position and Mike Keegan rounded out the top five.
Lewis, from Oxnard, Calfornia, started on the pole and was never seriously challenged in route to the GLTS season opening feature victory for the 2023 season. Steve Irwin, Brian Ruhlman, Parker Fredrickson, and Keith Sheffer II rounded out the top five.
I-96 Speedway
Lake Odessa, Michigan
Friday, May 12, 2023
Great Lakes Super Sprints
Qualifying
1. 23-Devon Dobie, 13.913[1]
2. 50YR-Ryan Ruhl, 13.967[8]
3. 7C-Phil Gressman, 13.990[5]
4. 17-Jared Horstman, 14.100[24]
5. 27-Brad Lamberson, 14.121[13]
6. 71H-Max Stambaugh, 14.125[15]
7. 24D-Danny Sams III, 14.127[9]
8. 16C-Tylar Rankin, 14.131[21]
9. 10-Jason Blonde, 14.182[17]
10. 85-Dustin Daggett, 14.251[18]
11. X-Mike Keegan, 14.320[7]
12. 14H-Darin Naida, 14.369[26]
13. 38-Max Frank, 14.391[2]
14. 0-Brayton Phillips, 14.395[19]
15. 49T-Gregg Dalman, 14.480[25]
16. 2-AJ Aldrich, 14.484[10]
17. 19-Jett Mann, 14.514[14]
18. 86-Keith Sheffer Jr, 14.583[23]
19. 70-Eli Lakin, 14.747[20]
20. 24-Levi Voyce, 15.160[16]
21. 42-Boston Mead, 15.336[22]
22. 3A-Mike Astrauskas, 15.429[11]
23. 5X-Trent Musk, 16.354[3]
DNS: 67-Kevin Martens, 16.355
DNS: 20A-Andy Chehowski, 16.356
DNS: 10S-Jay Steinebach, 16.357
Heat Race #1 (8 Laps)
1. 24D-Danny Sams III[2]
2. 17-Jared Horstman[3]
3. 85-Dustin Daggett[1]
4. 23-Devon Dobie[4]
5. 70-Eli Lakin[7]
6. 2-AJ Aldrich[6]
7. 3A-Mike Astrauskas[8]
DNS: 38-Max Frank
DNS: 20A-Andy Chehowski
Heat Race #2 (8 Laps)
1. X-Mike Keegan[1]
2. 16C-Tylar Rankin[2]
3. 27-Brad Lamberson[3]
4. 50YR-Ryan Ruhl[4]
5. 19-Jett Mann[6]
6. 0-Brayton Phillips[5]
7. 24-Levi Voyce[7]
8. 5X-Trent Musk[8]
DNS: 10S-Jay Steinebach
Heat Race #3 (8 Laps)
1. 14H-Darin Naida[1]
2. 10-Jason Blonde[2]
3. 7C-Phil Gressman[4]
4. 71H-Max Stambaugh[3]
5. 49T-Gregg Dalman[5]
6. 86-Keith Sheffer Jr[6]
7. 42-Boston Mead[7]
8. 67-Kevin Martens[8]
A-Main (25 Laps)
1. 17-Jared Horstman[6]
2. 27-Brad Lamberson[11]
3. 23-Devon Dobie[7]
4. 71H-Max Stambaugh[12]
5. X-Mike Keegan[4]
6. 85-Dustin Daggett[10]
7. 50YR-Ryan Ruhl[8]
8. 7C-Phil Gressman[9]
9. 49T-Gregg Dalman[15]
10. 42-Boston Mead[21]
11. 19-Jett Mann[14]
12. 86-Keith Sheffer Jr[18]
13. 70-Eli Lakin[13]
14. 10-Jason Blonde[1]
15. 16C-Tylar Rankin[5]
16. 0-Brayton Phillips[17]
17. 2-AJ Aldrich[16]
18. 24-Levi Voyce[20]
19. 24D-Danny Sams III[3]
20. 14H-Darin Naida[2]
21. 3A-Mike Astrauskas[19]
22. 5X-Trent Musk[22]
23. 67-Kevin Martens[23]
Great Lakes Traditional Sprints
Qualifying
1. 41-Ricky Lewis, 16.049[7]
2. 0-Steve Irwin, 16.078[6]
3. 34-Parker Frederickson, 16.127[15]
4. 85-Dustin Daggett, 16.238[2]
5. 86-Keith Sheffer Jr, 16.618[1]
6. 49-Brian Ruhlman, 16.651[8]
7. 25-Max Frank, 16.683[3]
8. 33-Jason Ferguson, 16.788[16]
9. 00-Mike Galadja, 17.394[14]
10. 3A-Mike Astrauskas, 17.530[9]
11. 33P-RJ Payne, 17.654[4]
12. 26-Dale Hunter, 17.971[13]
13. 54-Joel Hummel, 18.133[10]
14. 10G-Kent Gardner, 18.139[12]
15. 0C-Andrew Cockman, 18.705[5]
16. 13-Ian Hunter, 18.712[11]
Heat Race #1 (8 Laps)
1. 34-Parker Frederickson[3]
2. 41-Ricky Lewis[4]
3. 86-Keith Sheffer Jr[2]
4. 25-Max Frank[1]
5. 00-Mike Galadja[5]
6. 33P-RJ Payne[6]
7. 54-Joel Hummel[7]
DNS: 0C-Andrew Cockman
Heat Race #2 (8 Laps)
1. 85-Dustin Daggett[3]
2. 0-Steve Irwin[4]
3. 33-Jason Ferguson[1]
4. 49-Brian Ruhlman[2]
5. 3A-Mike Astrauskas[5]
6. 26-Dale Hunter[6]
7. 10G-Kent Gardner[7]
8. 13-Ian Hunter[8]
A-Main (25 Laps)
1. 41-Ricky Lewis[1]
2. 0-Steve Irwin[4]
3. 49-Brian Ruhlman[7]
4. 34-Parker Frederickson[3]
5. 86-Keith Sheffer Jr[5]
6. 25-Max Frank[6]
7. 00-Mike Galadja[8]
8. 13-Ian Hunter[15]
9. 3A-Mike Astrauskas[9]
10. 33P-RJ Payne[10]
11. 10G-Kent Gardner[13]
12. 26-Dale Hunter[11]
13. 33-Jason Ferguson[2]
14. 54-Joel Hummel[12]
DNS: 85-Dustin Daggett
DNS: 0C-Andrew Cockman