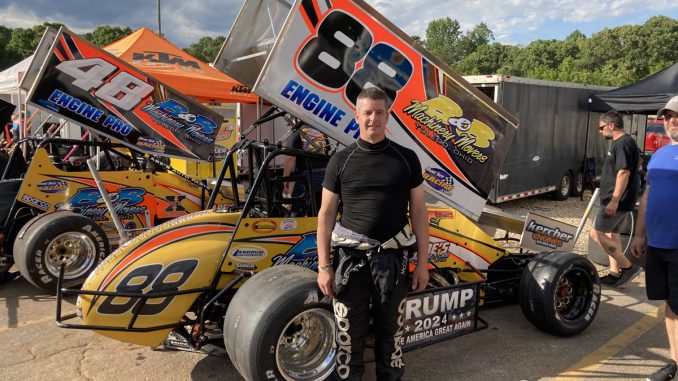 From Must See Racing
May 16, 2023 – Holly, Michigan – Five-time Must See Racing Sprint Series presented by Engine Pro champion Jimmy "The Bulldog" McCune is set to make his return to MSR action this Saturday night May 20. The series will kick off its 2023 season at Berlin Raceway in Marne, Michigan.
McCune received serious injuries last July 23 when a fuel fire occurred in hot laps at a winged dirt race at Butler Speedway in Quincy, Michigan.
"We went out for qualifying" remembers McCune. "I felt something cold, and I wasn't sure if it was the wind or what not. I was more concentrated on making my laps, hitting my marks, and not paying attention to what was wrong with the race car. It was fuel that was spilling on me, and I had a blown fuel line next to my leg. It ignited when I went back to the pits. The fuel inside the cockpit went out to the left header and it lit me on fire.
When the dust had settled McCune received severe burns to his legs and feet and his season had come to an end. "It was nine months of pure agony. "I really didn't burn. It was strange. I just melted the skin off my feet. When they did the skin grafts the inside right foot from my ankle to my toe had basically died. It was basically let it heal for the months I was out or have another skin graft. The graft for me was worse than the burns.
McCune insists he his back to full strength and is eagerly awaiting the chance to get back behind the wheel of a winged pavement sprint car. He actually tested his pavement car a couple of weeks ago and made his return to the cockpit last weekend at Butler Speedway in a dirt car.
"I got in the race car and shook it down like I normally do. Everything felt good with the race car. I toured around there like nobody's business. I didn't have any cobwebs in the brain or feel anything goofy and just drove the heck out of it like I normally do".
In McCune's absence last year new stars emerged, and McCune may have briefly been forgotten. But the sheriff's back in town and his MSR absence is in the rear-view mirror.
"That stuff doesn't bother me, I really don't care. I just go out there and try to win races. We pride ourselves on the hard work in the shop. When it comes to worrying about this guy or that guy I really don't care. There are some good cars coming out this year. The competitions gonna be tough. There's gonna be seven or eight of us battling for wins this year. I'm looking forward to it" concluded McCune.
Please log onto www.mustseeracing.com for more info and updates on the series.