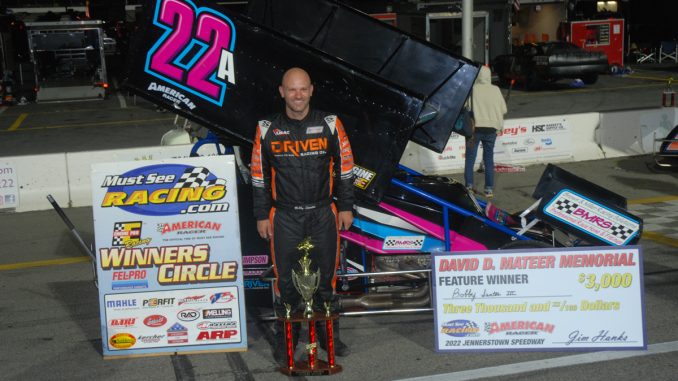 From Must See Racing
May 18, 2023- Holly, Michigan – Bobby Santos III is expected to be on hand for the 2023 Must See Racing Sprint Series presented by Engine Pro opener this Saturday night May 20 at Berlin Raceway in Marne, Michigan. He will be aboard his Richard Fieler owned DJ Racing BEAST.
Santos enters this weekend's event amid several developing story lines. The lineup of topflight MSR talent is expected to be stronger than it has at any point in the past decade. Full-time commitments from championship contenders are higher than it's been in several years.
Five-time MSR champion Jimmy McCune returns in 2023 after suffering serious injuries last season. Joe Liguori missed winning last season's championship by mere points to Charlie Schultz and is on a mission in 2023. Canadian Ryan Litt will chase the championship for the first time in several seasons. Tampa, Florida's Davey Hamilton Jr., who is amid a ten race Florida win streak, will also be on hand this weekend.
Lost in the shuffle of all the series news is Santos himself, and what he quietly brings to this weekend's action. Santos only made four series starts last season, but he won every single time he appeared and is currently on a four race MSR winning streak. To add further to that, Santos has won seven out of his last eight winged pavement sprint car starts dating back to 2021. This streak includes wins with KOTW and AVSS. Both series are now defunct.
To say Santos has been good in winged competition lately is an understatement. He has been downright dominating. This is impressive given the fact he spends most of the season competing primarily in non-winged pavement sprint cars as well as USAC Silver Crown pavement events.
When Santos was asked if he realized he has won seven of his last eight winged starts, he was even surprised to find this out. "No. I know we've been running well with the winged car, but I guess I haven't kept track of the wins and stats directly" pondered Santos. "When I started doing the wing cars I struggled. I feel like the last four years or so we've gotten our wing program better".
Santos has honed his winged skills and matured as a driver in the events themselves, not testing, which is even more impressive. "In winged racing people really don't test for whatever reason. With non-winged racing it's different. I think it's ridiculous how much everybody tests. I feel like it's a product of the environment. When other people are testing, you feel the need to follow suit".
"I've come to enjoy winged racing the last several years. I'm looking forward to this year with Must See particularly. I think the competition level is strong. You got Davey Hamilton Jr. coming up from Florida. Jimmy McCune's coming back. Joe Liguori's getting better and better at it. Ryan Litt's is another one that hasn't got to race because of COVID-19. I don't think it's gonna be show up and win. I think there's gonna be some good racing this year".
"I'm confident that we can have a good showing this year. I understand the competition level's getting stronger. I know if we sit still, guys will pass us, and be better than us. We've been good the last couple of years, but that doesn't mean anything for this year. When I go to any race I go to win. Anything less than that is disappointing and underachieving in my mind" concluded Santos.
For series info and updates please visit www.mustseeracing.com.