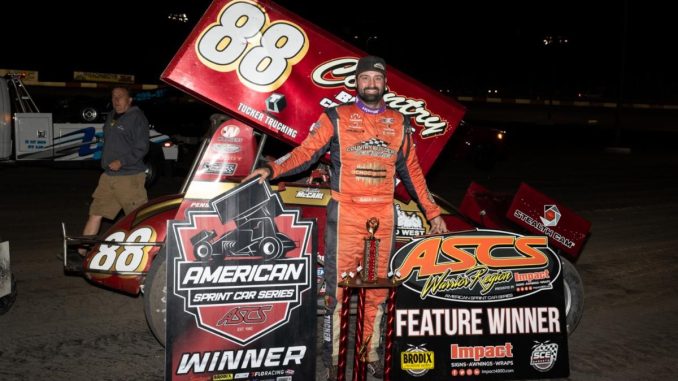 From Bryan Hulbert
KANSAS CITY, Kan. (May 26, 2023) — Getting his second career victory with the American Sprint Car Series Friday night, Iowa's Austin McCarl ran to the lead on Lap 16 and never looked back at Lakeside Speedway.
"I felt like I was just as good as Seth early, but we just couldn't get to traffic or get off the cushion; then Dover came and schooled us all there on the bottom for a while, and just had to wait for traffic," said McCarl of the race. "Really happy to get one, you know I started to get tight, and you never know how good of a lead you have, so I was just trying to go as hard as I could."
Charing forward from the fifth spot, the Country Builders No. 88 raced to second through a pair of starts as Seth Bergman took off with the lead. Both working topside around the four-tenths-mile oval, Austin fell to third on Lap 7 as Jack Dover rolled by on the inside.
Taking the point from Seth on Lap 9, the No. 23 tried to shoot under Dover into the third turn a few laps later but found the door slammed. A wild save by the Bryant Paver Motorsports No. 23; that allowed McCarl to move into the runner-up spot.
Building his momentum on Dover, the race for the point came on Lap 15, with McCarl nearly taking the spot. Able to carry the momentum through on Lap 16, Austin took over the lead and began pulling away.
Working through several cautions during the race, the final stoppage came on Lap 20 as the field had to go under an open red for fuel.
Wasting no time at the drop of the green, McCarl was a blur the closing five laps, with a 2.210-second advantage at the drop of the checkered flag. Jack Dover crossed second in his first race of the season in his Certified Transmission No. 53, with Seth Bergman keeping his podium steak alive in third. Blake Hahn crossed fourth in his first ASCS National start of the season, with Colton Hardy moving ahead four spots to fifth.
Earning the KSE Hard Charger of the night, Matt Covington tore through the field 13 positions to sixth. Jace Park was seventh from 14th, with Joe B. Miller, Jordon Mallett, and Sawyer Phillips completing the top ten,
Friday's field included 28 drivers. The Driver's Project quick qualifier was Jace Park at 15.446-seconds. A trio of AR Dyno Specialty Heat Races went to Austin McCarl, Jack Dover, and Landon Britt. The BMRS B-Feature was topped by Gunner Ramey. One provisional was used by Michael Day.
The next event for the American Sprint Car Series is Lake Ozark Speedway in Eldon, Mo. on Saturday, May 27, and Sunday, May 28.
American Sprint Car Series
Lakeside Speedway
Kansas City, Kansas
Friday, May 26, 2023
The Driver's Project Group Qualifying (Top 4 in each group invert into Heat Race #Races)
The Drivers Project Qualifying (3 Laps)
1. 87J-Jace Park, 15.446[1]
2. 41-Colton Hardy, 15.453[4]
3. 88-Austin McCarl, 15.511[10]
4. 51B-Joe B Miller, 15.610[3]
5. 8M-Kade Morton, 15.787[2]
6. 21B-Brian Brown, 15.820[5]
7. 36-Jason Martin, 15.830[8]
8. 14T-Tim Estenson, 15.889[6]
9. 14-Jordon Mallett, 16.096[7]
10. 22S-Slater Helt[9] NT
The Drivers Project Qualifying 2 (3 Laps)
1. 3P-Sawyer Phillips, 15.615[3]
2. 23-Seth Bergman, 15.619[5]
3. 53-Jack Dover, 15.820[4]
4. 45X-Kyler Johnson, 15.840[8]
5. 21-Gunner Ramey, 15.942[7]
6. 95-Matt Covington, 16.063[6]
7. 7C-Chris Morgan, 16.193[1]
8. 98P-Miles Paulus, 16.254[9]
9. 13-Elijah Gile, 16.424[2]
The Drivers Project Qualifying 3 (3 Laps)
1. 52-Blake Hahn, 15.692[4]
2. 55B-Brandon Anderson, 16.023[2]
3. 3-Howard Moore, 16.141[9]
4. 10-Landon Britt, 16.218[5]
5. 0-Chase Porter, 16.343[8]
6. 71-Bradyn Baker, 16.516[7]
7. 6-Christopher Townsend, 16.784[3]
8. 91-Michael Day[6] NT
9. 66M-Chad Frewaldt[1] NT
AR Dyno Specialty Heat Race #Races (Top 16 in Qualifying/Passing Points advance to the A-Feature)
AR Dyno Specialty Heat Race #1 (8 Laps)
1. 88-Austin McCarl[2]
2. 51B-Joe B Miller[1]
3. 21B-Brian Brown[6]
4. 41-Colton Hardy[3]
5. 14-Jordon Mallett[9]
6. 87J-Jace Park[4]
7. 36-Jason Martin[7]
8. 8M-Kade Morton[5]
9. 14T-Tim Estenson[8]
10. 22S-Slater Helt[10]
AR Dyno Specialty Heat Race #2 (8 Laps)
1. 53-Jack Dover[2]
2. 45X-Kyler Johnson[1]
3. 23-Seth Bergman[3]
4. 3P-Sawyer Phillips[4]
5. 98P-Miles Paulus[8]
6. 21-Gunner Ramey[5]
7. 95-Matt Covington[6]
8. 7C-Chris Morgan[7]
9. 13-Elijah Gile[9]
AR Dyno Specialty Heat Race #3 (8 Laps)
1. 10-Landon Britt[1]
2. 55B-Brandon Anderson[3]
3. 52-Blake Hahn[4]
4. 3-Howard Moore[2]
5. 6-Christopher Townsend[7]
6. 0-Chase Porter[5]
7. 71-Bradyn Baker[6]
DNS: 91-Michael Day
DNS: 66M-Chad Frewaldt
BMRS B-Feature (Top 6 advance to the A-Feature)
BMRS B-Main 1 (12 Laps)
1. 21-Gunner Ramey[1]
2. 36-Jason Martin[3]
3. 95-Matt Covington[4]
4. 0-Chase Porter[2]
5. 71-Bradyn Baker[5]
6. 7C-Chris Morgan[6]
7. 14T-Tim Estenson[9]
8. 8M-Kade Morton[7]
9. 13-Elijah Gile[8]
10. 22S-Slater Helt[10]
11. 91-Michael Day[11]
12. 66M-Chad Frewaldt[12]
A-Feature
RacinDirtTV A-Main (25 Laps)
1. 88-Austin McCarl[5]
2. 53-Jack Dover[4]
3. 23-Seth Bergman[1]
4. 52-Blake Hahn[6]
5. 41-Colton Hardy[9]
6. 95-Matt Covington[19]
7. 87J-Jace Park[14]
8. 51B-Joe B Miller[10]
9. 14-Jordon Mallett[12]
10. 3P-Sawyer Phillips[2]
11. 21B-Brian Brown[8]
12. 98P-Miles Paulus[13]
13. 6-Christopher Townsend[16]
14. 71-Bradyn Baker[21]
15. 3-Howard Moore[15]
16. 36-Jason Martin[18]
17. 45X-Kyler Johnson[11]
18. 21-Gunner Ramey[17]
19. 10-Landon Britt[7]
20. 91-Michael Day[23]
21. 55B-Brandon Anderson[3]
22. 0-Chase Porter[20]
23. 7C-Chris Morgan[22]
Lap Leader(s): Seth Bergman 1-8; Jack Dover 9-15; Austin McCarl 16-25
KSE Hard Charger: Matt Covington +13
Driver's Project Quick Time: Jace Park 15.446-seconds
High Point Driver: Blake Hahn
Provisional(s): Michael Day