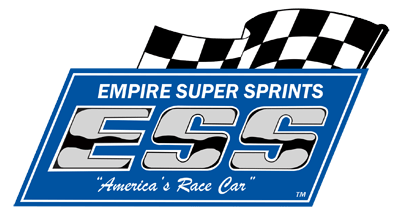 By Curtis Berleue
(Brewerton, NY) |After finishing second three times in the first three races of the 2023 season, Danny Varin was finally able to find Empire Super Sprints victory lane Friday night at the Brewerton Speedway.
It was Chuck Hebing who jumped out to an early lead in the 25-lap Don Gillette Memorial, pacing the field for the first 8 laps of the main event. On lap 9, Varin was able to slip by and take the lead away from Hebing, although his time at the top was short lived. Jonathan Preston got by Varin on lap 11, and for the next 14 laps the duo swapped the lead a handful of times, but it was Varin who ultimately finished on top.
"After the last three seconds, we were riding second there with a couple laps to go and I said to myself 'Not another second!'" said an ecstatic Varin. "Not that they're bad or anything, but we want to pick some wins up. Consistency is important too though."
After leading the most laps in the A-Main (10), Jonathan Preston would have to settle for a second place finish.
"Lap traffic didn't play in my favor, they were kind of in my line. I moved down and didn't quite have the grip I needed to get by them," said runner-up Preston of his second-place finish.
Completing the Ashley Lynn Winery podium was Larry Wight with a third-place finish. Rounding out the top five were Jason Barney in 4th and early leader Chuck Hebing in 5th.
33 cars signed into the pits for the night's action at Brewerton Speedway, and as such the field was split into 4 time trial groups. Earning the Rifenburg Contracting Fast Time award in each of their respective groups were Joe Trenca, Shawn Donath, Larry Wight and Paulie Colagiovanni.
Picking up E&V Energy Heat wins were Jeff Cook, Matt Tanner, Larry Wight and Jason Barney. The Cobra Coaches Dash presented by Cartier Motorsports & Trailer Sales went to Dalton Rombough, while Jordan Thomas picked up the Lacailade Masonry B-Main win.
The next scheduled event for the Empire Super Sprints is tonight, Saturday May 27th at the Fulton Speedway in Fulton, NY. For the latest news, information, and schedule updates regarding the Empire Super Sprints be sure to check the series website (www.EmpireSuperSprints.com) and follow along on Facebook (Empire Super Sprints), Twitter (@ESSprints) and Instagram (@empiresupersprints).
The Empire Super Sprints would like to thank the following series sponsors for their continued support: Rifenburg Contracting Corp, PJC Spray Foam, Hoosier Racing Tire, Cobra Coaches, E&V Energy, Fondations 4 Saisons, Pinnacle Investments, LLC, Lacaillade Masonry, Inc., FX Caprara, ASI Racewear, Lanes Yamaha, Ashley Lynn Winery, Bicknell Racing Products, DirtTrackDigest.com and LC Design.
The ESS Road Ahead:
Saturday, May 27 – Fulton Speedway – Fulton, NY ($2,000 to Win)
Friday, June 2 – Albany-Saratoga Speedway – Malta, NY ($2,000 to Win)
Saturday June 3 – Orange County Fair Speedway – Middletown, NY ($2,000 to Win)
Full Results:
A-Main (25 Laps): 1. #01-Danny Varin[6]; 2. #22-Jonathan Preston[4]; 3. #99L-Larry Wight[5]; 4. #87-Jason Barney[7]; 5. #45-Chuck Hebing[3]; 6. #7C-Dylan Swiernik[14]; 7. #98-Joe Trenca[12]; 8. #5D-Jacob Dykstra[9]; 9. 28-Jordan Poirier[19]; 10. #10-Jeff Cook[10]; 11. #90-Matt Tanner[11]; 12. #41-Dalton Rombough[13]; 13. #28F-Davie Franek[2]; 14. #10C-Paulie Colagiovanni[15]; 15. #79-Jordan Thomas[21]; 16. #56-Billy VanInwegen Jr[20]; 17. #23-Tyler Cartier[22]; 18. #14B-Brett Wright[16]; 19. #4P-Chase Moran[23]; 20. #17-Sammy Reakes IV[24]; 21. #33-Lacey Hanson[17]; 22. #36-Logan Crisafulli[25]; 23. (DNF) #10H-Kelly Hebing[18]; 24. (DNF) #53-Shawn Donath[8]; 25. (DNS) #5H-Chris Hile
B-Main (10 Laps): 1. #79-Jordan Thomas[3]; 2. #23-Tyler Cartier[4]; 3. #4P-Chase Moran[5]; 4. #17-Sammy Reakes IV[8]; 5. #21B-Blake Warner[2]; 6. #36-Logan Crisafulli[10]; 7. #66-Jordan Hutton[6]; 8. 84-Tyler Rand[13]; 9. #3Z-Johnny Smith[12]; 10. 11J-Chris Jones[7]; 11. #3G-Dale Gosselin[9]; 12. #13-Keith Granholm[11]; 13. 96X-Chad Phelps[1]
Dash 1 (4 Laps): 1. #41-Dalton Rombough[1]; 2. #7C-Dylan Swiernik[3]; 3. #10C-Paulie Colagiovanni[4]; 4. #14B-Brett Wright[2]
Heat 1 (10 Laps): 1. #10-Jeff Cook[1]; 2. #22-Jonathan Preston[3]; 3. #98-Joe Trenca[2]; 4. #41-Dalton Rombough[4]; 5. #33-Lacey Hanson[5]; 6. 96X-Chad Phelps[7]; 7. #4P-Chase Moran[9]; 8. #3G-Dale Gosselin[6]; 9. 84-Tyler Rand[8]
Heat 2 (10 Laps): 1. #90-Matt Tanner[1]; 2. #28F-Davie Franek[4]; 3. #53-Shawn Donath[2]; 4. #14B-Brett Wright[7]; 5. #10H-Kelly Hebing[3]; 6. #21B-Blake Warner[8]; 7. #66-Jordan Hutton[6]; 8. #36-Logan Crisafulli[5]
Heat 3 (10 Laps): 1. #99L-Larry Wight[2]; 2. #45-Chuck Hebing[1]; 3. #5D-Jacob Dykstra[6]; 4. #7C-Dylan Swiernik[4]; 5. 28-Jordan Poirier[7]; 6. #79-Jordan Thomas[5]; 7. 11J-Chris Jones[3]; 8. #13-Keith Granholm[8]
Heat 4 (10 Laps): 1. #87-Jason Barney[1]; 2. #5H-Chris Hile[4]; 3. #01-Danny Varin[3]; 4. #10C-Paulie Colagiovanni[2]; 5. #56-Billy VanInwegen Jr[5]; 6. #23-Tyler Cartier[7]; 7. #17-Sammy Reakes IV[8]; 8. #3Z-Johnny Smith[6]
Awards & Contingencies:
Rifenburg Contracting Fast Time ($25 each): 98-Joe Trenca, 53-Shawn Donath, 99l-Larry Wight, 10c-Paulie Colagiovanni
E&V Energy Heat Winners ($25 each): 10-Jeff Cook, 90-Matt Tanner, 99L-Larry Wight, 87-Jason Barney
Cobra Coaches / Cartier Motorsports Dash Winner ($100): 41-Dalton Rombough
Lacaillade Masonry B Main Winner ($50): 79-Jordan Thomas
PJC Spray Foam First Non-Qualifier ($50): 66-Jordan Hutton
Pinnacle Pole Draw Award ($25): 5h-Chris Hile
PJC Spray Foam Hard Charger Award ($50): 28-Jordan Poirier (+10)
Pinnacle Investments Last Car Running ($35): 36-Logan Crisafulli
Pinnacle Investments 11th Place (5 gallons fuel): 90-Matt Tanner
Ashley Lynn Winery Podium Finish (bottle of wine): 01-Danny Varin, 22-Jonathan Preston, 99L-Larry Wight