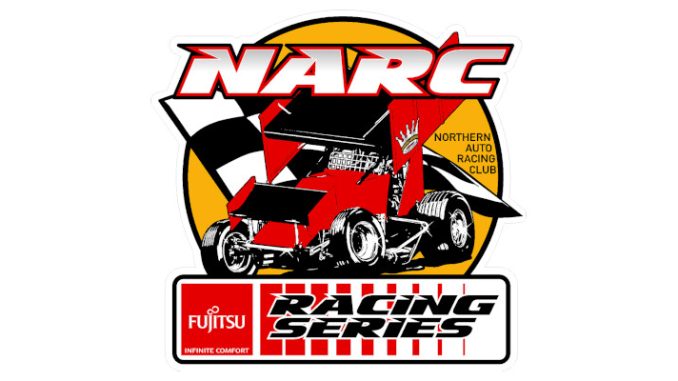 By James Allen
(5/30/23) Placerville, CA … Action and tradition will meet each other on Saturday, June 3rd, when the NARC 410 Sprint Car Series returns to Placerville Speedway. A $5,000 payday will go to the driver who can slay the field of the 32nd Annual Dave Bradway Jr. Memorial. This will be the only time you will see the fire-breathing mudslinging monsters of the NARC 410 Sprint Car Series at "Little Knoxville On The Hill" in 2023.
The popular event features a lucrative payday and pays tribute to an incredible driver, Dave Bradway Jr., who tragically passed away in a racing accident in June of 1987 at Skagit Speedway. The event was initially held at Silver Dollar Speedway from its inception in 1991 until it was relocated to Placerville in 2021.
Several additional prizes are up for grabs, including $5,200 in additional lap money, $1,100 for a quick time, $650 for the hard charger, and much more.
"I'm excited to get back to Placerville," commented driver Corey Day of Clovis, the defending race winner. "It's such a cool place and it's really good for racing. There is no place like it, so to be good there and win there is cool too. I was pumped to win (the Bradway) last year, and it'd be great to win it in the (Jason Meyers Racing) #14 this year."
All of the top cars and stars of the NARC 410 Sprint Car Series will be in attendance, as well as several Placerville Speedway regulars. The facility is an action-filled quarter-mile clay oval with high banks that will take your breath away every single lap.
The Dave Bradway Jr. Memorial weekend kicks off with the Sprint Car Challenge Tour 360 sprint cars on Friday night. The NorCal Dwarf Cars will be the companion division both nights.
Championship Chase
An electric points battle is raging for the NARC 410 Sprint Car Series points championship. Day continues to reign atop the standings, holding a slim eight-point margin over two-time defending series champion Dominic Scelzi of Fresno. With a large slate of events on the June docket, it will undoubtedly play a significant factor in determining who will be crowned the King of the West in November. Day is chasing his first-ever NARC title.
Both pilots have three wins to their credit this season, and both have yet to finish outside of the Top 10. However, Scelzi has been scorching hot lately, as he has visited victory lane the last two times that the tour has run and three out of the last four. He was fifth at this event last year and won it in 2021.
Who to Watch
Justin Sanders, who has five top-five finishes to his credit this season. is still looking for that first win of 2023 with the NARC 410 Sprint Car Series. The Aromas racer always runs well at Placerville, with two 360 Sprint Car wins at Placerville this season. Sanders is the 2019 winner of this event, the last time it was held in Chico.
Shane Golobic has won several crown jewel events in California, but the Fremont native has yet to win the coveted Bradway trophy. Last year Golobic was third when the checkered flag dropped and is looking for his first NARC win this season.
Besides Day and Scelzi, Roseville's Justyn Cox is the only other feature winner on the NARC tour this season. He is currently fourth in the points standings after claiming the lucrative Dennis Roth Classic in April and posting six top ten finishes.
Campbell veteran Bud Kaeding wants to build off his incredible second-place effort at Petaluma in the most recent NARC race. Kaeding was the 2015 winner of this event, and there is no doubt that the iconic BK Racing team is hungry for another Bradway trophy to add to the case.
Andy Forsberg is the defending track champion at Placerville Speedway. Despite all his Placerville success, like Golobic, Forsberg has yet to win the Dave Bradway Jr. Memorial. However, the Auburn veteran is coming off his best run of the current campaign with the tour, as he posted a fifth-place finish at Petaluma on May 20th.
No doubt, another favorite that the Placerville crowd will be roaring for is Michael Faccinto. The Hanford driver drives the #X1 entry owned by Alan Bradway and Steve Tuccelli. Faccinto has had some strong runs in the 360 Sprints with the local Placerville scene and will look to apply that experience on Saturday night.
Despite a limited schedule, Willie Croft is a driver you don't want to discount. Now residing in Colfax, Croft collected a Bradway win in 2018 and boasted an impressive fourth-place performance at Petaluma a couple of weeks ago despite being out of the race car for nearly two months. He has earned the Mike Avilla fast time award at the event for five-years running.
Also running will be Penngrove's Chase Johnson, Billy Aton of Benicia, Tucson native Nick Parker, Oakley teenager Dylan Bloomfield, Joey Ancona of Concord, Roseville driver's Colby Copeland, Ryan Bernal and Sean Becker, Kaleb Montgomery from Templeton, and many more!
PAST RACE HISTORY: Jonathan Allard has accumulated the most Dave Bradway Jr. Memorial wins in the race's storied existence. The Chico chauffeur, now living in New Zealand, has won the Bradway five times over the years, with the most recent achievement in 2012.
Fan & Competitor Info
Placerville Speedway is located at the El Dorado Fairgrounds at 100 Placerville Drive in Placerville, California. Front Gates open at 3:00 PM with cars on the track around 5:15 with Hot Laps and ARP Qualifying to follow. Tickets are $28.00 for Adults, Junior/Senior/Military $25.00, Kids (6-11) $10.00, and 5 & Under are FREE. For more information, log on to www.placervillespeedway.com.
The NARC 410 Sprint Series is the leading 410 Sprint Car tour west of the Rocky Mountains. Since 1960, they have enthralled countless thousands of fans from tracks up and down the Pacific Coast. For more information, visit their website at www.narc410.com or social media pages.
The Dave Bradway Jr. Memorial can be viewed live on Floracing.com, along with every NARC 410 Sprint Car Series race.
The NARC 410 Sprint Car Racing Series is also sponsored by Hoosier Racing Tires, Floracing.com, and NAPA Auto Parts. Associate and product award sponsors include Automotive Racing Products (ARP), Beacon Wealth Strategies-Raymond James Financial, Brown & Miller Racing Solutions, Bullet Impressions, D & D Roofing, Diversified Machine Inc., Johnstone Supply, Kaeding Performance Center, Kimo's Tropical Car Wash, KSE Racing Enterprises, Lifeline LLC, Maxim Racing Products, Mettec Titanium, Pyrotect, Safecraft Safety Equipment, Saldana Racing Products, Schoenfeld Headers, Scelzi Enterprises, SCI Racing Products, Starr Property Management, Sunnyvalley Bacon, System 1 Ignition, Ultra Lite Brakes, Williams Roofing, Wilwood Disc Brakes, and Winters Performance Products.
NARC 410 SPRINT CAR SERIES
CHAMPIONSHIP POINT STANDINGS
(AFTER SEVEN EVENTS IN 21-RACE SERIES – 5/29/23)
Corey Day, Clovis – 976
Dominic Scelzi, Fresno – 969
Justin Sanders, Aromas – 950
Justyn Cox, Roseville – 933
Chase Johnson, Penngrove – 926
Bud Kaeding, Campbell – 924
Dylan Bloomfield, Oakley – 892
Nick Parker, Tucson, AZ (R) – 858
Billy Aton, Benicia – 829
Shane Golobic, Fremont – 800
Joey Ancona, Concord (R) – 773
Kaleb Montgomery, Templeton (R) – 741
Ryan Bernal, Roseville – 656
Tanner Holmes, Central Point, OR – 641
DJ Netto, Hanford – 499
Colby Copeland, Roseville – 630
Craig Stidham, Fresno – 607
Cole Macedo, Hanford – 513
Joel Myers Jr., Sebastopol – 511
Dawson Faria, Tipton – 493
Former Dave Bradway Jr. Memorial Winners
2022- Corey Day
2021- Dominic Scelzi
2019- Justin Sanders
2018- Willie Croft
2017- Rico Abreu
2016- Kyle Hirst
2015- Bud Kaeding
2014- Rico Abreu
2013- Rico Abreu
2012- Jonathan Allard
2011- Peter Murphy
2010- Shane Stewart
2009- Jonathan Allard
2008- Tim Kaeding
2007- Brent Kaeding
2006- Sean Becker
2005- Jonathan Allard
2004- Jason Statler
2003- Jonathan Allard
2002- Tim Kaeding
2001- Jonathan Allard
2000- Brent Kaeding
1999- Brent Kaeding
1998- Randy Tiner
1997- Jimmy Sills
1996- Paul McMahan
1995- Brent Kaeding
1994- Randy Tiner
1993- Eric Rossi
1992- Greg DeCaires
1991- Jason McMillen
UPCOMING EVENTS:
Fastest Four Days in Motorsports
June 15 – Southern Oregon Speedway (Central Point, OR) – Thursday Night Thunder
June 16 – Douglas County Dirt Track (Roseburg, OR) – Friday Night Frenzy
June 17 – Willamette Speedway (Lebanon, OR) – Sprint Car Invasion
June 18 – Grays Harbor Raceway (Elma, WA) – Timber Cup
June 22-24th – Skagit Speedway (Burlington, WA) – $62,000 to win Super Dirt Cup