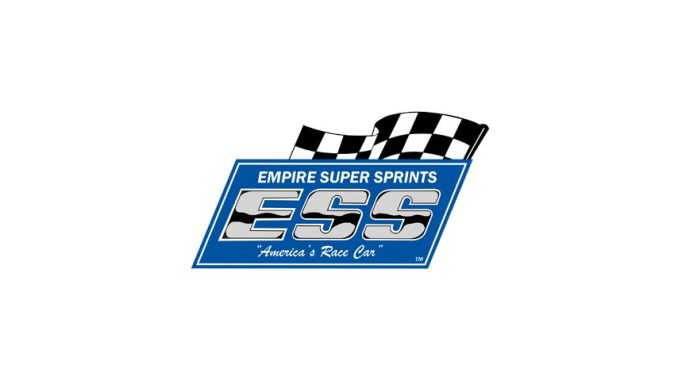 From Curtis Berleue
RANSOMVILLE, N.Y. (June 9, 2023) — For the second time in 2023, Paulie Colagiovanni found himself in Empire Super Sprints victory lane, this time at the Ransomville Speedway for the Ron Lux Memorial.
Pinnacle Pole Award winner Johnny Smith and Matt Farnham would lead the starting field to the initial green flag. After a caution on the initial start for the #22 of Jonathan Preston, Smith was able to jump out to an early lead.
4th starting Colagiovanni made quick work of the cars in front of him, and by lap 2 he had worked his way into second. On lap 6, he was able to get by Smith for the lead and never looked back.
Meanwhile, Shawn Donath was also mounting a charge to the front and was able to get by Smith for the second spot on lap 9 while working the bottom of turns 3 & 4.
Although a late race caution would bunch the field up once more on lap 18, neither Donath nor Smith were ever able to make a serious challenge for the lead. At the end of 25 laps, it was Colagiovanni who sailed to victory in the Ron Lux Memorial worth $2,000.
"I noticed the top was getting crumbly and dirty, and a lot of the guys getting up against the wall, so I pulled my wing back and went right to the bottom – it stuck really good," said Colagiovanni. "Once I saw that caution, I knew I just had to get by lap cars because Shawn (Donath) is always pretty good here. Luckily, we were able to hold on for the win."
As with any points battle, consistency is the name of the game and Shawn Donath has been a model of consistency as of late. Friday night was no different, as Donath brought his #53 machine home in second for yet another podium finish. Polesitter Johnny Smith IV was able to hold on to third and would complete the Ashley Lynn Winery podium.
With 17 cars signed in for the night, the field was split into two timed hot lap groups. Rifenburg Contracting fast time awards went to Shawn Donath and Johnny Smith IV. E&V Energy heat wins went to Shawn Donath and Matt Farnham. The Cobra Coaches Dash presented by Just Signs & Designs was won by Jordan Poirier.
Empire Super Sprints
Ransomville Speedway
Ransomville, New York
Friday, June 9, 2023
Heat Race #1
1. #53-Shawn Donath[2]
2. #5D-Jacob Dykstra[4]
3. #7C-Dylan Swiernik[1]
4. 28-Jordan Poirier[3]
5. #22-Jonathan Preston[9]
6. #90-Matt Tanner[6]
7. #36-Logan Crisafulli[5]
8. #10-Jeff Cook[7]
9. 90T-Travis Cunningham[8]
Heat Race #2
1. #7NY-Matt Farnham[1]
2. #3Z-Johnny Smith[2]
3. #10C-Paulie Colagiovanni[3]
4. #87-Jason Barney[6]
5. #45-Chuck Hebing[5]
6. #13T-Trevor Years[7]
7. #13-Keith Granholm[8]
8. #15-Ryan Turner[4]
Dash #1
1. 28-Jordan Poirier[1]
2. #87-Jason Barney[2]
3. #45-Chuck Hebing[4]
4. #22-Jonathan Preston[3]
5. #13T-Trevor Years[6]
6. #90-Matt Tanner[5]
A-Main
1. #10C-Paulie Colagiovanni[4]
2. #53-Shawn Donath[5]
3. #3Z-Johnny Smith[1]
4. 28-Jordan Poirier[7]
5. #87-Jason Barney[8]
6. #7C-Dylan Swiernik[6]
7. #90-Matt Tanner[12]
8. #36-Logan Crisafulli[13]
9. #7NY-Matt Farnham[2]
10. #45-Chuck Hebing[9]
11. 90T-Travis Cunningham[17]
12. #10-Jeff Cook[15]
13. #13-Keith Granholm[14]
14. #13T-Trevor Years[11]
15. #5D-Jacob Dykstra[3]
16. #22-Jonathan Preston[10]
17. #15-Ryan Turner[16]