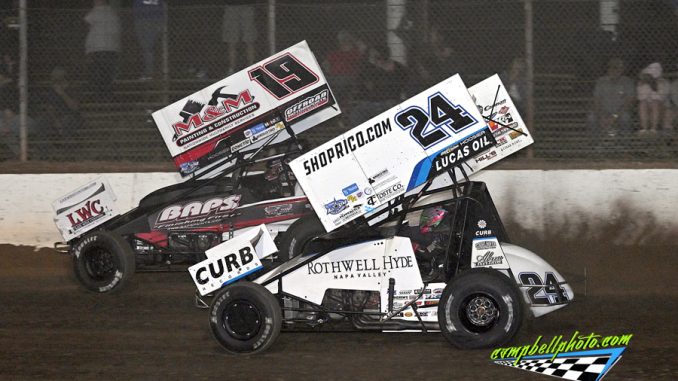 By Tyler Altmeyer
PORTSMOUTH, Ohio (June 17, 2023) – Ohio Sprint Speedweek presented by Cometic Gasket concluded with an all-out brawl in Portsmouth, Ohio, and despite countless official and unofficial lead changes, accompanied by dozens of slidejobs performed by all of those battling within the top five during the second half of the 30-lap contest, it was Myerstown, Pennsylvania's Brent Marks who came out on top, scoring a second consecutive Dean Knittel Memorial title with the Tezos All Star Circuit of Champions presented by Mobil 1 for a $22,554 top prize. Marks' All Star victory total now stands at 11, five of which accomplished in the Buckeye State.
Marks, ace of the Murray-Marks Motorsports/M&M Painting and Construction No. 19 sprint car, started third on the Dean Knittel Memorial A-Main grid, battling hot and heavy through the midpoint of Saturday's feature before taking command from Buch Motorsports' Justin Peck with less than a handful remaining. Prior to Marks' winning takeover, Vermeer Motorsports' Buddy Kofoid was the majority race leader, soon forced to dual with the likes of Rico Abreu, Brent Marks, Justin Peck and Zeb Wise. Abreu would take command on lap 19, eventually losing the point to Peck on lap 23.
Unfortunately for Peck and Wise, they each suffered from winning contention-ending cotasrophes, Peck in the form of a left rear flat, and Wise in the from of mechanical failure. Although Peck would return, Wise would not, simultaneously ending hopes for an Ohio Sprint Speedweek championship.
Rico Abreu would race on to finish second at Portsmouth Raceway Park, followed by a late-charging Anthony Macri, Buddy Kofoid, and Skylar Gee.
"It's an honor to win the Dean Knittel Memorial for the second year in a row…a win this team needed," Brent Marks said. "We've been in the hunt for wins the last eight or so races, but just haven't been able to get it done. I owe it all to this team, and to Al Murray for giving us the tools necessary to succeed."
Brent Marks may have won the battle, but "Sunshine" Tyler Courtney won the war, capping his second-ever Ohio Sprint Speedweek presented by Cometic Gasket championship with a criteria win over Buddy Kofoid. Courtney and Kofoid ended the Dean Knittel Memorial tied for the top spot in the final Ohio Sprint Speedweek standings, but Courtney's victory at Wayne County Speedway earned him the championship by tie-breaker; the title earned Courtney a $5,000 share.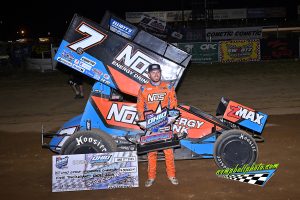 ON DECK:
The Tezos All Star Circuit of Champions presented by Mobil 1 will continue their 2023 campaign with a New York and Ohio double on Friday and Saturday, July 7-8, all of which commencing with a $15,000-to-win visit to Ransomville Speedway in Ransomville, New York. The Series will then visit Sharon Speedway in Hartford, Ohio, for the annual Lou Blaney Memorial awarding $10,000-to-win.
For those who can not witness the All Star Circuit of Champions live and in person, FloRacing.com, the official media partner and broadcast provider of the All Stars, has you covered. To access live and on-demand racing action from the All Star Circuit of Champions, visit FloRacing.com and become an annual PRO subscriber. Race fans can see all the USAC and dirt late-model action they want in addition to Eldora Speedway's slate of races and those of the All Star Circuit of Champions. The subscription unlocks access to premium content across the entire FloSports network. Watch the events across all screens by downloading the FloSports app on iOS, Android, Apple TV, Roku, Amazon Fire and Chromecast. Find subscription here: https://flosports.link/3XJOg5Z
Contingency Awards/Results: Portsmouth Raceway Park | June 17, 2023:
6th Annual Dean Knittel Memorial | $22,554-to-win
Ohio Sprint Speedweek presented by Cometic Gasket | FINALE
Kistler Racing Products Pill Draw | Entries: 46
Macri Concrete/Nunzi's Advertising Hot Laps: Rico Abreu | 12.588
Hercules Tires Fast Qualifier: Zeb Wise | 13.006
Hunt Brothers Pizza Heat #1 Winner: Brandon Wimmer
Competition Suspension Inc Heat #2 Winner: Tim Shaffer
All Pro Aluminum Cylinder Heads Heat #3 Winner: Buddy Kofoid
Kistler Racing Products Heat #4 Winner: Skylar Gee
Mobil 1 Heat #5 Winner: Tyler Courtney
Elliott's Custom Trailers and Carts Dash Winner: Rico Abreu
Classic Ink USA Screenprinting and Embroidery B-Main Winner: Cole Duncan
Rayce Rudeen Foundation Contingency Award: Keith Baxter
Tezos A-Main Winner: Brent Marks
Tezos A-Main Hard Charger: Cap Henry (+12)
Carquest Perseverance Award: Danny Smith
Tezos A Feature (30 Laps): 1. 19-Brent Marks[3]; 2. 24-Rico Abreu[1]; 3. 39M-Anthony Macri[12]; 4. 55-Michael Kofoid[2]; 5. 99-Skylar Gee[8]; 6. 7BC-Tyler Courtney[7]; 7. 91-Kyle Reinhardt[5]; 8. 33W-Cap Henry[20]; 9. 4-Chris Windom[13]; 10. 22-Cole Duncan[21]; 11. 45-Tim Shaffer[4]; 12. 70-Scotty Thiel[11]; 13. 25R-Jordan Ryan[17]; 14. W20-Greg Wilson[19]; 15. 32B-Dale Blaney[18]; 16. 101-Cody Maroske[24]; 17. 13-Justin Peck[6]; 18. A79-Brandon Wimmer[10]; 19. 29-Sye Lynch[15]; 20. 97-JJ Hickle[14]; 21. 11N-Harli White[22]; 22. 4S-Tyler Street[23]; 23. (DNF) 26-Zeb Wise[9]; 24. (DNF) 23Z-Zane DeVault[16]; 25. (DNF) 54-Danny Smith[25] LAP LEADERS: Buddy Kofoid (1-18), Rico Abreu (19-22), Justin Peck (23-26), Brent Marks (27-30)
Classic Ink USA B Feature (12 Laps): 1. 22-Cole Duncan[3]; 2. 11N-Harli White[1]; 3. 4S-Tyler Street[5]; 4. 101-Cody Maroske[8]; 5. 1B-Keith Baxter[6]; 6. 81-Lee Jacobs[7]; 7. 2-Ricky Peterson[9]; 8. 28M-Conner Morrell[2]; 9. 46-Michael Bauer[11]; 10. 23-Zeth Sabo[4]; 11. 09-Craig Mintz[17]; 12. 9-Trey Jacobs[12]; 13. 54-Danny Smith[16]; 14. 71M-Caden Englehart[10]; 15. 5J-Jake Hesson[15]; 16. (DNF) 15H-Sam Hafertepe Jr[14]; 17. (DNF) 19P-Sean Rayhall[13]
Computer Man C Feature (10 Laps): 1. 54-Danny Smith[3]; 2. 09-Craig Mintz[2]; 3. 2L-Logan Forler[8]; 4. 83X-Nate Reeser[6]; 5. 4U-Josh Davis[4]; 6. 4XS-Cale Stinson[7]; 7. 4X-Bradley Ashford[5]; 8. 24L-Lee Haskins[10]; 9. (DNF) 40-Logan Fenton[9]; 10. (DNS) 32-Bryce Lucius; 11. (DNS) 59-Bryan Nuckles
Elliotts Custom Trailers and Carts Dash (6 Laps): 1. 24-Rico Abreu[2]; 2. 55-Michael Kofoid[1]; 3. 19-Brent Marks[3]; 4. 45-Tim Shaffer[5]; 5. 91-Kyle Reinhardt[4]; 6. 13-Justin Peck[7]; 7. 7BC-Tyler Courtney[10]; 8. 99-Skylar Gee[6]; 9. 26-Zeb Wise[8]; 10. A79-Brandon Wimmer[9]
Hunt Brothers Pizza Heat 1 (8 Laps): 1. A79-Brandon Wimmer[2]; 2. 39M-Anthony Macri[6]; 3. 13-Justin Peck[4]; 4. 25R-Jordan Ryan[5]; 5. 11N-Harli White[1]; 6. 28M-Conner Morrell[3]; 7. 19P-Sean Rayhall[8]; 8. 54-Danny Smith[10]; 9. 83X-Nate Reeser[9]; 10. 59-Bryan Nuckles[7]
CSI Shocks Heat 2 (8 Laps): 1. 45-Tim Shaffer[1]; 2. 24-Rico Abreu[4]; 3. 97-JJ Hickle[2]; 4. W20-Greg Wilson[6]; 5. 23-Zeth Sabo[3]; 6. 2-Ricky Peterson[7]; 7. 9-Trey Jacobs[5]; 8. 4U-Josh Davis[9]; 9. 4XS-Cale Stinson[8]
All Pro Aluminum Cylinder Heads Heat 3 (8 Laps): 1. 55-Michael Kofoid[1]; 2. 70-Scotty Thiel[2]; 3. 26-Zeb Wise[4]; 4. 23Z-Zane DeVault[3]; 5. 22-Cole Duncan[5]; 6. 101-Cody Maroske[8]; 7. 46-Michael Bauer[6]; 8. 32-Bryce Lucius[7]; 9. 40-Logan Fenton[9]
Kistler Racing Products Heat 4 (8 Laps): 1. 99-Skylar Gee[3]; 2. 4-Chris Windom[1]; 3. 91-Kyle Reinhardt[4]; 4. 33W-Cap Henry[5]; 5. 1B-Keith Baxter[8]; 6. 71M-Caden Englehart[6]; 7. 15H-Sam Hafertepe Jr[2]; 8. 4X-Bradley Ashford[7]; 9. 24L-Lee Haskins[9]
Mobil 1 Heat 5 (8 Laps): 1. 7BC-Tyler Courtney[1]; 2. 19-Brent Marks[4]; 3. 29-Sye Lynch[2]; 4. 32B-Dale Blaney[5]; 5. 4S-Tyler Street[6]; 6. 81-Lee Jacobs[3]; 7. 5J-Jake Hesson[7]; 8. 09-Craig Mintz[8]; 9. 2L-Logan Forler[9]
Hercules Tire Qualifying: 1. 26-Zeb Wise, 00:13.006[27]; 2. 13-Justin Peck, 00:13.014[7]; 3. 11N-Harli White, 00:13.029[1]; 4. 24-Rico Abreu, 00:13.066[19]; 5. 55-Michael Kofoid, 00:13.130[25]; 6. 45-Tim Shaffer, 00:13.154[13]; 7. 97-JJ Hickle, 00:13.210[15]; 8. 19-Brent Marks, 00:13.233[38]; 9. 91-Kyle Reinhardt, 00:13.263[32]; 10. 70-Scotty Thiel, 00:13.287[22]; 11. A79-Brandon Wimmer, 00:13.293[9]; 12. 28M-Conner Morrell, 00:13.309[5]; 13. 23Z-Zane DeVault, 00:13.324[23]; 14. 25R-Jordan Ryan, 00:13.378[2]; 15. 7BC-Tyler Courtney, 00:13.400[42]; 16. 39M-Anthony Macri, 00:13.410[10]; 17. 22-Cole Duncan, 00:13.423[24]; 18. 29-Sye Lynch, 00:13.436[43]; 19. 23-Zeth Sabo, 00:13.438[14]; 20. 4-Chris Windom, 00:13.453[33]; 21. 46-Michael Bauer, 00:13.463[26]; 22. 59-Bryan Nuckles, 00:13.468[8]; 23. 9-Trey Jacobs, 00:13.501[16]; 24. 32-Bryce Lucius, 00:13.503[21]; 25. 81-Lee Jacobs, 00:13.505[46]; 26. 32B-Dale Blaney, 00:13.518[41]; 27. 19P-Sean Rayhall, 00:13.535[6]; 28. 83X-Nate Reeser, 00:13.543[3]; 29. W20-Greg Wilson, 00:13.544[17]; 30. 101-Cody Maroske, 00:13.564[28]; 31. 15H-Sam Hafertepe Jr, 00:13.601[36]; 32. 2-Ricky Peterson, 00:13.636[12]; 33. 4S-Tyler Street, 00:13.651[45]; 34. 99-Skylar Gee, 00:13.667[30]; 35. 5J-Jake Hesson, 00:13.769[44]; 36. 4XS-Cale Stinson, 00:13.795[11]; 37. 09-Craig Mintz, 00:13.824[40]; 38. 33W-Cap Henry, 00:13.848[37]; 39. 71M-Caden Englehart, 00:13.927[35]; 40. 54-Danny Smith, 00:14.008[4]; 41. 4U-Josh Davis, 00:14.019[18]; 42. 2L-Logan Forler, 00:14.028[39]; 43. 40-Logan Fenton, 00:14.155[20]; 44. 4X-Bradley Ashford, 00:14.566[29]; 45. 1B-Keith Baxter, 00:14.610[34]; 46. 24L-Lee Haskins, 00:14.860[31]
FINAL 2023 Ohio Sprint Speedweek presented by Cometic Gasket Standings:
*Tyler Courtney – 794
Buddy Kofoid – 794
Zeb Wise – 764
Chris Windom – 710
Tim Shaffer – 704
Skylar Gee – 698
Cap Henry – 696
J.J. Hickle – 684
Greg Wilson – 660
Cody Maroske – 652
*Won by Tie-Breaker
2023 All Star Circuit of Champions OWNER Standings (As of 6/17):
Clauson Marshall Racing – 2512
Rudeen Racing – 2444
Vermeer Motorsports – 2386
Lane Racing – 2346
Bryan Grove Racing – 2298
Seeling Motorsports – 2226
Bill McCandless Ford – 2198
Premier Motorsports – 2114
D3 Motorsports Group – 1954
2023 All Star Circuit of Champions DRIVER Standings (As of 6/17):
Tyler Courtney – 2512
Chris Windom – 2346
Zeb Wise – 2334
Tim Shaffer – 2298
J.J. Hickle – 2226
Scotty Thiel – 2114
Conner Morrell – 1954
Sye Lynch – 1870
Hunter Schuerenberg – 1592
Brent Marks – 1462