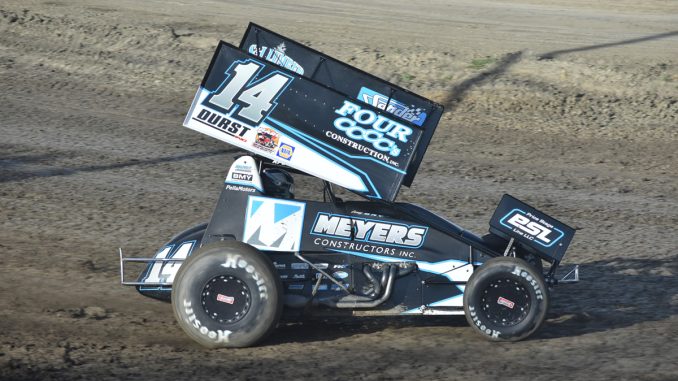 From Erik List
ALGER, Wash. (June 22, 2023) — Night number one of the 51st Annual Jim Raper Memorial Super Dirt Cup is in the books and if the next two nights are anything like tonight, we are in for a big treat!
In the 410 division, the Clovis California teenager Corey Day parked it in victory lane as his hot streak continues. Day took the lead on lap 19 after fighting with Tanner Holmes in a race that after an initial caution on the opening start went flag to flag. Holmes and Day fought tooth and nail to both get to the front of the field, coming from eight and third respectively, however, it all came down to lap traffic for Day. While fighting for the lead in traffic Day threw a slider going into three on Holmes right as Holmes bounced the car off the cushion in turn four allowing Day to take the lead on lap 19.
While the battle for the lead was heating up, so was the battle for the remaining two podium spots. Shane Golobic and Zeb Wise went to war, moving up through the field. Wise worked his way from a 12th-place starting spot to finish third while Golobic moved up from fifth place to second.
In the Northwest Focus Midget Division, Alex Peck went wire to wire never moving from the top spot for his first win of the year at Skagit Speedway. Peck never seemed to put a foot wrong as his car flew around Skagit Speedway while drama happened behind. While battling for third place Nick Evans and Jared Peterson made contact resulting in Peterson on his lid and both cars done for the night. While Peck locked it down out front, Ross Rankine and Jeff Westergard found their way back into victory lane coming home second and third.
Jim Raper Memorial Dirt Cup
Skagit Speedway
Alger, Washington
Thursday, June 22, 2023
Winged 410 Sprint Cars
Qualifying
1. 55-Trey Starks[16]
2. 8-Aaron Reutzel[6]
3. 2X-Justin Sanders[35]
4. 18T-Tanner Holmes[34]
5. 29-Willie Croft[12]
6. 18-Jason Solwold[21]
7. 115-Nick Parker[17]
8. 21-Cole Macedo[30]
9. 26R-Zeb Wise[38]
10. 16A-Colby Copeland[1]
11. 41-Dominic Scelzi[27]
12. 17W-Shane Golobic[33]
13. 73-Chase Johnson[36]
14. 21S-Jesse Schlotfeldt[18]
15. 53-Jessie Attard[8]
16. 96-Greg Hamilton[2]
17. 14-Corey Day[22]
18. 2L-Logan Forler[13]
19. 83V-Dylan Bloomfield[31]
20. 7-Tyler Thompson[5]
21. 19-Colby Thornhill[20]
22. 95-Justin Youngquist[9]
23. 69-Bud Kaeding[28]
24. 44W-Austen Wheatley[24]
25. 17-Cam Smith[3]
26. 3AU-Karl Hoffmans[37]
27. 88N-DJ Netto[7]
28. 46JR-Joel Myers Jr[39]
29. 99-Eric Fisher[4]
30. 9A-Luke Didiuk[23]
31. AU96-Andy Caruana[10]
32. 26-Billy Aton[29]
33. 2JR-Kelly Miller[15]
34. 9-Sean MacDonell[32]
35. 10G-Dana Glenn[26]
36. 14B-Bailey Jean[40]
37. 1M-Mike Brown[25]
38. 57-James Bundy[41]
39. 00S-Corey Summers[11]
40. 0-Ashleigh Johnson[14]
DNS: 42X-Justyn Cox
Heat Race #1
1. 17-Cam Smith[2]
2. 14-Corey Day[4]
3. 99-Eric Fisher[1]
4. 26R-Zeb Wise[6]
5. 55-Trey Starks[8]
6. 19-Colby Thornhill[3]
7. 29-Willie Croft[7]
8. 42X-Justyn Cox[11]
9. 73-Chase Johnson[5]
10. 2JR-Kelly Miller[9]
11. 1M-Mike Brown[10]
Heat Race #2
1. 3AU-Karl Hoffmans[2]
2. 95-Justin Youngquist[3]
3. 2L-Logan Forler[4]
4. 21S-Jesse Schlotfeldt[5]
5. 16A-Colby Copeland[6]
6. 18-Jason Solwold[7]
7. 8-Aaron Reutzel[8]
8. 9-Sean MacDonell[9]
9. 9A-Luke Didiuk[1]
10. 57-James Bundy[10]
Heat Race #3
1. 88N-DJ Netto[2]
2. 69-Bud Kaeding[3]
3. 41-Dominic Scelzi[6]
4. 2X-Justin Sanders[8]
5. 83V-Dylan Bloomfield[4]
6. AU96-Andy Caruana[1]
7. 115-Nick Parker[7]
8. 53-Jessie Attard[5]
9. 00S-Corey Summers[10]
10. 10G-Dana Glenn[9]
Heat Race #4
1. 26-Billy Aton[1]
2. 44W-Austen Wheatley[3]
3. 7-Tyler Thompson[4]
4. 17W-Shane Golobic[6]
5. 21-Cole Macedo[7]
6. 96-Greg Hamilton[5]
7. 46JR-Joel Myers Jr[2]
8. 18T-Tanner Holmes[8]
9. 14B-Bailey Jean[9]
10. 0-Ashleigh Johnson[10]
C-Main (10 Laps)
1. 42X-Justyn Cox[6]
2. 2JR-Kelly Miller[2]
3. 9-Sean MacDonell[1]
4. 14B-Bailey Jean[3]
5. 57-James Bundy[7]
6. 00S-Corey Summers[5]
7. 10G-Dana Glenn[4]
8. 0-Ashleigh Johnson[9]
DNS: 1M-Mike Brown
B-Main (15 Laps)
1. 83V-Dylan Bloomfield[1]
2. 53-Jessie Attard[3]
3. 73-Chase Johnson[2]
4. 88N-DJ Netto[6]
5. 19-Colby Thornhill[7]
6. 44W-Austen Wheatley[4]
7. 26-Billy Aton[9]
8. 42X-Justyn Cox[13]
9. 9A-Luke Didiuk[12]
10. 99-Eric Fisher[8]
11. 3AU-Karl Hoffmans[5]
12. 46JR-Joel Myers Jr[10]
13. AU96-Andy Caruana[11]
14. 2JR-Kelly Miller[14]
A-Main (30 Laps)
1. 14-Corey Day[3]
2. 17W-Shane Golobic[5]
3. 26R-Zeb Wise[12]
4. 18T-Tanner Holmes[8]
5. 41-Dominic Scelzi[10]
6. 2L-Logan Forler[2]
7. 21-Cole Macedo[9]
8. 8-Aaron Reutzel[14]
9. 7-Tyler Thompson[1]
10. 2X-Justin Sanders[15]
11. 21S-Jesse Schlotfeldt[4]
12. 55-Trey Starks[16]
13. 18-Jason Solwold[13]
14. 83V-Dylan Bloomfield[21]
15. 16A-Colby Copeland[7]
16. 96-Greg Hamilton[18]
17. 73-Chase Johnson[23]
18. 88N-DJ Netto[24]
19. 95-Justin Youngquist[17]
20. 115-Nick Parker[6]
21. 29-Willie Croft[11]
22. 69-Bud Kaeding[19]
23. 53-Jessie Attard[22]
24. 17-Cam Smith[20]
Northwest Focus Midget Car Series
Heat Race #1 (8 Laps)
1. 95-Nick Evans[5]
2. 21T-Ross Rankine[7]
3. 42M-Jake Munn[2]
4. 62-Chuck Pierce[8]
5. 78R-Roger Burt[3]
6. 2-Mike Roberts[4]
7. 39-David Mills[10]
8. 06-Shawn Wallenfelsz Jr[6]
9. 85-Jamee Gardner[1]
10. 23-Randy Schaaf[9]
Heat Race #2 (8 Laps)
1. 32-Jared Peterson[6]
2. 71-Bryan Murphy[2]
3. 9-Shane Smith[7]
4. 41-Ashley Thompson[5]
5. 12-Jason Thomas[4]
6. 3B-Brian Hayes[3]
7. 53X-Derek Amundson[9]
8. 21C-Dale Creager[8]
9. 12B-Ben Beck[1]
Heat Race #3 (8 Laps)
1. 2J-Jonathan Jorgenson[4]
2. 76-Tyler Ketchum[5]
3. 90-Brian Holmkvist[2]
4. 17M-Brian Rose[1]
5. 18-Ayuka Carlson[3]
6. 90C-Stuart Milner[7]
7. 27-Joe Shawley[6]
8. 48-Stewart Lee[8]
9. 17-Kyle Hanson[9]
Heat Race #4 (8 Laps)
1. 13A-Alex Peck[4]
2. 66-Jeff Westergard[8]
3. 25-Michael Hodel[6]
4. 5C-Chris Foster[1]
5. 30-Levi Klatt[7]
6. 21H-Todd Hartmann[5]
7. 3T-Tyler Luce[2]
8. 5W-Gary Wegener[9]
9. 58-JD Lewis[3]
C-Main (10 Laps)
1. 17-Kyle Hanson[5]
2. 06-Shawn Wallenfelsz Jr[4]
3. 12B-Ben Beck[6]
4. 48-Stewart Lee[2]
5. 3T-Tyler Luce[3]
6. 21C-Dale Creager[1]
B-Main (12 Laps)
1. 12-Jason Thomas[3]
2. 5C-Chris Foster[1]
3. 21H-Todd Hartmann[8]
4. 39-David Mills[2]
5. 17-Kyle Hanson[13]
6. 78R-Roger Burt[5]
7. 90C-Stuart Milner[4]
8. 18-Ayuka Carlson[6]
9. 27-Joe Shawley[11]
10. 2-Mike Roberts[9]
11. 06-Shawn Wallenfelsz Jr[14]
12. 5W-Gary Wegener[12]
13. 3B-Brian Hayes[10]
14. 53X-Derek Amundson[7]
A-Main (25 Laps)
1. 13A-Alex Peck[1]
2. 21T-Ross Rankine[3]
3. 66-Jeff Westergard[5]
4. 2J-Jonathan Jorgenson[2]
5. 76-Tyler Ketchum[7]
6. 62-Chuck Pierce[10]
7. 30-Levi Klatt[15]
8. 41-Ashley Thompson[14]
9. 42M-Jake Munn[12]
10. 90-Brian Holmkvist[13]
11. 39-David Mills[20]
12. 17M-Brian Rose[16]
13. 25-Michael Hodel[9]
14. 32-Jared Peterson[6]
15. 9-Shane Smith[8]
16. 71-Bryan Murphy[11]
17. 12-Jason Thomas[17]
18. 5C-Chris Foster[18]
19. 95-Nick Evans[4]
20. 21H-Todd Hartmann[19]