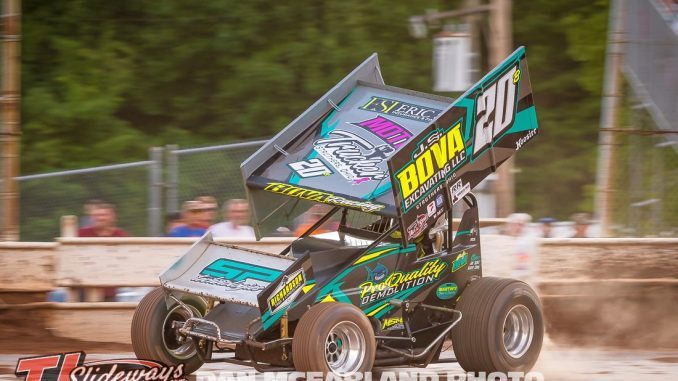 ORRVILLE – Cody Bova made a trip down memory lane Saturday night at the O'Reilly Auto Parts Wayne County Speedway. His latest trek, though, was just a little sweeter.
The Struthers, Ohio ace recorded his career first 410 sprint car victory on opening night of the 2022 season at the 3-8-mile near Orrville. The 29-year-old notched win number two – 427 days later – by leading every lap of the $3,000-to-win Ti22 Performance FAST Sprint Car Series' third visit to "Orrville's Historic Oval" in highlighting the speedway's Fast Five series action.
Not only did Bova return to the scene of his initial Pine Tree Towing and Recovery Sprint Car division victory, but it was also the J.S. Bova Excavating – Quality Demolition No. 20 XR-1 machines' initial FAST series win as well. Bova started his night by setting quick time over the stout 32-entries, then wired the field from his front-row starting slot. Bova's dominating effort, however, didn't come without a few anxious moments first.
Bova jumped to the early lead with eight-time 2023 winner and Western Pennsylvania star A.J. Flick – in his first WCS start – moving into second at the outset with Tyler Street, Trey Jacobs – fresh off his fourth-place finish in the recent Speedweek event- defending track champ Henry Malcuit, and Tyler Gunn from 10th setting a torrid pace.
Action was abruptly halted soon after, though, as Sean Rayhall catapulted his Prosser Racing mount over the first turn guardrail in a series of violent flips that ended over the speedway's service road. Although Rayhall initially climbed from his battered 19 machine, the former SCCA Road Racing champion was transported to a local care center for further evaluation.
When action resumed, Bova again stretched his advantage with Lee Jacobs, Jordan Ryan, FAST point leader Ricky Peterson, Chris Myers and six-time 2023 winner Brandon Spithaler joining the fray. The red appeared again on lap seven as Trey Jacobs, running in fourth, jumped the cushion in turns 3 and 4 and executed a pair of soft rollovers that also collected a fast-closing Gunn. Jacobs emerged unscathed but done for the evening with Gunn restarting from the tail.
Bova withstood a series of yellow flags in the event's mid-race stage, then a lap-23 restart bid for the lead from Flick, with Peterson – from his fifth row starting spot also moving into contention. Bova maintained his advantage for the victory, though, with Flick, Peterson, Spithaler, and Malcuit completing the top five.
"This place is so fast, and our car was working really well," said Bova. "There was a g
Fast on Dirt Sprint Car Series
Wayne County Speedway
Orrville, Ohio
Saturday, June 24, 2023
Feature:
1. 20B-Cody Bova
2. 2-AJ Flick
3. 2P-Ricky Peterson
4. 22S-Brandon Spithaler
5. 70-Henry Malcuit
6. 4* Tyler Street
7. 25R-Jordan Ryan
8. 38K-Chris Myers
9. 24D-Danny Sams III
10. 91G-Tyler Gunn
11. 55+ McKenna Haase
12. 5-Jeremy Weaver
13. 16-Danny Mumaw
14. 2+ Brian Smith
15. 1-Jamie Myers
16. 81-Lee Jacobs
17. 7-Troy Kingan
18. 91-Cale Thomas
19. 15-Mitch Harble
20. 9-Trey Jacobs
21. 23JR-Jack Sodeman Jr.
22. 19-Sean Rayhall
32 Entries
ARP Fasteners Qualifying
1.20B-Cody Bova, 14.534; 2.4*-Tyler Street, 14.550; 3.70-Henry Malcuit, 14.571; 4.22S-Brandon Spithaler, 14.572; 5.9-Trey Jacobs, 14.657; 6.91-Cale Thomas, 14.720; 7.2P-Ricky Peterson, 14.779; 8.38K-Chris Myers, 14.974; 9.25R-Jordan Ryan, 15.058; 10.24D-Danny Sams III, 15.124; 11.19-Sean Rayhall, 15.156; 12.81-Lee Jacobs, 15.186; 13.15-Mitch Harble, 15.298; 14.2-AJ Flick, 15.371; 15.16-Danny Mumaw, 15.397; 16.91G-Tyler Gunn, 15.428; 17.7DK-Dylan Kingan, 15.445; 18.23JR-Jack Sodeman Jr., 15.713; 19.78-Justin Clark, 15.772; 20.1-Jamie Myers, 15.926; 21.5-Jeremy Weaver, 15.982; 22.6J-Jonah Aumend, 16.017; 23.55+-McKenna Haase, 16.035; 24.2+-Brian Smith, 16.042; 25.D12-Jason Dolick, 16.293; 26.57N-Tyler Newhart, 16.341; 27.2A-Joe Adorjan, 16.406; 28.7-Troy Kingan, 16.418; 29.20-Danial Burkhart, 16.442; 30.187-Tyler Wiles, 16.574; 31.3-Denny Peebles, 17.058; 32.23-Ron Hamlin, 17.616;
NAPA Of Fremont – Heat 1, Group A – (8 Laps)
1. 2-AJ Flick[1] ; 2. 2P-Ricky Peterson[3] ; 3. 70-Henry Malcuit[4] ; 4. 24D-Danny Sams III[2] ; 5. 7DK-Dylan Kingan[5] ; 6. 78-Justin Clark[6] ; 7. 3-Denny Peebles[8] ; 8. 57N-Tyler Newhart[7]
Mad Tree Brewing – Heat 2, Group A – (8 Laps)
1. 9-Trey Jacobs[4] ; 2. 91G-Tyler Gunn[1] ; 3. 38K-Chris Myers[3] ; 4. 2+-Brian Smith[6] ; 5. 23JR-Jack Sodeman Jr.[5] ; 6. 2A-Joe Adorjan[7] ; 7. 23-Ron Hamlin[8] ; 8. 15-Mitch Harble[2]
Indy Race Parts – Heat 3, Group B – (8 Laps)
1. 81-Lee Jacobs[1] ; 2. 25R-Jordan Ryan[2] ; 3. 22S-Brandon Spithaler[3] ; 4. 20B-Cody Bova[4] ; 5. 1-Jamie Myers[5] ; 6. D12-Jason Dolick[7] ; 7. 6J-Jonah Aumend[6] ; 8. 20-Danial Burkhart[8]
Elite Wings USA – Heat 4, Group B – (8 Laps)
1. 4*-Tyler Street[4] ; 2. 91-Cale Thomas[3] ; 3. 55+-McKenna Haase[6] ; 4. 5-Jeremy Weaver[5] ; 5. 19-Sean Rayhall[2] ; 6. 16-Danny Mumaw[1] ; 7. 7-Troy Kingan[7] ; 8. 187-Tyler Wiles[8]
MPD RAcing B-Main – (12 Laps)
1. 19-Sean Rayhall[4] ; 2. 23JR-Jack Sodeman Jr.[2] ; 3. 16-Danny Mumaw[8] ; 4. 1-Jamie Myers[3] ; 5. 15-Mitch Harble[14] ; 6. 7-Troy Kingan[12] ; 7. 3-Denny Peebles[9] ; 8. 2A-Joe Adorjan[6] ; 9. 57N-Tyler Newhart[13] ; 10. 20-Danial Burkhart[15] ; 11. 6J-Jonah Aumend[11] ; 12. D12-Jason Dolick[7] ; 13. 187-Tyler Wiles[16] ; 14. 78-Justin Clark[5] ; 15. 7DK-Dylan Kingan[1] ; 16. 23-Ron Hamlin[10]