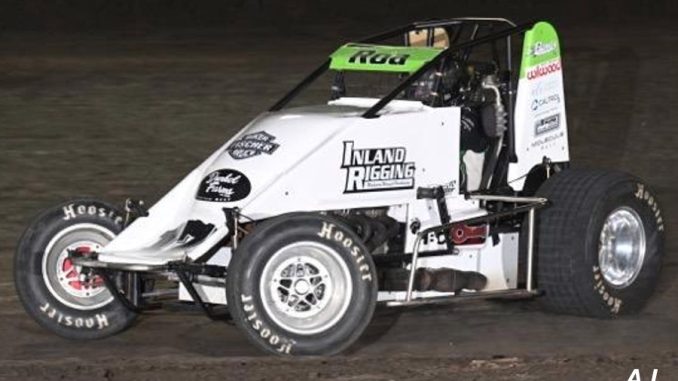 by Richie Murray
Bakersfield, California (June 24, 2023)………Yet again, Brody Roa showed why he's a force of nature on the AMSOIL USAC CRA Sprint Car trail.
On Saturday night at California's Bakersfield Speedway, it took Roa just two laps to lead the charge to the front from his fourth starting position. From there on, Roa led the remaining 29 laps to score his seventh series victory of the season in his Tom & Christy Dunkel/BR Performance No. 17R.
For the Garden Grove, Calif. native, it was his 20th career USAC CRA victory, tying himself with 2007 series champion Tony Jones for fourth on the all-time list while pushing his point lead to 117 markers.
Austin Williams (Yorba Linda, Calif.) came home second in the 30-lap feature with A.J. Bender (San Diego, Calif.) third. Kaleb Montgomery (Templeton, Calif.) led the initial lap after starting from the outside of the front row and ended up fourth at the finish line. Grant Sexton (Lakeside, Calif.) recorded a career best fifth place result with the series.
Seventh place finisher Tommy Malcolm (Corona, Calif.) was the night's Woodland Auto Display Fast Qualifier with a time of 12.956 seconds.
Jake Andreotti (Castro Valley, Calif.), Logan Williams (Yorba Linda, Calif.) and Roa captured heat race wins sponsored by FlowDynamics, Inc., In Memory of Jim & Chet Gardner, BillsJerky.net, WC Friend Company and Factory Wraps.
Andreotti also picked up feature hard charger honors in memory of Jim and Chet Gardner by virtue of his advancement from 10th to 6th while Logan Williams collected the Wilwood Disc Brakes Lucky 13 award for his 13th place finish in the main event.
================
AMSOIL USAC CRA SPRINT CAR SERIES RACE RESULTS: June 24, 2023 – Bakersfield Speedway – Bakersfield, California – Richie McGowan Memorial
WOODLAND AUTO DISPLAY QUALIFICATIONS: 1. Tommy Malcolm, 5x, Napier-12.956; 2. Austin Williams, 2, Williams-13.175; 3. Brody Roa, 17R, Dunkel/BR-13.200; 4. Ryan Timmons, 29T, Timmons-13.214; 5. Kaleb Montgomery, 3, Montgomery-13.219; 6. A.J. Bender, 21, Bender-13.256; 7. Verne Sweeney, 98, Guerrero-13.262; 8. Grant Sexton, 22, Sexton-13.315; 9. Chris Gansen, 4G, Gansen-13.336; 10. Jake Andreotti, 8m, May-13.336; 11. Tanner Boul, 99T, Boul-13.471; 12. Austin Grabowski, 72, Grabowski-13.504; 13. Jeff Dyer, 39, Cal-Sun-13.509; 14. Logan Williams, 5w, McCarthy-13.530; 15. Logan Calderwood, 6, Calderwood-13.595; 16. Tommy Dunkel, 17A, Dunkel/BR-13.625; 17. Brent Owens, 71, Martin-13.819; 18. James Herrera, 5J, Herrera-14.281; 19. Mark Henry, 39R, Henry-14.712; 20. Camie Bell, 29c, Bell-15.056.
FLOWDYNAMICS INCORPORATED / BILLSJERKY.NET FIRST HEAT: (10 laps) 1. Andreotti, 2. Malcolm, 3. Timmons, 4. Dyer, 5. Henry, 6. Dunkel, 7. Sweeney. NT.
IN MEMORY OF JIM & CHET GARDNER / FACTORY WRAPS SECOND HEAT: (10 laps) 1. L. Williams, 2. A. Williams, 3. Boul, 4. Montgomery, 5. Sexton, 6. Owens, 7. Bell. NT.
WC FRIEND COMPANY THIRD HEAT: (10 laps) 1. Roa, 2. Bender, 3. Gansen, 4. Grabowski, 5. Herrera, 6. Calderwood. NT.
FEATURE: (30 laps, With Starting Positions) 1. Brody Roa (4), 2. Austin Williams (5), 3. A.J. Bender (1), 4. Kaleb Montgomery (2), 5. Grant Sexton (8), 6. Jake Andreotti (10), 7. Tommy Malcolm (6), 8. Tanner Boul (11), 9. Austin Grabowski (12), 10. Jeff Dyer (13), 11. Chris Gansen (9), 12. Verne Sweeney (7), 13. Logan Williams (14), 14. Tommy Dunkel (16), 15. Mark Henry (19), 16. Brent Owens (17), 17. Logan Calderwood (15), 18. James Herrera (18), 19. Ryan Timmons (3), 20. Camie Bell (20). NT.
FEATURE LAP LEADERS: Lap 1 Montgomery, Laps 2-30 Roa.
IN MEMORY OF JIM & CHET GARDNER HARD CHARGER: Jake Andreotti (10th to 6th)
WILWOOD DISC BRAKES LUCKY 13 AWARD: Logan Williams
NEW AMSOIL USAC CRA SPRINT CAR POINTS: 1-Brody Roa-910, 2-Tommy Malcolm-793, 3-Austin Williams-734, 4-Cody Williams-650, 5-A.J. Bender-642, 6-Logan Calderwood-554, 7-Grant Sexton-467, 8-Charles Davis Jr.-460, 9-Verne Sweeney-367, 10-R.J. Johnson-324.
NEXT AMSOIL USAC CRA SPRINT CAR RACE: July 15 – Perris Auto Speedway – Perris, California