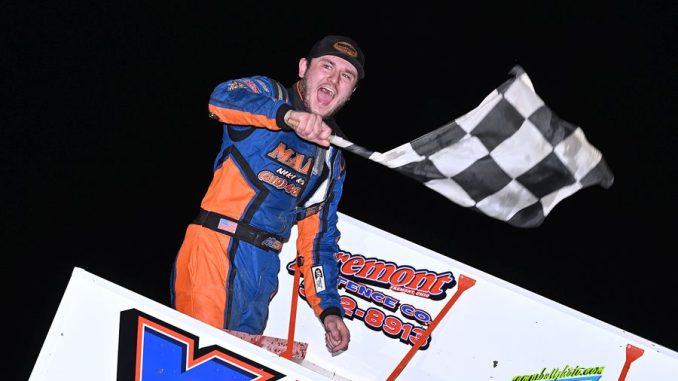 WAYNESFIELD, Ohio (July 3, 2023) — Ricky Lewis, Mike Keegan, and Luke Hall won features during the Jack Hewitt Classic on Monday at Waynesfield Raceway Park.
Lewis won the non-wing sprint car feature charging from 10th starting position for the victory. Hall, Kody Swanson, Riley Gray, and Issac Chapple rounded out the top five.
Keegan held of a charging Cole Macedo for the victory in the Great Lakes Super Sprint feature over Phil Gressman, Luke Griffith, and Jared Horstman.
Hall won the USAC Speed2 Midwest Thunder Midget Car Series main event.
Jack Hewitt Classic
Waynesfield Raceway Park
Waynesfield, Ohio
Monday, July 3, 2023
Buckeye Outlaw Sprint Series / Great Lakes Traditional Sprints
Qualifying Flight A
1. 77-Kody Swanson, 12.177[8]
2. 41-Ricky Lewis, 12.191[1]
3. 23K-Luke Hall, 12.447[10]
4. 87-Paul Dues, 12.488[6]
5. 1H-Korbyn Hayslett, 12.758[7]
6. 20-Tayte Williamson, 12.879[5]
7. 001-Greg Mitchell, 12.944[2]
8. 5-Toby Alfrey, 12.986[3]
9. 1M-Brandon Moore, 13.719[9]
10. 5M-Mike Moore, 14.113[4]
Qualifying Flight B
1. 6-Isaac Chapple, 12.437[8]
2. 06-Rylan Gray, 12.481[5]
3. 0-Steve Irwin, 12.658[6]
4. 99-Gage Etgen, 12.973[4]
5. 34-Parker Frederickson, 12.976[3]
6. 53-Steve Little, 13.040[9]
7. 5V-Jesse Vermillion, 13.125[10]
8. 21B-Ryan Barr, 13.311[2]
9. 10-Justin Adams, 13.465[1]
10. 49-Brian Ruhlman, 13.557[7]
Qualifying Flight C
1. 2DI-Dustin Ingle, 12.663[5]
2. 19-Matt Cooley, 12.678[9]
3. 24S-Landon Simon, 12.698[7]
4. 24-Lee Underwood, 12.748[1]
5. 21H-Dallas Hewitt, 12.853[6]
6. 25-Max Frank, 12.995[4]
7. 73-Blake Vermillion, 13.258[2]
8. 002-Garrett Mitchell, 13.367[3]
9. 28-Curt Elliott, 13.865[8]
10. 97X-Rodney Hurst, 14.525[10]
Heat Race #1 (8 Laps)
1. 87-Paul Dues[1]
2. 23K-Luke Hall[2]
3. 77-Kody Swanson[4]
4. 41-Ricky Lewis[3]
5. 20-Tayte Williamson[6]
6. 1H-Korbyn Hayslett[5]
7. 001-Greg Mitchell[7]
8. 5-Toby Alfrey[8]
9. 1M-Brandon Moore[9]
10. 5M-Mike Moore[10]
Heat Race #2 (8 Laps)
1. 06-Rylan Gray[3]
2. 0-Steve Irwin[2]
3. 6-Isaac Chapple[4]
4. 21B-Ryan Barr[8]
5. 34-Parker Frederickson[5]
6. 99-Gage Etgen[1]
7. 5V-Jesse Vermillion[7]
8. 49-Brian Ruhlman[10]
9. 10-Justin Adams[9]
10. 53-Steve Little[6]
Heat Race #3 (8 Laps)
1. 24S-Landon Simon[2]
2. 24-Lee Underwood[1]
3. 21H-Dallas Hewitt[5]
4. 2DI-Dustin Ingle[4]
5. 19-Matt Cooley[3]
6. 73-Blake Vermillion[7]
7. 25-Max Frank[6]
8. 002-Garrett Mitchell[8]
9. 28-Curt Elliott[9]
10. 97X-Rodney Hurst[10]
B-Main (12 Laps)
1. 1H-Korbyn Hayslett[1]
2. 99-Gage Etgen[2]
3. 73-Blake Vermillion[3]
4. 5V-Jesse Vermillion[5]
5. 25-Max Frank[6]
6. 49-Brian Ruhlman[8]
7. 001-Greg Mitchell[4]
8. 5-Toby Alfrey[7]
9. 1M-Brandon Moore[10]
10. 002-Garrett Mitchell[9]
11. 28-Curt Elliott[12]
12. 10-Justin Adams[11]
13. 5M-Mike Moore[13]
14. 97X-Rodney Hurst[15]
15. 53-Steve Little[14]
A-Main (30 Laps)
1. 41-Ricky Lewis[10]
2. 23K-Luke Hall[1]
3. 77-Kody Swanson[7]
4. 06-Rylan Gray[2]
5. 6-Isaac Chapple[8]
6. 2DI-Dustin Ingle[12]
7. 1H-Korbyn Hayslett[16]
8. 24-Lee Underwood[6]
9. 21B-Ryan Barr[11]
10. 0-Steve Irwin[3]
11. 73-Blake Vermillion[18]
12. 5V-Jesse Vermillion[19]
13. 19-Matt Cooley[15]
14. 99-Gage Etgen[17]
15. 001-Greg Mitchell[22]
16. 49-Brian Ruhlman[21]
17. 24S-Landon Simon[4]
18. 25-Max Frank[20]
19. 34-Parker Frederickson[14]
20. 21H-Dallas Hewitt[9]
21. 20-Tayte Williamson[13]
22. (DQ) 87-Paul Dues[5]
Great Lakes Super Sprints / National Racing Alliance
Qualifying
1. 2-Kyle Sauder, 11.128[11]
2. 27-Brad Lamberson, 11.147[5]
3. 71H-Max Stambaugh, 11.197[2]
4. 14H-Darin Naida, 11.225[4]
5. 23-Devon Dobie, 11.234[18]
6. 29-Cole Macedo, 11.291[3]
7. 7C-Phil Gressman, 11.312[9]
8. 11G-Luke Griffith, 11.328[6]
9. 16C-Tylar Rankin, 11.415[19]
10. 31-Jac Nickles, 11.434[22]
11. 20I-Kelsey Ivy, 11.441[13]
12. X-Mike Keegan, 11.444[23]
13. 17-Jared Horstman, 11.516[17]
14. 24-Kobe Allison, 11.550[25]
15. 22H-Randy Hannagan, 11.575[10]
16. 73C-Cody Fendley, 11.585[7]
17. 2B-Noah Dunlap, 11.655[21]
18. 0-Brayton Phillips, 11.656[20]
19. 49I-John Ivy, 11.662[1]
20. 11H-Caleb Harmon, 11.778[15]
21. X15-Kasey Ziebold, 11.846[14]
22. 88N-Frank Neill, 12.003[24]
23. 51M-Haldon Miller, 12.143[8]
24. 16E-Caleb Erwin, 12.352[16]
25. 97X-Rodney Hurst, 12.640[12]
Heat Race #1 (8 Laps)
1. 7C-Phil Gressman[2]
2. 2-Kyle Sauder[4]
3. 17-Jared Horstman[5]
4. 31-Jac Nickles[1]
5. 14H-Darin Naida[3]
6. 49I-John Ivy[7]
7. 88N-Frank Neill[8]
8. 97X-Rodney Hurst[9]
DNS: 73C-Cody Fendley
Heat Race #2 (8 Laps)
1. 11G-Luke Griffith[2]
2. 20I-Kelsey Ivy[1]
3. 27-Brad Lamberson[4]
4. 23-Devon Dobie[3]
5. 11H-Caleb Harmon[7]
6. 2B-Noah Dunlap[6]
7. 24-Kobe Allison[5]
DNS: 51M-Haldon Miller
Heat Race #3 (8 Laps)
1. X-Mike Keegan[1]
2. 29-Cole Macedo[3]
3. 22H-Randy Hannagan[5]
4. 16C-Tylar Rankin[2]
5. 0-Brayton Phillips[6]
6. X15-Kasey Ziebold[7]
7. 71H-Max Stambaugh[4]
8. 16E-Caleb Erwin[8]
A-Main (25 Laps)
1. X-Mike Keegan[2]
2. 29-Cole Macedo[6]
3. 7C-Phil Gressman[3]
4. 11G-Luke Griffith[1]
5. 17-Jared Horstman[8]
6. 27-Brad Lamberson[7]
7. 22H-Randy Hannagan[9]
8. 23-Devon Dobie[11]
9. 20I-Kelsey Ivy[5]
10. 16C-Tylar Rankin[12]
11. 14H-Darin Naida[13]
12. 24-Kobe Allison[19]
13. 31-Jac Nickles[10]
14. 49I-John Ivy[16]
15. 0-Brayton Phillips[15]
16. 88N-Frank Neill[18]
17. X15-Kasey Ziebold[17]
18. 11H-Caleb Harmon[14]
19. 97X-Rodney Hurst[20]
20. 2-Kyle Sauder[4]