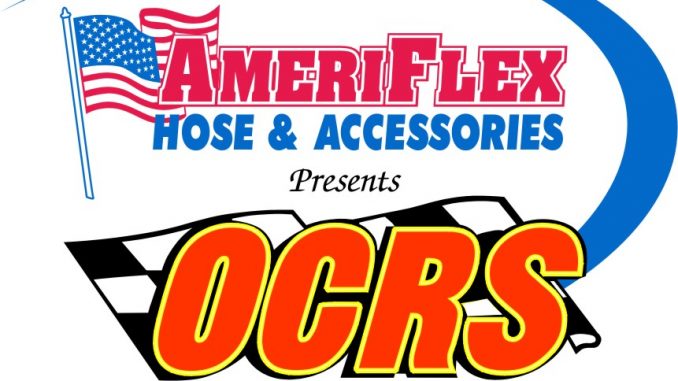 By John Rittenoure
TULSA, Okla. (July 25, 2023) – The AmeriFlex Hose & Accessories OCRS Sprint Cars will make their first appearance of the season at Caney Valley Speedway on Saturday.
Last season Caney Valley Speedway hosted two OCRS events with Brandon Anderson and Rees Moran picking up victories.
So far eight different drivers have won OCRS features this season. Rees Moran has three wins in the last five events, Zach Blurton has two wins along with Alex Sewell. Moran sits fifth in points while the top four, Danny Wood, Johnny Kent, Joe Bob Lee and Sheldon Barksdale are still looking for a victory.
Two weeks ago Kyle Clark became the eighth different winner of 2023 with his 6th career victory at Creek County Speedway.
Due to a forecast of excessive heat racing will start at 8 p.m. Saturday. Pits open at 5.
What you need to know……….
Where: Caney Valley Speedway, Caney, Kansas
When: Saturday, July 29
Pits open: 5 p.m.
Driver Sign-In: 6 p.m. – 6:30 p.m.
Drivers Meeting: 6:45 p.m.
Hot Laps: 7:30 p.m.
Racing Starts: 8 p.m.
Race Info: A-Feature pays $1,500-to-win, $300-to-start. Pill Draw: $20. MUST run AmeriFlex sticker to be paid.
Mufflers: Open Headers
Tires: 92 LR, medium RR
Track Website: www.CaneyValleySpeedway.net
2023 Winners
03/11 – Red Dirt Raceway, Tanner Conn.
03/18 – Tulsa Speedway, Fred Mattox.
04/01 – Enid Speedway, Zach Blurton
04/15 – Longdale Speedway, Zach Blurton
05/26 – Arrowhead Speedway, Sean McClelland
05/27 – Salina Highbanks Speedway, Alex Sewell
06/10 – Lawton Speedway, Alex Sewell
06/15 – Lucas Oil Speedway, Rees Moran
06/16 – I-70 Motorsports Park, Whit Gastineau
06/17 – Lake Ozark Speedway, Rees Moran
06/23 – Red Dirt Raceway, Rees Moran
07/15 – Creek County Speedway, Kyle Clark
Top 10 Standings: 1. Danny Wood, 1216; 2. Johnny Kent, 1182; 3. Joe Bob Lee, 1148; 4. Sheldon Barksdale, 1103; 5. Rees Moran, 939; 6. Zach Chappell, 927; 7. Joshua Tyre, 880; 8. Alex DeCamp, 773; 9. Terry Easum, 751; 10. Ryker Pace, 744.