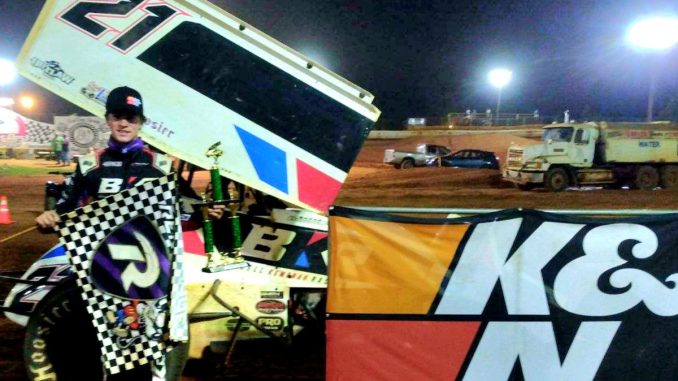 By Pete Walton
TRAVELERS REST, SC –July 27, 2023 – 15-year-old young gun Gavan Boschele of Mooresville, NC was the dominant force in United Sprint Car Series action Thursday night at Travelers Rest Speedway, as he took a big win, leading all 25 laps of the Feature Race. Boschele took the checkered flag for his fourth win of the season with a 5.602 second advantage of the second-place finisher Eric Riggins Jr. of Charlotte, NC.
National Sprint Car Hall of Fame Inductee and 14-time USCS National Champion Terry Gray of Bartlett, TN took the third spot to pad his point lead in search of his 15th title. Johnny Bridges of Cherryville, NC was fourth and Lance Moss of Cherryville, NC rounded out the top five.
Zane DeVault of Plymouth, IN who finished sixth after starting the race from the 15th spot was the Wilwood Disc Brakes Hard Charger of the Race. Seventh went to Eric Gunderson of Canton, GA, and A.J. Maddox of Tampa, FL was eighth. Terry Witherspoon of Jacksonville FL came back from a lap nine spin to finish ninth, and Brian Thomas of Pendergrass, GA rounded out the top ten.
In preliminary action, the two eight-lap Heat Races were won by Riggins in the Engler Machine and Tool First Heat, and Witherspoon in the JJ Supply of NC Second Heat. Boschele won the six-lap Hoosier Speed Dash to earn the K& N Filters Pole Position for the Feature Race.
Boschele took the lead at the drop of the green flag while Riggins and Witherspoon battled for the second spot with Gray in fourth and C.J. Miller of Mooresville, NC in the fifth spot. Witherspoon passed Riggins for the second spot on lap two, and Riggins reclaimed the spot on the third lap.
The battle for second enabled Boschele to open up a 3.5 second lead by the sixth lap. The only caution flag of the race came out on lap nine that shook up the top five in the running order. Witherspoon spun coming off the fourth turn and collected Miller. Witherspoon went to the back of the field for the restart, and Miller retired for the evening. The top five for the restart was Boschele, Riggins, Gray, Bridges, and Moss.
Boschele packed his bags, turned in the key, and checked out on the field for the remainder of the race that only took ten minutes and 23.149 seconds to complete. Boschele had a three second lead by lap 16, a 3.5 second advantage with five laps to go, and a 5.602 second margin of victory under the checkered flag on lap 25.
The Thursday night Travelers Rest Speedway stop was the first of a Carolina Triple Header for the United Sprint Car Series. They will head to Carolina Speedway in Gastonia, NC on Friday night, with the finale on Saturday night at Cherokee Speedway in Gaffney, SC.
United Sprint Car Series Marketing Partners are K&N Filters, Engler Machine & Tool, Hoosier Racing Tire, Hero Graphics, DMI, J&J Supply of NC, Racing Electronics, JE Pistons, DHR Suspension, Wilwood Disc Brakes, KSC Racing Products, PRO Shocks, Schoenfeld Headers, and Arizona Sport Shirts.
OFFICIAL RESULTS OF USCS EVENT AT TRAVELERS REST SPEEDWAY IN TRAVELERS REST, SC ON 7/27/2023:
FEATURE RACE – 25 Laps: 1. Gavan Boschele, Mooresville, NC; 2. Eric Riggins Jr., Charlotte, NC; 3. Terry Gray, Bartlett, TN; 4. Johnny Bridges, Cherryville, NC; 5. Lance Moss, Cherryville, NC; 6. Zane DeVault, Plymouth, IN; 7. Eric Gunderson, Canton, GA; 8. A.J. Maddox, Tampa, FL; 9. Terry Witherspoon, Jacksonville, FL; 10. Brian Thomas, Pendergrass, GA; 11. Joe Larkin, Suwanee, GA; 12. Jeff Willingham, Ripley, MS; 13. C.J. Miller, Mooresville, NC; 14. Camden Jackson, Cherryville, NC; 15. Kyle Connery, Vero Beach, FL DNS; 16. John Peden, Greer, SC DNS; 17. Sonny Stroud, Marietta, SC DNS.
HOOSIER SPEED DASH – 6 Laps: 1. Boschele; 2. Riggins; 3. Witherspoon; 4. Gray; 5. Thomas; 6. Miller.
HEAT RACES – 8 Laps:
ENGLER MACHINE AND TOOL 1ST HEAT: 1. Riggins; 2. Moss; 3. Gray; 4. Maddox; 5. Bridges; 6. Willingham; 7. Jackson; 8. Connery; 9. Stroud.
JJ SUPPLY OF NC 2ND HEAT: 1. Witherspoon; 2. Boschele; 3. Thomas; 4. Miller; 5. Larkin; 6. Gunderson; 7. Peden; 8. DeVault.