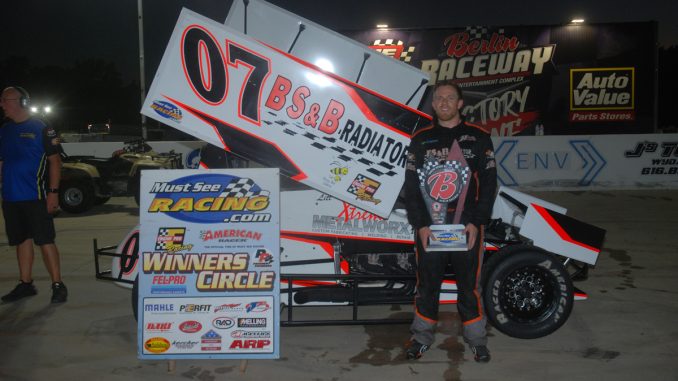 MARNE, Mich. (Aug. 12, 2023) – Prior to Saturday's Must See Racing Engine Pro Sprint Car Series race at Berlin Raceway, Canadian Ryan Litt felt as though the seven-sixteenth-mile oval owed him a good day.
Considering that – during his last visit to the track in July – Litt endured a harrowing supermodified accident that sent him to the hospital, his feelings were understandably justified.
But Saturday night, Litt came back to Berlin with his family-owned sprint car and collected on that debt, dominating Must See Racing's third and final visit to the track this season to pick up a much-needed win.
Litt roared forward from ninth starting position, took the lead on a lap-11 restart and never looked back, staying out front for the remainder of the 30-lap feature en route to his third career Must See Racing victory and first of the season.
The London, Ontario, native was masterful through traffic and bested runner-up Jimmy McCune, who was seeking his fourth straight series win, by 3.874 seconds in the end.
It led to an emotional celebration in victory lane capped by Litt's climb atop his familiar orange and white No. 07 sprint car.
"I think this is our fifth win here overall, and I just love coming here. I don't know what it is," Litt noted in victory lane. "Last time I left in an ambulance, and that wasn't a fun night, but this here was a lot better tonight. Any time you can pass guys like Jason Blonde and Jimmy McCune, it's a pretty big deal.
"It's hard starting deep like we had to. You just get in the dirty air and it's so much harder to go forward, but we found a way and my dad had the car lights out. It would go anywhere I needed it to go and that's what you need to be able to win in a field as competitive as this one."
Floridians Tommy Nichols and Shane Butler shared the front row for the night's main event after a 10 inversion was rolled by fast qualifier Charlie Schultz, and it was Butler who got out front early on, pacing the first five circuits before the night's surprise performer stepped forward from the middle of the pack.
White Hare Racing's Bobby Komisarski raced from fourth to pass Butler for the top spot on the fifth rotation, leading his first laps in Must See Racing competition and appearing to be a serious threat to collect his first series win in a minor upset.
Komisarski led by more than two seconds when Butler slowed with oil pressure issues on lap 10, leading to a three-wide pass for second by Litt moments before a caution was called to set up the lone restart of the night.
With Litt to his outside, Komisarski tried valiantly to hold the lead when the green flag returned, but was unable to do so. He eventually settled in behind Litt and McCune and ended up with a career-best finish of third.
"Ryan and Jimmy just have so much [time and experience] invested in this series that they had me beat tonight," said Komisarski. "We haven't been in that position, leading on a restart, a lot yet with this new team and just got beat … but we can't hang our heads. This is a great result for Gene [Fogle, car owner] and this whole White Hare team and it's proof that we can run up front with these guys like we've been striving for all season.
"Just happy for the team and it means a lot. I really feel like our day will be coming and this is a confidence booster that gives us some momentum heading into these last few races this season."
Jason Blonde, who finished fourth, collected the top bonus prize as the winner of the Engine Pro Fast Car Dash mini-series. Defending series champion Charlie Schultz closed the top five.
Schultz kicked off the program with a fast lap of 13.217 seconds in qualifying, completing a sweep of all three Berlin fast times with Must See Racing this season. Dorman Snyder and Rick Holley won heat races.
The Must See Racing Engine Pro Sprint Car Series season continues Saturday, Aug. 19 with the second annual Bob Frey Classic at Ohio's Lorain Raceway Park.
For more information on Must See Racing, visit www.mustseeracing.com.
Qualifying
1. 9S-Charlie Schultz, 13.217
2. 07L-Ryan Litt, 13.487
3. 42-Jason Blonde, 13.670
4. 88-Jimmy McCune, 13.920
5. 36-Tyler Roahrig, 14.002
6. 17R-Kyle Robbins, 14.009
7. 7-Bobby Komisarski, 14.072
8. 85-Rick Holley, 14.098
9. 18B-Shane Butler, 14.135
10. 55-Tommy Nichols, 14.218
11. 99-Dorman Snyder, 14.419
12. 72S-Joe Speakman, 14.798
13. 77-Quintin Saayman, 15.122
14. 17-Andrew Bogusz, 15.315
15. 23-Charlie Baur, 15.835
16. 44-Teddy Alberts, NT
Heat Race #1 (8 Laps)
1. 99-Dorman Snyder
2. 72S-Joe Speakman
3. 18b-Shane Butler
4. 55-Tommy Nichols
5. 17-Andrew Bogusz
6. 77-Quintin Saayman
7. 23-Charlie Baur
Heat Race #2 (8 Laps)
1. 85-Rick Holley
2. 7-Bobby Komisarski
3. 42-Jason Blonde
4. 17R-Kyle Robbins
5. 07L-Ryan Litt
6. 36-Tyler Roahrig
7. 88-Jimmy McCune
8. 9s-Charlie Schultz
Feature
1. 07L-Ryan Litt
2. 88-Jimmy McCune
3. 7-Bobby Komisarski
4. 42-Jason Blonde
5. 9S-Charlie Schultz
6. 17R-Kyle Robbins
7. 99-Dorman Snyder
8. 55-Tommy Nichols
9. 77-Quintin Saayman
10. 72S-Joe Speakman
11. 17-Andrew Bogusz
12. 23-Charlie Baur
13. 18B-Shane Butler
14. 36-Tyler Roahrig
15. 85-Rick Holley