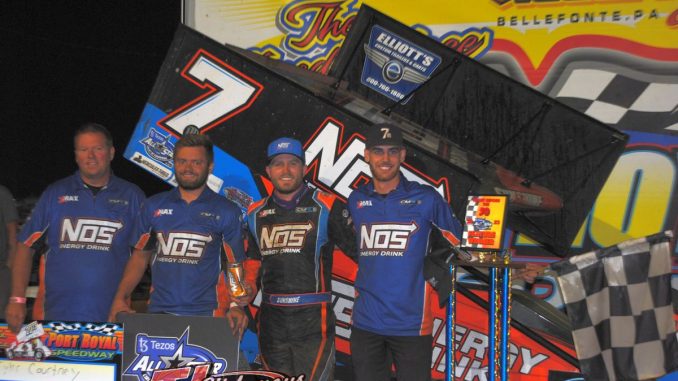 By T.J. Buffenbarger
PORT ROYAL, PA (September 8, 2023) — Tyler Courtney opened the Tuscarora 50 weekend by winning a thrilling Tezos All Star Circuit of Champions presented by Mobil 1 feature even Friday night at Port Royal Speedway. Courtney traded the lead with Aaron Retuzel and held off a charging Lance Dewease for his 11th win of the 2023 season. The victory also gave Courtney the unique distinction of winning winged and non-wing sprint car features at the Juniata County Fairgrounds oval.
Reutzel and Zeb Wise started on the front row for the 30-lap main event. Wise led into the first corner, threading the needle between Reutzel and the wall in turns one and two while Courtney drove by Reutzel for second in turns three and four.
Courtney started to pressure Wise for the lead on lap four, with Wise able to keep Courtney behind him.
On lap 10 Reutzel was able to build up some momentum at the top of track and drive around Courtney, who was boxed in with a slower car in turns one and two, then get by Wise in turn three, only to have Wise turn under him to retake the lead.
Courtney, Wise, and Reutzel then raced three wide down the backstretch on lap 11 with Reutzel driving to the lead, leaving Courtney and Wise to race for second until Courtney drove away on lap 13. Wise drove by Courtney on lap 14 in turns one and two to take over second position.
Devon Borden entered the picture racing with Courtney for third on lap 15. One lap later the first caution flag of the vent appeared when Hunter Schuerenberg slowed on the backstretch with a flat right rear tire. Schuerenberg was able to have his team change the tire and rejoin the tail of the field.
During the restart Reutzell pulled away as Courtney and Wise raced for second when Anthony Macri slowed between turns three and four against the wall with front end damage. Macri was unable to continue.
Wise attempted a slide job on Reutzel in turns one and two but was unable to make the pass. This allowed Courtney to build up momentum and pressure the next lap through turns one and two, driving by in turns three and four to take over second position.
By lap 17 Courtney was pressuring Reutzel for the lead. The pair raced side by side through the corners for multiple laps with Reutzel getting into the wall in turns three and four, allowing Courtney to pull alongside. Through turns one and two Reutzel just squeezed Between Courtney and the wall to take the lead back. Courtney then used the bottom of turns three and four to race side by side with Reutzel into turn one, completing the pass for the lead in turns one and two on lap 22.
While Courtney and Reutzel raced for the lead Wise was under fire from Logan Wagner and Lance Dewease.
With 14 laps to go Reutzel started to drop back with Wagner and Dewease getting by. Dewease and Wagner exchanged second position on lap 26 and 27 when the caution appeared for Reutzel who had a right rear tire explode and collected Devon Borden.
The caution set up a four-lap sprint to the finish. Dewease was able hang to Courtney's back bumper, getting a look under him through turns three and four on lap 27, but was unable to make the pass. Dewease closed again with two laps to go, but Courtney was able to get enough drive off turn four to opened up his lead. From there Courtney drove away for the victory by 0.065 seconds over Dewease and Wise with a last lap pass of Wagner for the third and final podium position. Cory Eliason rounded out the top five.
Tezos All Star Circuit of Champions presented by Mobil 1
Port Royal Speedway
Port Royal, Pennsylvania
Friday, September 8, 2023
Hercules Tire Qualifying
1. 26-Zeb Wise, 16.600[47]
2. 7BC-Tyler Courtney, 16.633[34]
3. 23-Devon Borden, 16.660[26]
4. 19-Brent Marks, 16.701[32]
5. 21-Brian Brown, 16.737[46]
6. 69K-Logan Wagner, 16.787[42]
7. 8-Aaron Reutzel, 16.826[22]
8. 11-Cory Eliason, 16.831[4]
9. 1-Hunter Schuerenberg, 16.839[37]
10. 39M-Lance Dewease, 16.861[9]
11. 55-Kerry Madsen, 16.909[1]
12. 9P-Parker Price Miller, 16.911[14]
13. 35B-Austin Bishop, 16.974[33]
14. 71-Anthony Macri, 16.982[31]
15. 13-Justin Peck, 17.015[17]
16. 51-Freddie Rahmer, 17.106[2]
17. 48-Danny Dietrich, 17.107[10]
18. 4-Chris Windom, 17.110[48]
19. 5-Dylan Cisney, 17.220[25]
20. 15H-Sam Hafertepe Jr, 17.227[40]
21. 42-Sye Lynch, 17.253[21]
22. 45-Kyle Reinhardt, 17.285[23]
23. 98-Jarrett Cavalet, 17.312[35]
24. 17B-Steve Buckwalter, 17.315[19]
25. 11T-TJ Stutts, 17.348[45]
26. 5W-Lucas Wolfe, 17.349[28]
27. 55W-Mike Wagner, 17.357[5]
28. 28M-Conner Morrell, 17.422[18]
29. 33M-Gerard McIntyre Jr, 17.454[41]
30. 20-Ryan Taylor, 17.461[13]
31. 45H-Jeff Halligan, 17.491[6]
32. 95-Garrett Bard, 17.560[29]
33. 47K-Kody Lehman, 17.593[7]
34. 97-Brandon Spithaler, 17.718[44]
35. 21P-Jonathan Preston, 17.748[24]
36. 6-Ryan Smith, 17.821[11]
37. 29-Carl Bowser, 17.853[43]
38. 70-Kraig Kinser, 17.860[39]
39. 36D-Devin Brenneman, 17.889[12]
40. 97H-Brie Hershey, 17.909[20]
41. 12-Blane Heimbach, 17.910[16]
42. 35-Zach Hampton, 17.956[30]
43. 77-Lynton Jeffrey, 17.991[38]
44. 99-Devin Adams, 18.077[15]
45. 17-Cole Young, 18.231[27]
46. 33-Derek Hauck, 18.286[36]
47. 12S-Brent Shearer, 18.729[8]
48. 2C-Cory Thornton, 59.999[3]
Hunt Brothers Pizza Heat Race #1 (8 Laps)
1. 39M-Lance Dewease[1]
2. 55-Kerry Madsen[2]
3. 48-Danny Dietrich[5]
4. 11-Cory Eliason[4]
5. 55W-Mike Wagner[6]
6. 51-Freddie Rahmer[3]
7. 47K-Kody Lehman[8]
8. 45H-Jeff Halligan[7]
9. 12S-Brent Shearer[9]
10. 2C-Cory Thornton[10]
CSI Shocks Heat Race #2 (8 Laps)
1. 9P-Parker Price Miller[4]
2. 17B-Steve Buckwalter[2]
3. 13-Justin Peck[1]
4. 6-Ryan Smith[6]
5. 20-Ryan Taylor[5]
6. 28M-Conner Morrell[3]
7. 12-Blane Heimbach[9]
8. 97H-Brie Hershey[8]
9. 99-Devin Adams[10]
10. 36D-Devin Brenneman[7]
All Pro Aluminum Cylinder Heads Heat Race #3 (8 Laps)
1. 8-Aaron Reutzel[1]
2. 5-Dylan Cisney[2]
3. 23-Devon Borden[4]
4. 42-Sye Lynch[3]
5. 95-Garrett Bard[7]
6. 5W-Lucas Wolfe[6]
7. 45-Kyle Reinhardt[5]
8. 21P-Jonathan Preston[8]
9. 35-Zach Hampton[9]
10. 17-Cole Young[10]
Kistler Racing Products Heat Race #4 (8 Laps)
1. 7BC-Tyler Courtney[4]
2. 19-Brent Marks[1]
3. 1-Hunter Schuerenberg[2]
4. 71-Anthony Macri[5]
5. 70-Kraig Kinser[7]
6. 33-Derek Hauck[9]
7. 35B-Austin Bishop[3]
8. 77-Lynton Jeffrey[8]
9. 98-Jarrett Cavalet[6]
Mobil 1 Heat Race #5 (8 Laps)
1. 69K-Logan Wagner[2]
2. 26-Zeb Wise[4]
3. 11T-TJ Stutts[6]
4. 33M-Gerard McIntyre Jr[7]
5. 21-Brian Brown[1]
6. 4-Chris Windom[3]
7. 15H-Sam Hafertepe Jr[5]
8. 97-Brandon Spithaler[8]
9. 29-Carl Bowser[9]
Elliotts Custom Trailers and Carts Dash (6 Laps)
1. 8-Aaron Reutzel[1]
2. 26-Zeb Wise[4]
3. 11-Cory Eliason[2]
4. 7BC-Tyler Courtney[6]
5. 9P-Parker Price Miller[8]
6. 23-Devon Borden[5]
7. 39M-Lance Dewease[7]
8. 69K-Logan Wagner[3]
Computer Man C-Main (10 Laps)
1. 45H-Jeff Halligan[1]
2. 21P-Jonathan Preston[3]
3. 97-Brandon Spithaler[2]
4. 99-Devin Adams[9]
5. 12S-Brent Shearer[10]
6. 77-Lynton Jeffrey[5]
7. 29-Carl Bowser[7]
8. 35-Zach Hampton[8]
9. 98-Jarrett Cavalet[6]
10. 36D-Devin Brenneman[11]
11. 17-Cole Young[12]
12. 2C-Cory Thornton[13]
13. 97H-Brie Hershey[4]
Classic Ink USA B-Main (12 Laps)
1. 21-Brian Brown[1]
2. 55W-Mike Wagner[3]
3. 70-Kraig Kinser[6]
4. 20-Ryan Taylor[4]
5. 35B-Austin Bishop[2]
6. 12-Blane Heimbach[15]
7. 5W-Lucas Wolfe[9]
8. 15H-Sam Hafertepe Jr[12]
9. 51-Freddie Rahmer[7]
10. 45-Kyle Reinhardt[13]
11. 21P-Jonathan Preston
12. 47K-Kody Lehman[14]
13. 45H-Jeff Halligan
14. 4-Chris Windom[8]
15. 33-Derek Hauck[11]
16. 28M-Conner Morrell[10]
17. 95-Garrett Bard[5]
Tezos A-Main (30 Laps)
1. 7BC-Tyler Courtney[4]
2. 39M-Lance Dewease[7]
3. 26-Zeb Wise[2]
4. 69K-Logan Wagner[8]
5. 11-Cory Eliason[3]
6. 9P-Parker Price Miller[5]
7. 48-Danny Dietrich[15]
8. 19-Brent Marks[9]
9. 5-Dylan Cisney[11]
10. 55-Kerry Madsen[10]
11. 33M-Gerard McIntyre Jr[19]
12. 11T-TJ Stutts[16]
13. 55W-Mike Wagner[22]
14. 45H-Jeff Halligan[26]
15. 13-Justin Peck[14]
16. 42-Sye Lynch[18]
17. 21-Brian Brown[21]
18. 6-Ryan Smith[20]
19. 17B-Steve Buckwalter[12]
20. 70-Kraig Kinser[23]
21. 45-Kyle Reinhardt[27]
22. 20-Ryan Taylor[24]
23. 1-Hunter Schuerenberg[13]
24. 23-Devon Borden[6]
25. 8-Aaron Reutzel[1]
26. 71-Anthony Macri[17]
27. 47K-Kody Lehman[28]
28. 4-Chris Windom[25]