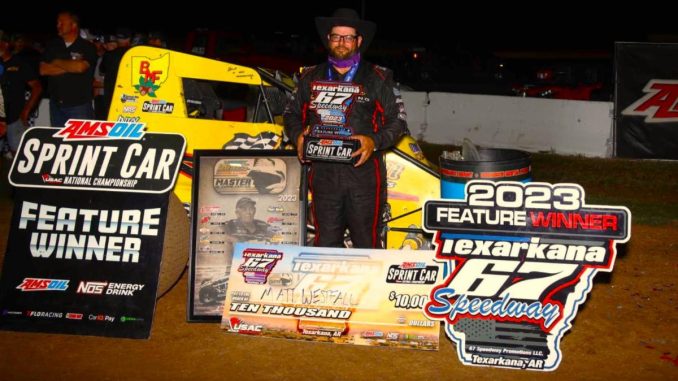 By Richie Murray
Texarkana, Arkansas (September 9, 2023)………Seventeen years, two months and twenty-three days.
That was the wait Matt Westfall endured between his first and second career USAC AMSOIL Sprint Car National Championship feature victories.
The dash in the years between his 2006 triumph at Ohio's Eldora Speedway and Saturday night's score at Arkansas' Texarkana 67 Speedway was filled with countless hours of traveling the country chasing everything from sprint cars to midgets to Silver Crown cars to late models to modifieds to SpeedSTRs and nearly everything else in between.
However, the feeling of joy he experienced to finally put a cap on the gap between USAC win number one and two was both satisfying and gratifying for the 46-year-old Pleasant Hill, Ohio native who led all 30 laps in his Ray Marshall Motorsports/Buckeye Machine – Hempy Water/DRC/Gressman Chevy.
"It's unbelievable," Westfall exclaimed. "When I won my first one back in '06, I told my dad I could retire. We've been going up and down the road the last couple years with USAC and we got going really good at the end of last year. Then they came out with a new tire this year and I've struggled ever since. We went back to the main gameplan, and it worked out tonight."
Not only did Westfall pocket a $10,000 Wingless Short Track Nationals payday, but it also came in the series debut at the 1/4-mile dirt oval as well as the first USAC race in The Natural State in a decade. Westfall also provided fellow Ohioan Ray Marshall, who has fielded cars in the series since 2010, his first USAC victory as a car owner.
In the process, Westfall also set a new USAC record for years between national feature victories. Westfall broke the USAC National Sprint record of 12 years, 11 months and 4 days between wins by Doug Wolfgang from 1978-1991. The previous longest interval between USAC National victories of any kind was a record owned by Arnie Knepper in the midgets, as he picked up wins 13 years, 2 months and 8 days apart from one another in a span lasting from 1970-1983.
Starting third, Westfall wasted no time leapfrogging the front row of Robert Ballou and Brody Roa on the initial lap. Both Ballou and Roa went topside while Westfall stuck his wheels as far on the bottom of the racing surface as humanly possible.
Westfall nailed it, driving by Roa immediately before surpassing pole sitter Ballou at the exit of turn four to beat him to the line by a car-length-and-a-half ahead at the end of lap one. By lap five, Westfall was a full two seconds ahead of the field with an equation of car, driver and track working in unison with perfect three-part harmony.
C.J. Leary slotted into second after driving underneath Ballou for the runner-up spot on lap three after starting fifth on the grid. A handful of laps later, Ballou had to contend with Brady Bacon for third, the same pair which went toe-to-toe for the win in the latter stages of the feature two nights earlier at Devil's Bowl Speedway in Texas.
This time around, Bacon slid Ballou on the ninth go-around for third before Ballou returned to the spot a half-lap later in turn three with a similar maneuver of his own. On lap 10, Bacon stuck the landing when he went topside around Ballou on the back straight before hitting the bottom to take away Ballou's line in turn three. As Bacon headed back to the outside off the turn four exit, so too did Ballou, clipping his right rear tire against Bacon's left front. Two laps later, Bacon kept the topside momentum up and surpassed Ballou on the back stretch to take over the position on lap 13.
By then, Westfall's lead was beginning to become more and more insurmountable with each arriving moment. Westfall's four second advantage put him a full straightaway ahead of Leary in the second position nearing the halfway point and up to five seconds with just eight laps remaining with no one in the proximity of his area code or even his zip code for that matter.
Suddenly, the dynamics changed on lap 23 when third running Bacon caught the cushion between turns one and two, popping his car up into the air before making a 90-degree right hand turn which nosed him into the outside wall before completing a 360 twirl and coming to a stop.
An attempt was made to push Bacon away to refire, but instead, veered him straight left into the infield due to a disconnected draglink. Bacon was escorted back to the Indy Metal Finishing Work Area for repairs, making it back on track just in time before, ultimately, finishing 15th. The unsightly finish for Bacon took him off the top line of the season long USAC National Sprint Car championship standings where he now sits second behind Justin Grant.
The erasure of Westfall's big lead was only temporary, as once the race restarted, he picked up right where he left off, in trouncing mode, spurting away from Leary et al as he perused the bottom directly into victory lane by a 1.576 second margin over C.J. Leary, Chase Stockon, Justin Grant and Mitchel Moles.
Westfall knew right what he wanted to do from the get-go, going straight to the low side of the racetrack and never once abandoning it throughout the 30-lap distance. While Westfall is accustomed to taking this particular path, on this night, it's an avenue he saw as early as his heat race, and then made that his home for the main event.
"In the heat race, we went down there on the bottom," Westfall recalled. "You keep watching all these young kids who just blow through it, and they can't stick the bottom. I was pretty happy with how the car was for us and I've got to thank Ray Marshall for everything he does for me. This is really cool."
Following an early race issue which knocked him out of Thursday's series race and relegated him to a last place finish, C.J. Leary (Greenfield, Ind.) returned to form at Texarkana, finishing second in his BGE Dougherty Motorsports/Altoz – Hornbeck Concrete – Highsmith Guns – Elliott's Custom Trailers & Carts/DRC/1-Way Chevy.
Chase Stockon (Fort Branch, Ind.) began his quest from the 10th position. He steadily moved up through the pack, and by the end, he had netted himself a third-place result in his KO Motorsports/Banded Ag – Superior Tank & Trailer – Dewig Meats – AMSOIL/Triple X/Fisher Chevy. The finish equaled his best USAC performance of the season.
Emerson Axsom (Franklin, Ind.) finished sixth in the feature and retained his lead of the Bubby Jones Master of Goin' Faster Presented By Spire Sports + Entertainment standings by 13 points over Leary with two races remaining in the 10-race miniseries.
Sixteenth starting Kyle Cummins (Princeton, Ind.) advanced six positions in the feature to finish 10th, providing him a surge to the top of the ProSource Passing Master standings for the Texas/Arkansas swing weekend, which encompassed Thursday's race at Devil's Bowl Speedway and Saturday's round at Texarkana 67 Speedway. Cummins passed a total of 19 cars throughout the entirety of the two programs.
Kyle Jones (Kennedale, Texas), making just his second career USAC National Sprint Car start, earned hard charger honors for the night by advancing from 21st to 13th. Meanwhile, fellow Texan, Justin Zimmerman (Athens, Texas), was the recipient of the ProSource Hard Work Award as the slowest qualifying driver to transfer into the feature.
Jake Swanson (Anaheim, Calif.) recorded the 10th Honest Abe Roofing Fast Qualifying time of his USAC National Sprint Car career, moving him into the top-50 all-time alongside Sonny Ates, Jim Hurtubise and Thomas Meseraull.
=====================
USAC AMSOIL SPRINT CAR NATIONAL CHAMPIONSHIP RACE RESULTS: September 9, 2023 – Texarkana 67 Speedway – Texarkana, Arkansas – 1/4-Mile Dirt Track – Wingless Short Track Nationals
HONEST ABE ROOFING QUALIFYING: 1. Jake Swanson, 21AZ, Team AZ-14.311 (New Track Record); 2. C.J. Leary, 15x, BGE Dougherty-14.397; 3. Brady Bacon, 69, Dynamics-14.493; 4. Matt Westfall, 33m, Marshall-14.708; 5. Jack Hoyer, 5, Baldwin/Fox-14.741; 6. Brody Roa, 17R, Dunkel/BR-14.744; 7. Robert Ballou, 12, Ballou-14.757; 8. Logan Seavey, 2B, 2B Racing-14.758; 9. Daison Pursley, 5p, KO-14.793; 10. Justin Grant, 4, TOPP-14.809; 11. Cody Gardner, G6, Gaines-14.924; 12. Mitchel Moles, 19AZ, Reinbold/Underwood-15.016; 13. Kevin Thomas Jr., 2J, Yeley-15.060; 14. Charles Davis Jr., 47, Davis-15.076; 15. Kyle Cummins, 3R, Rock Steady-15.089; 16. Paul White, 1, Wade-15.124; 17. Jason Howell, 44, Sturgeon-15.165; 18. Eddie Tafoya Jr., 51T, Tafoya-15.196; 19. Emerson Axsom, 47BC, Clauson Marshall Newman-15.213; 20. Jadon Rogers, 17GP, Dutcher-15.262; 21. Chase Stockon, 5s, KO-15.306; 22. Kyle Jones, 11, Melton-15.323; 23. A.J. Bender, 21, Bender-15.334; 24. Chase Parson, 57, Parson-15.476; 25. Bryan Debrick, 10, Debrick-15.494; 26. Justin Zimmerman, #1, D-Up-15.495; 27. Brandon Mattox, 28, Mattox-15.515; 28. Dalton Stevens, 99x, Stevens-15.529; 29. Christian Moore, 6, Moore-15.707; 30. Chase Howard, 13, Howard-15.771; 31. Gary Floyd, 72, Sturgeon-15.814.
SIMPSON RACE PRODUCTS FIRST HEAT: (10 laps, top-4 transfer to the feature) 1. Chase Stockon, 2. Kevin Thomas Jr., 3. Jake Swanson, 4. Daison Pursley, 5. Jason Howell, 6. Jack Hoyer, 7. Bryan Debrick, 8. Christian Moore. NT
ROD END SUPPLY SECOND HEAT: (10 laps, top-4 transfer to the feature) 1. Justin Grant, 2. C.J. Leary, 3. Brody Roa, 4. Eddie Tafoya Jr., 5. Justin Zimmerman, 6. Kyle Jones, 7. Chase Howard, 8. Charles Davis Jr. NT
T.J. FORGED THIRD HEAT: (10 laps, top-4 transfer to the feature) 1. Emerson Axsom, 2. Kyle Cummins, 3. Robert Ballou, 4. Brady Bacon, 5. Cody Gardner, 6. A.J. Bender, 7. Brandon Mattox, 8. Gary Floyd. 2:35.06 (New Track Record)
CAR IQ FOURTH HEAT: (10 laps, top-4 transfer to the feature) 1. Mitchel Moles, 2. Matt Westfall, 3. Jadon Rogers, 4. Paul White, 5. Logan Seavey, 6. Chase Parson, 7. Dalton Stevens. 2:40.09
ELLIOTT'S CUSTOM TRAILERS & CARTS SEMI: (12 laps, top-6 transfer to the feature) 1. Logan Seavey, 2. Jack Hoyer, 3. Cody Gardner, 4. Justin Zimmerman, 5. Jason Howell, 6. Kyle Jones, 7. A.J. Bender, 8. Brandon Mattox, 9. Chase Parson, 10. Christian Moore, 11. Gary Floyd, 12. Chase Howard, 13. Bryan Debrick, 14. Dalton Stevens. 3:08.44 (New Track Record)
FEATURE: (30 laps, starting positions in parentheses) 1. Matt Westfall (3), 2. C.J. Leary (5), 3. Chase Stockon (10), 4. Justin Grant (7), 5. Mitchel Moles (8), 6. Emerson Axsom (9), 7. Jake Swanson (6), 8. Robert Ballou (1), 9. Cody Gardner (14), 10. Kyle Cummins (16), 11. Paul White (17), 12. Daison Pursley (13), 13. Kyle Jones (21), 14. Brody Roa (2), 15. Brady Bacon (4), 16. Logan Seavey (12), 17. Jason Howell (18), 18. Jack Hoyer (11), 19. Jadon Rogers (20), 20. Eddie Tafoya Jr. (19), 21. Kevin Thomas Jr. (15), 22. Justin Zimmerman (22). NT
FEATURE LAP LEADERS: Laps 1-30 Matt Westfall.
USAC AMSOIL SPRINT CAR NATIONAL CHAMPIONSHIP POINTS: 1-Justin Grant-1979, 2-Brady Bacon-1970, 3-Emerson Axsom-1861, 4-Kyle Cummins-1845, 5-Jake Swanson-1835, 6-C.J. Leary-1752, 7-Robert Ballou-1650, 8-Chase Stockon-1551, 9-Mitchel Moles-1491, 10-Daison Pursley-1455.
OVERALL USAC NATIONAL PROSOURCE PASSING MASTER POINTS: 1-Daison Pursley-170, 2-Logan Seavey-105, 3-Shane Cottle-102, 4-Emerson Axsom-98, 5-Justin Grant-95, 6-Matt Westfall-90, 7-Robert Ballou-87, 8-Brady Bacon-85, 9-Chase Stockon-76, 10-Kevin Thomas Jr.-63.
BUBBY JONES MASTER OF GOIN' FASTER PRESENTED BY SPIRE SPORTS + ENTERTAINMENT POINTS: 1-Emerson Axsom-539, 2-C.J. Leary-526, 3-Jake Swanson-498, 4-Brady Bacon-490, 5-Mitchel Moles-480, 6-Chase Stockon-446, 7-Justin Grant-441, 8-Kyle Cummins-437, 9-Daison Pursley-415, 10-Matt Westfall-375.
FINAL TEXAS & ARKANSAS SWING PROSOURCE PASSING MASTER POINTS: 1-Kyle Cummins-19, 2-Emerson Axsom-17, 3-Brody Roa-12, 4-Kevin Thomas Jr.-11, 5-C.J. Leary-10, 6-Justin Zimmerman-10, 7-Chase Stockon-9, 8-Kyle Jones-9, 9-Matt Westfall-8, 10-Justin Grant-8.
NEXT USAC AMSOIL SPRINT CAR NATIONAL CHAMPIONSHIP RACE: September 15, 2023 – Circle City Raceway – Indianapolis, Indiana – 1/4-Mile Dirt Track
CONTINGENCY AWARD WINNERS:
Dirt Draft Fastest Hot Laps Driver: Robert Ballou (14.447)
Honest Abe Roofing Fast Qualifier: Jake Swanson (14.311)
Simpson Race Products First Heat Winner: Chase Stockon
Rod End Supply Second Heat Winner: Justin Grant
T.J. Forged Third Heat Winner: Emerson Axsom
Car IQ Fourth Heat Winner: Mitchel Moles
Elliott's Custom Trailers & Carts Semi Winner: Logan Seavey
ProSource Hard Work Award: Justin Zimmerman
Green APU Green Flag Challenge First Lap Leader: Matt Westfall
Hard Charger: Kyle Jones (21st to 13th)