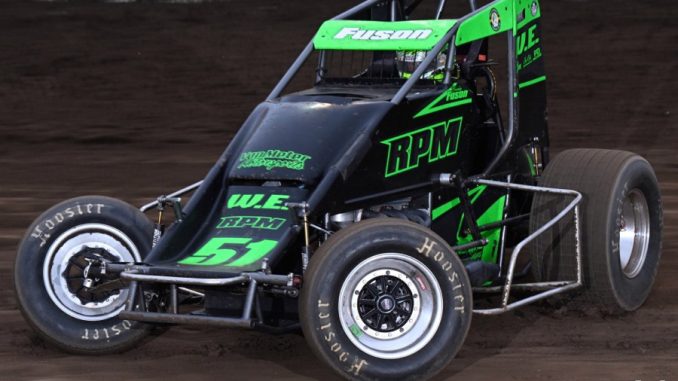 By Lance Jennings
VENTURA, CALIFORNIA – SEPTEMBER 18, 2023…Fresh off winning the previous weekend in a USAC Western States Midget, Brody Fuson of Bakersfield, California returned to Ventura Raceway and topped last Saturday's 250th USAC West Coast Sprint Car event. By winning a dash off the last corner, Fuson took the checkered flag ahead of Jake Andreotti, Logan Calderwood, point leader Ryan Timmons, and David Gasper.
Making his first start in Joey Bishop's #45 JBM Golf Carts entry, San Diego, California's A.J. Bender started on the pole position. Bender led the opening ten laps until mechanical problems sidelined the former Turkey Night Grand Prix Sprint Car winner. Still under green flag conditions, June 17th Ventura winner Jake Andreotti of Castro Valley, California inherited the lead. Andreotti set a fast pace and sliced his way through slower traffic as Calderwood, Gasper, Fuson, and Timmons were gaining ground.
A lap 25 caution flag reset the field as Andreotti had a great restart and maintained command. Fuson charged forward and challenged the leader on the last lap with three corners to go. Going down the back straightaway and going into the third turn, Fuson looked to have the lead. Andreotti drove hard into the corner and it was even off the last turn. Going to the finish line, Fuson surged ahead and claimed the third USAC West Coast Sprint Car victory of his career.
Racing Bob & Toni Van Meter's #51 Race Pa Motorsports / WE Spike, Brody Fuson qualified second overall, won the 10-lap Brown & Miller Racing Solutions Second Heat Race, and topped the 30-lap "Sammy Bahr and Ray Stansberry" main event after starting fifth. Heading to the final point race on October 7th at The Dirt Track at Kern County Raceway Park, the USAC Western States Midget point leader ranks fourth in the USAC West Coast Sprint Car standings.
Menifee, California's Tom Dunkel opened the night by winning the "Lucky Pill Draw" presented by High Tech Performance and earned ten gallons of fuel. In addition, he won the Rod End Supply / Brown & Miller Racing Solutions Pill Draw Award. Driving the Tom & Christy Dunkel #17A Inland Rigging / Dunkel Farms DRC, Dunkel was eleventh quick in time trials, ran fourth in his heat race, and scored eighth in the feature from twelfth. In limited starts, Tom has climbed to nineteenth in the point chase.
David Gasper of Goleta, California won the Brown & Miller Racing Solutions / Rod End Supply "lucky pill draw award." Driving the Gasper Racing / Kittle Motorsports owned #18 AR Air Repair / Valley Precision Products Triple X, Gasper qualified sixth overall, ran third in his heat race, and finished fifth in the main event. David left the Ventura County Fairgrounds ranked fifth in the point standings and second in rookie honors.
Point leader Ryan Timmons of Pleasant Hill, California earned his sixth career Woodland Auto Display Fast Time Award. Piloting the family owned #29T Red Line Oil / Evergood Fine Foods Maxim, Timmons posted a time of 12.198 seconds over the 21-car roster. Ryan placed third in his heat race and powered to fourth in the main event from the sixth starting spot. By finishing fourth, the former rookie of the year earned $100 from an anonymous race fan. At press time, Timmons has a 72-point advantage heading to the October 7th "Championship Night."
Racing the May Motorsports' #8M RDM Mechanics / Keen Concrete Maxim, Jake Andreotti qualified seventh overall, won the 10-lap Extreme Mufflers Heat Race, and led nineteen laps of the main event. Running a limited schedule, Andreotti has moved into a tie with Elexa Herrera for thirteenth in USAC West Coast points.
Simi Valley, California's Tom Hendricks raced to victory in the 10-lap Competition Suspension Incorporated Third Heat Race. The owner / driver of the #14 Snap-On Tools / Powerhouse Performance ITI, Hendricks was eighteenth fast in time trials and scored twentieth in the feature after an early exit. The veteran driver left Ventura Raceway ranked seventh in the point standings.
Ron LaPlant of Oroville, California earned his third BR Motorsports / Rod End Supply Hard Charger Award with a ninth place run from seventeenth. The owner / driver of the #69 RJL Truck and Tractor Painting / Feather Falls Casino Eagle was sixteenth quick in time trials and placed second in his heat race. Heading to the last point race, Ron is second in the standings and leads the chase for top rookie honors.
Santa Clara, California's Adam Christian claimed the Wilwood Disc Brakes "Lucky 13 Award" after finishing thirteenth in the main event. The owner/driver of the #12 Yak Graphics Triple X qualified fourteenth overall and scored third in his heat race. The rookie contender heads to the "George Snider Classic" ranked twelfth in the USAC West Coast standings.
The non-winged 360 sprint cars will return to action on Saturday, October 7th at The Dirt Track at Kern County Raceway Park in Bakersfield, California for "Championship Night" and the "George Snider Classic." The final point race will also feature the USAC Western States Midgets and Dwarf Cars.
The USAC West Coast Sprint Car Series thanks BR Motorsports, Brown & Miller Racing Solutions, Competition Suspension Incorporated, Extreme Mufflers, High Tech Performance, Hoosier Racing Tires, Rod End Supply, Saldana Racing Products, Steve Lafond / Tear-Off Heaven Fotos, Wagtimers, Wilwood Disc Brakes, and Woodland Auto Display for their support.
For more information on the USAC West Coast Sprint Car Series, visit usacracing.com and the social media for USAC Racing. You can also find exclusive content on the USAC West Coast Facebook, Twitter and Instagram pages.
USAC WEST COAST SPRINT CAR SERIES RACE RESULTS: September 16, 2023 – Ventura Raceway – Ventura, California
WOODLAND AUTO DISPLAY QUALIFICATIONS: 1. Ryan Timmons, 29T, Timmons-12.198; 2. Brody Fuson, 51, Van Meter-12.264; 3. Logan Calderwood, 6, Calderwood-12.357; 4. Kyle Edwards, 39, Edwards-12.379; 5. Cole Wakim, 9, Wakim-12.424; 6. David Gasper, 18, Gasper/Kittle-12.464; 7. Jake Andreotti, 8M, May-12.475; 8. A.J. Bender, 45, Bishop-12.555; 9. Rick Hendrix, 15, Hendrix-12.575; 10. Chris Wakim, 9W, Wakim-12.613; 11. Tom Dunkel, 17A, Dunkel-12.631; 12. Tyler Hatzikian, 27, Hatzikian-12.638; 13. Bryan Whitley, 22, Whitley-12.638; 14. Adam Christian, 12, Christian-12.750; 15. Jon DeWees, 63D, DeWees-12.785; 16. Ron LaPlant, 69, LaPlant-12.914; 17. Heath Holdsclaw, 33, Case-12.965; 18. Tom Hendricks, 14, Hendricks-13.049; 19. Chris Ennis, 86, Ennis-13.469; 20. Elexa Herrera, 5E, Herrera-13.833; 21. Camie Bell, 29C, Bell-14.503.
EXTREME MUFFLERS FIRST HEAT: (10 laps) 1. Andreotti, 2. LaPlant, 3. Timmons, 4. Whitley, 5. Edwards, 6. Ch.Wakim, 7. Ennis. NT.
BROWN & MILLER RACING SOLUTIONS SECOND HEAT: (10 laps) 1. Fuson, 2. Bender, 3. Christian, 4. Dunkel, 5. Co.Wakim, 6. Holdsclaw, 7. Herrera. NT.
COMPETITION SUSPENSION INCORPORATED THIRD HEAT: (10 laps) 1. Hendricks, 2. Hendrix, 3. Gasper, 4. Calderwood, 5. DeWees, 6. Bell. NT.
SAMMY BAHR & RAY STANSBERRY FEATURE: (30 laps, With Starting Positions) 1. Brody Fuson (5), 2. Jake Andreotti (2), 3. Logan Calderwood (4), 4. Ryan Timmons (6), 5. David Gasper (3), 6. Cole Wakim (9), 7. Kyle Edwards (8), 8. Tom Dunkel (12), 9. Ron LaPlant (17), 10. Heath Holdsclaw (18), 11. Jon DeWees (16), 12. Rick Hendrix (10), 13. Adam Christian (15), 14. Bryan Whitley (14), 15. Camie Bell (21), 16. Elexa Herrera (20), 17. Chris Wakim (11), 18. Tyler Hatzikian (13), 19. A.J. Bender (1), 20. Tom Hendricks (7). NT.
—————————-
**Chris Ennis did not start feature.
FEATURE LAP LEADERS: Laps 1-10 Bender, Laps 11-29 Andreotti, Lap 30 Fuson.
BR MOTORSPORTS / ROD END SUPPLY HARD CHARGER: Ron LaPlant (17th to 9th)
WILWOOD DISC BRAKES LUCKY 13 AWARD: Adam Christian
BROWN & MILLER RACING SOLUTIONS / ROD END SUPPLY PILL DRAW: David Gasper
ROD END SUPPLY / BROWN & MILLER RACING SOLUTIONS PILL DRAW: Tom Dunkel
WHEEL PACK AWARD: Elexa Herrera
HIGH TECH PERFORMANCE LUCKY PILL DRAW AWARD: Tom Dunkel
NEW USAC WEST COAST SPRINT CAR POINTS: 1-Ryan Timmons-372, 2-Ron LaPlant-300, –Kyle Edwards-300, 4-Brody Fuson-295, 5-David Gasper-244, 6-Tyler Hatzikian-232, 7-Tom Hendricks-210, 8-Jon DeWees-198, 9-Cody Majors-197, 10-Trent Carter-182.
NEW WOODLAND AUTO DISPLAY TOP QUALIFIER POINTS: 1-Ryan Timmons-24, 3-Brody Fuson-16, 3-David Gasper-13, –Kyle Edwards-13, 5-Troy Rutherford-12, 6-Cody Majors-9, 7-Logan Calderwood-6, 8-Kaleb Montgomery-5, 9-Ron LaPlant-3, 10-Cole Wakim-2.
NEW SAMMY BAHR & RAY STANSBERRY FEATURE POINTS: 1-Ryan Timmons-317, 2-Ron LaPlant-272, 3-Kyle Edwards-261, 4-Brody Fuson-241, 5-Tyler Hatzikian-215, 6-Davis Gasper-196, 7-Tom Hendricks-188, 8-Jon DeWees-175, 9-Cody Majors-168, 10-Trent Carter-166.
NEW PASSING MASTER POINTS: 1-Ron LaPlant-29, 2-Jon DeWees-23, 3-Tom Hendricks-19, 4-Heath Holdsclaw-16, 5-Elexa Herrera-15, 6-Adam Christian-14, 7-Ryan Timmons-13, 8-Brody Fuson-11, –Camie Bell-11, –Hannah Mayhew-10, –Trent Carter-10.
NEXT USAC WEST COAST SPRINT CAR RACE: October 7 – The Dirt Track at Kern County Raceway Park – Bakersfield, California – "Championship Night" & "George Snider Classic"