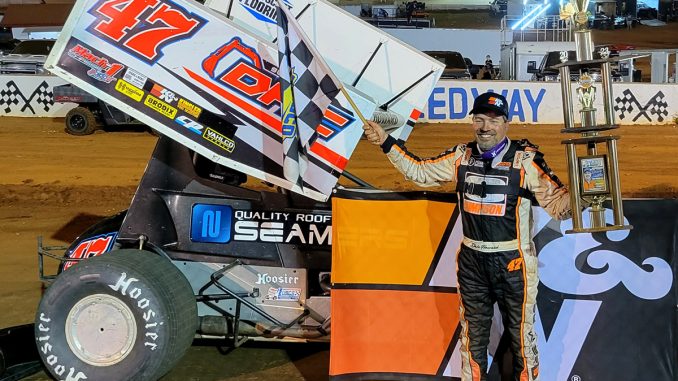 From Roby Helm
FAYETTEVILLE, GA – September 23, 2023 – Dale Howard of Byhalia, MS led wire-to-wire to win the 15th Annual USCS Randy Helton Memorial RACE and DIXIE SPRINT CAR NATIONALS for the United Sprint Car Series on Saturday night at Rome Speedway. The victory was the second USCS win of the season for Howard. Eric Riggins Jr. of Charlotte, NC took the second spot, 1.280 seconds behind Howard.
Lance Moss of Cherryville, NC finished third, and Chase Howard of Nesbitt, MS was fourth. Jeff Oliver of Pendergrass, GA drove to a fifth-place finish, and sixth went to Jeff Willingham of Ripley, MS. Danny Burke of Crosby TX started 12th and finished seventh to earn the Wilwood Brakes Hard Charger of the Race Award.
Brandon Grubaugh of Ocala, FL took the eighth spot and Wade Buttrey of Fairview, TN finished ninth. Jake Brashier of Denham Springs, LA rounded out the top ten. In preliminary action, the six-lap Hoosier Racing Tire Speed Dash was won by Dale Howard, and the two eight-lap Heat Races were won by Riggins in the Engler Machine and Tool First Heat, and 14-Time USCS National Champion Terry Gray of Bartlett, TN in the JJ Supply of NC Second Heat.
Dale Howard took the lead at the drop of the green flag followed by Chase Howard, Gray, Riggins, and Moss. Gray moved up to the second spot on lap two getting around Chase Howard. The first of two caution flags came out on lap four when Bob Auld of Largo, FL stalled on the high side of turn four.
When the green bulb was lit up, Dale Howard pulled out to a full straightaway over Gray, Chase Howard, Riggins and Moss by the eighth lap. Dale Howard began to encounter heavy lapped traffic by lap 11, and Gray closed to within a few car-lengths of the leader.
Once Dale Howard cleared the heavy lapped traffic on lap 15, he began to pull away and opened up another big lead on the National Sprint Car Hall of Fame Inductee Gray. While the leaders worked lapped traffic, Riggins and Moss passed Chase Howard to take over third and fourth spots respectively.
The pace of the race and the top five changed dramatically on lap 26 when Joe Larkin of Suwanee, GA hit the inside guard rail coming off the fourth turn to bring out the caution flag. As the field slowed in turn two, the lapped car of D.L. Brashier of Ethel, LA spun and collected Gray under caution.
The USCS point leader (Gray) had to give up the second spot with a damaged race car and was towed to the pits. Dale Howard was able to pull away once again on the restart for the green, white, checkered finish followed by Riggins, Moss, Chase Howard, and Jeff Oliver.
The next two races for USCS will be on October 13 and 14 at historic Riverside International Speedway in West Memphis, AR. For more information visit the USCS website at uscsracing.com, or their Facebook Page.
United Sprint Car Series Marketing Partners are K&N Filters, Engler Machine & Tool, Huggins Cams, Hoosier Racing Tire, Hero Graphics, DMI, J&J Supply of NC, Racing Electronics, JE Pistons, DHR Suspension, Wilwood Disc Brakes, KSE Racing Products, PRO Shocks, Schoenfeld Headers, and Arizona Sport Shirts.
OFFICIAL RESULTS OF THE 15TH ANNUAL RANDY HELTON MEMORIAL RACE AND DIXIE SPRINT CAR NATIONALS AT ROME SPEEDWAY IN ROME, GA ON 9/23/23:
15TH ANNUAL RANDY HELTON MEMORIAL EATURE RACE – 27 Laps: 1. (1) Dale Howard, Byhalia, MS; 2. (4) Eric Riggins Jr., Charlotte, NC; 3. (6) Lance Moss, Cherryville, NC; 4. (2) Chase Howard, Nesbitt, MS; 5. (8) Jeff Oliver, Pendergrass, GA; 6. (7) Jeff Willingham, Ripley, MS; 7. (12) Danny Burke, Crosby, TX; 8. (9) Brandon Grubaugh, Ocala, FL; 9. (5) Wade Buttrey, Fairview, TN; 10. (11) Jake Brashier, Denham Springs, LA; 11. (16) Scott Baldwin, Jupiter, FL; 12. (14) Brian Thomas, Pendergrass, GA; 13. (3) Terry Gray, Bartlett, TN; 14. (13) Joe Larkin, Suwanee, GA; 15. (17) D.L. Brashier, Ethel, LA; 16. (15) Jackson Wellman, Belmont, NC; 17. (10) Bob Auld, Largo, FL; 18. (18) Eric Gunderson, Canton, GA DNS.
HOOSIER RACING TIRE SPEED DASH – 6 Laps: 1. D. Howard; 2. C. Howard; 3. Gray; 4. Riggins; 5. Buttrey; 6. Moss.
HEAT RACES – 8 Laps:
ENGLER MACHINE & TOOL HEAT 1: 1. Riggins; 2. D. Howard; 3. C. Howard; 4. Oliver; 5. Grubaugh; 6. J. Brashier; 7. Gunderson DNS; 8. Thomas DQ; 9. Wellman DQ.
JJ SUPPLY OF NC HEAT 2: 1. Gray; 2. Buttrey; 3. Moss; 4. Willingham; 5. Auld; 6. Burke; 7. Larkin; 8. D. Brashier; 9. Baldwin.