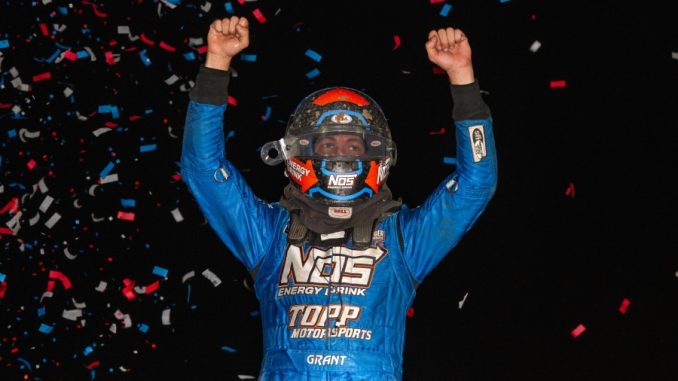 SPEEDWAY, IN (September 29, 2023) — Justin Grant accomplished several things by winning Friday's Driven to Save Lives BC 39 preliminary feature with the USAC NOS Energy Drink National Midget Car Series at the Dirt Track at the Indianapolis Motor Speedway.
Grant's 11th feature triumph of the 2023 completed a sweep of the preliminary features as his RMS Racing teammate Thomas Meseraull won the main event on Thursday night, gave Ione, California native a feature win in all three USAC National touring divisions during the 2023 season, and locked him into Saturday's finale for the BC 39.
"We're racing at the Indianapolis Motor Speedway in front of great fans and we're not going phone it in and come home third if we can help it," said Grant in victory lane. "We've worked really hard on this NOS Energy Drink, Envrofab, RMS two car all week since Eldora."
Grant drove by Cannon McIntosh just past the halfway point in the 30-lap main event to take the second position, then drove by Axom five laps later for the lead.
From there Grant drove away from the field as McIntosh and Axsom battled for the second position with McIntosh getting the position off the final corner.
"Track positions big right now. And, you know, luckily, we started up run so didn't have to work too much," said McIntosh of his second-place run. "Every lap I ran on the cushion there, I felt like I was getting more and more comfortable. That was the first time in that thing that I've really been against a cushion, so it's a big learning curve for me. I felt like the long runs I was really, good."
Axsom held on for the third and final position to lock himself into Saturday's BC 39 finale. Tanner Thorson and Ryan Timms rounded out the top five.
Driven to Save Lives BC 39
USAC NOS Energy Drink National Midget Car Series
the Dirt Track at Indianapolis Motor Speedway
Speedway, Indiana
Friday, September 29, 2023
Feature:
1. 2-Justin Grant
2. 86-Cannon McIntosh
3. 68-Emerson Axsom
4. 88-Tanner Thorson
5. 67-Ryan Timms
6. 21K-Karter Sarff
7. 57-Logan Seavey
8. 19M-Ethan Mitchell
9. 19-Daison Pursley
10. 25M-Jake Andreotti
11. 27B-Jake Bubak
12. 56-Mitchell Davis
13. 1z-Justin Zimmerman
14. 97-Gavin Miller
15. 7P-Zach Daum
16. 11-Clinton Boyles
17. 55-Trevor Cline
18. 6-Isaac Chapple
19. 46-Kenney Johnson
20. 57A-Daniel Robinson
21. 40x-Zach Wigal
22. 21H-Brady Bacon