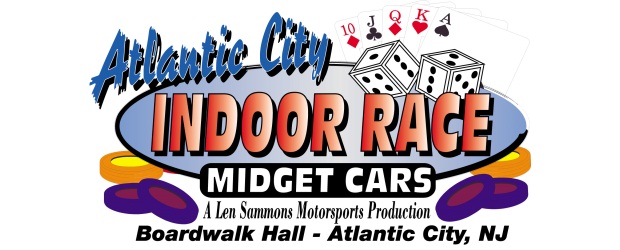 From Jerry Reigle
ATLANTIC CITY, NJ — It'll be a whole different experience.
That's how dirt Modified ace Danny Johnson is looking at the upcoming indoor Three Quarter (TQ) Midget Gambler's Classic at Boardwalk Hall in Atlantic City, N.J., Thursday, January 27 thru Saturday 29.
"I've never driven a TQ-Midget let alone race indoors," said Johnson, 50, of Phelps, NY. "It'll be a whole new experience, one that I hope to fun at. In fact the only time I raced in the month of January was a few years ago when I competed in a snowmobile race."
Johnson will drive a Lou Cicconi Jr-prepared second entry. Cicconi is the defending and two-time winner of the Gambler's Classic.
"(Modified car owner) Mike Payne made it happen," Johnson said. "I am pretty happy in knowing that I'll be in one of Lou's car. You can't get in too much better TQ-Midget equipment that what Lou has for you."
Johnson's one-race foray in TQ-Midgets comes off one of his best season's in recent memory.
The Doctor won 18 dirt Modified feature events in '10. He came close to topping Stewart Friesen in the RoC Dirt Modified points title, finishing one spot behind the Canadian driver.
Johnson finished fifth in the Super DIRTcar Series Modified point standings. He captured two main events on the SDS schedule with 12 top-five finishes and 15 top-10 finishes.
Johnson's late-season surge earned him a fourth career Super DIRTcar Series 358-Modified points title.
His 18-win season included victories at Ransomville Speedway (four), Accord Speedway (three),
Cayuga County Speedway (three), Canandaigua Speedway (two), Five Mile Point Speedway (two), Autodrome Drummond (one), Autodrome Edelweiss (one), Brockville Speedway (one) and Rolling Wheels Raceway (one)
But racing outdoors is a whole different experience than what he'll experience on concrete indoors, which lies above the sometimes used ice hockey rink.
"I won't be able to barreling into the turns like we do in a Modified, but as long as I have a good car then I'll be able to hold me own," Johnson said. "That's how I'm approaching this event.
"Lou will give me a good car. I know that. I know I'll be out of my element, and I know it'll be easy to get stuck in traffic and everything is based on circumstance, but I really believe I can hold my own in this event."
As soon as the Gambler's Classic ends, Johnson will focus his attention outdoors where he plans to compete in the Super DIRTcar Series Winter Nationals at Volusia Speedway (Fla.) Park in February.
Tickets for the Atlantic City Indoor Race are currently on sale through Ticketmaster (1-800-736-1420) or online at www.ticketmaster.com.
Tickets are available with no extra fee applied at the Boardwalk Hall box office and at the Area Auto Racing News office in Trenton, N.J. at 609-888-3618
Activity in Atlantic City will begin on Thurs., Jan. 27, with paid practice from 5-10 p.m.
Weekend activity will begin on Fri., Jan. 28, at 4:30 p.m. with time trials. The night will include qualifying heat events for TQ-Midgets and B-Mains for the 600cc Micro Sprint Cars, Slingshots and Champ Karts. It will culminate with a 20-lap 600cc Micro Sprint Car main event and a 30-lap TQ-Midget feature race.
The Sat., Jan. 29, program kicks off at 5 p.m. with the Fanfest, which will be held on the indoor racing surface.
The Saturday-night portion of the show is slated to begin at 7 p.m. Heat races and semis will lead up the 40-lap "Gamblers Classic" for TQ-Midgets, with Slingshots and Champ Karts also on the schedule.