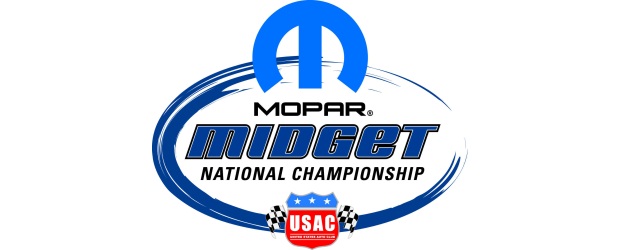 From Dick Jordan
Bryan Clauson and Darren Hagen will battle for the 2011 USAC Mopar National Midget title November 24 in the 71st "Turkey Night Grand Prix" at Toyota Speedway at Irwindale, Calif. Only 19 points separate the combatants entering the season's final race.
Clauson and Hagen met with varying degrees of success in last week's 3rd "Gold Crown Midget Nationals" at Tri-City Speedway in Pontoon Beach, Ill. Clauson had a second, fourth and seventh in the three nights of competition, while Hagen added a seventh and an eighth to his opening-night feature win at the 3/8-mile dirt Illinois oval.
Levi Jones of Olney, Ill., who scored a $10,000 USAC Sprint win at Lawrenceburg, Ind. last week, raked in another $10,000 winner's prize Saturday night at Tri-City as he won the 3rd "Gold Crown Midget Nationals" 50-lap USAC Mopar National Midget feature. The win capped off a perfect night for Jones, who also won the track's 30-lap non-winged Sprint race! Jones trailed pole starter Brad Sweet for 20 laps but worked the low groove to catch Sweet for the lead on lap 21. From there it was smooth sailing for Jones and his Three Wide Life/Rotondo Weirich Ellis/Esslinger Ford, fielded by car owner Shane Hmiel just one year removed from his accident at Terre Haute, Ind. Jerry Coons Jr. finished second ahead of Brad Kuhn, Sweet and Zach Daum. USAC National Drivers Championship leader Clauson finished seventh, while Kyle Larson, just two points behind him in those standings, finished 22nd after flipping on lap 37.
Larson, of Elk Grove, Calif., nearly took the lead in the 2011 USAC National Drivers Championship Friday night, wheeling the Keith Kunz Motorsports Toyota TRD Bullet to victory in the 25-lapper at Tri-City. Trailing Larson at the checkered flag were Sweet, Daum, Clauson and Kuhn. Sweet led the first 13 laps and Larson took over on lap 14 and led the rest of the way
Hagen, of Riverside, Calif., won the opening night 25-lap feature in his RFMS Racing Liberty Village/McGladrey & Pullen Spike/Esslinger Ford. Last year, Hagen swept all three nights of the USAC Mopar National Midget event at the three-eighths mile dirt oval! Hagen was trailing Clauson late in the race and grabbed the lead on the white-flag lap to lead the final two laps. Clauson took second at the checkered flag ahead of Daum, Sweet and Tracy Hines.
Clauson's finishes earned him the 2011 USAC Mopar National Midget dirt-track title.
MOPAR USAC NATIONAL MIDGET POINT STANDINGS
1-Bryan Clauson-1,110; 2-Darren Hagen-1,091; 3-Kyle Larson-1,030; 4-Tracy Hines-941; 5-Bobby East-840; 6-Zach Daum-787; 7-Brad Kuhn-763; 8-Jerry Coons Jr.-701; 9-Caleb Armstrong-677; 10-Tanner Swanson-664.
FINAL MOPAR NATIONAL MIDGET DIRT POINTS: 1-Bryan Clauson-860; 2-Darren Hagen-727; 3-Kyle Larson-687; 4-Tracy Hines-683; 5-Brad Kuhn-663.