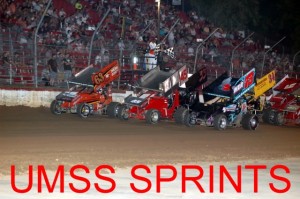 From Jim Burns, Elko Speedway
Elko, MN — (January 12, 2012) — Officials at Elko Speedway have announced the dates, times and competing classes for the 2012 SPRING DIRT NATIONALS at the 3/8ths mile speed plant! The opening action of the 2012 racing season will be held on Friday and Saturday April 20th and 21st and includes GREAT RACING action in the UMSS Winged Outlaw Sprint Cars along with the Elko Modifieds, IMCA-style Stock Cars, Legends and Hornets both nights! The racing schedule for each night is the same with Pit Gates set to open at 2pm, Spectator Gates opening at 5pm with a Drivers Meeting set for 5:30pm, Hot Laps at 6pm and the Green Flag flying at 7pm. Of special note for Legends drivers, the Saturday night racing program will be a National Dirt Qualifying event, so expect big car counts and awesome side by side action in all divisions!
For competitors and crew members, a special 2 DAY pit pass is available for $55 or $30 per day. Spectator tickets are available for $15 per day general admission or $20 per day for a reserved seat. For directions or other event questions, feel free to visit the Elko Speedway website at www.elkospeedway.com or call the Racing Office (Saturdays only in the off-season) at (952) 461-7223. Join us for "down and dirty" action at the Midwest Center for Speed as we kickoff the 2012 racing season with the Spring Dirt Nationals on April 20th and 21st!
Addendum by Greg Parent, UMSS Media Director…
The UMSS Sprints put on two fantastic racing programs last fall at the inaugural Fall Dirt Nationals, and area fans can expect more exciting UMSS action this spring on the dirt at Elko. Each night will feature a complete racing program high-lighted by a 25-lap feature event. Purse details will be released as soon as they become available. Contact Elko Speedway for further information regarding the Spring Dirt Nationals or UMSS CDO Ron Bernhagen at 612-363-5302 for questions pertaining to the UMSS portion of the event. Visit the UMSS website at www.umsprints.com for more info about the series. A tentative schedule should be available at the UMSS banquet on January 28. See you at Elko Speedway on April 20-21 under what will hopefully be favorable weather conditions!