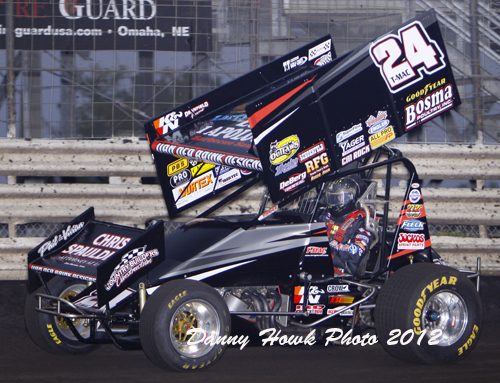 By Bill W
May 8, 2012 – The McCarl racing family is loving life, and a busy weekend awaits them ahead. Terry will be running three nights: Jackson, Minnesota on Friday, Knoxville, Iowa on Saturday, and Brandon, South Dakota on Sunday. Son Carson will return to Knoxville's 360 class, while son Austin will get his season started at the Huset's Speedway. Saturday night, TMAC finished fourth at Knoxville.
Times are good. "I went into last week with a great attitude and a smile on my face," says TMAC. "The boys are racing. Austin is going to race at Huset's. Ben's Bargain Barn…Ben and Troy are loaning him an engine to run up there weekly. I think Knoxville can make you famous, but Huset's can make you a racecar driver, so that's good for him at this stage in his career. Carson is doing unbelievably well."
After getting rained out on Friday night at Jackson, TMAC got the 410 ready for Knoxville. "Saturday was the sixteenth night on the motor," he says. "Last week, we ran top ten with the Outlaws. I have to give Don Ott a lot of credit. It is still running great. It's important to keep the dirt out of them. We run Outerwears on our K&N Filters. They both do an awesome job of keeping the dirt out of our motor."
TMAC would qualify seventh out of the 30 cars assembled. He ran second in his heat after starting fourth. "Normally, I'd be disappointed with seventh quick, but the way things were, I had a smile on my face," he says. "We had a good strong run in the heat."
He would post seventh in the 20-lap feature. After some early battles, he surged into the top five. "When you are out front, the Goodyears aren't bad," says TMAC. "When you are in dirty air and in a crowd, the Goodyears are difficult to drive. The setups I've been using for ten years…you can't do them. I've proven that for a couple of years ago. The definition of insanity is doing the same thing over and over, and expecting a different outcome. I learned a lot at the Outlaw show."
The end result was a strong fourth place finish. "We went a little more away from my setup this week, and we were better," says TMAC. "I had some help from Troy Renfro and Lynton Jeffrey on the shocks. I picked their brain, and I talked some to Daryn Pittman. They've helped me get away from my stubbornness on setup."
It was a positive night for the team. "We ran fourth," says TMAC. "It's not where we finished, but how we did, and I feel like we're headed in the right direction. With the nights the motor has on it, we were happy with it. With Carson's good run, it was a great night for us and I'm looking forward to next week."
The 360 Jackson Spring Nationals will run Friday night as a rain make-up. TMAC will then again hit Knoxville Saturday, before the Huset's Speedway opener on Sunday.
To check out opportunities to partner with TMAC Motorsports on a nightly basis, visit www.TerryMcCarl.com or call 515 957-0020!
Websites for the McCarl Gang!
Driverwebsites.com develops the websites for the McCarl boys. Check out www.TerryMcCarl.com, as well as www.AustinMcCarl.com and www.CarsonMcCarl.com!
In"Terry"gation
Rex Goldberg asks: Of all your wins at Huset's is there one that stands out?
TMAC Answers: We had a big Outlaw win there a few years back. The All Star show last year at this point was big. I had broken my leg about three weeks prior to the Outlaw win, so it was still broken pretty good. I had seen a guy earlier in the stands. He had asked me if I would do a wing dance if I won. I told him I would definitely do that, so I had to crawl up there and do it. Marty Barber had to help me down or I would have broken it on the way down.
Got a question for TMAC? Send it to us at sprntcar@iowatelecom.net , and we may answer it in this section! Put "? for TMAC" in your subject line.
This Month in TMAC History!
TMAC on May 12 in his history at the Huset's Speedway. In 1996, he drove Brad Gray's #51 to victory over Marlon Jones, Chad Mellenberndt, Don Droud Jr. and Butch Hanssen. In 2002, he bested Chad Meyer, Gary DeWall, Justin Henderson and Gregg Bakker.
"Tuesdays with TMAC"!
"Tuesdays with TMAC" is an up close and personal look at colorful sprint car veteran Terry McCarl. To receive "Tuesdays with TMAC", send an e-mail to sprntcar@iowatelecom.net with "TMAC" in the subject line.
TMAC Motorsports would like to thank sponsors "Lord I Apologize BBQ Sauce", Deanfield Farms, Bosma Poultry, Eagle Chassis, DeBerg Concrete, AmeriCashAdvance.com, RFG, Phil and Vivian, Ryan Yager Trucking, 212 The Boiling Point Bar & Grill, Vortex Racing, Hoosier Tire, Chris Spaulding – Attorney at Law, Schoenfeld Headers, K&N Filters, Don Ott Engines, HRP, All Pro Cylinder Heads, Bob and Beulah Elder, Country Builders Construction, Engler Injection, Superflow Technologies, T&P Brothers, Larry Fleck Trucking, Winters, DriverWebsites.com, CM Rock, Jocko's Sprint Parts, Sander, Brown and Miller, Chase Graphics, Pro Shocks, Ben Cook, Bell Helmets, Burnett's Rock and Landscaping, Fatheadz Eyewear, Morgan Strawberry Farms, Bulldog Pest Control, Aurora Rod Ends, Crow Safety, Justice Brothers, KSE Steering, Strange Performance, Saldana Racing Products, Scribner Plastics, Waterman Fuel Pumps, Weiland Racing, Butlerbuilt, PBS Bushings.
Copy of DSC_8752 copy