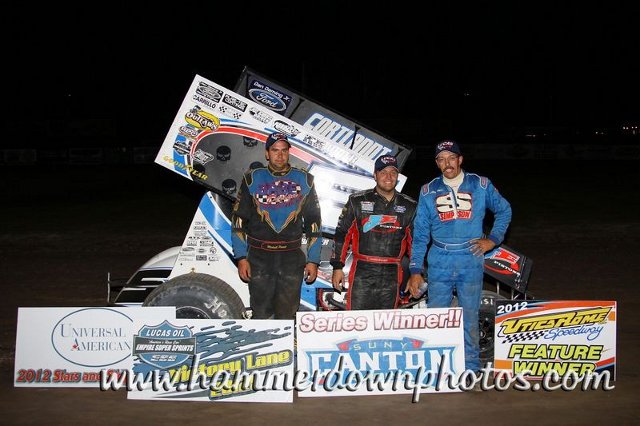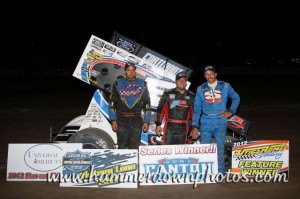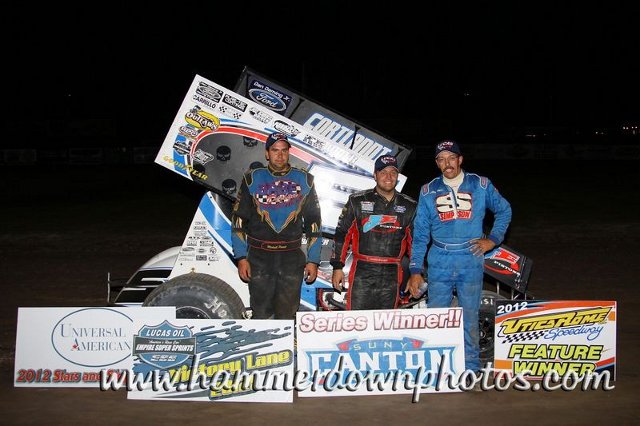 From Mike Mallett
VERNON, NY – Utica-Rome Speedway has a knack for providing dramatic finishes whenever the Lucas Oil Empire Super Sprints take to the big half-mile.  Sunday night the fans were not disappointed as they got to see another last lap, turn four pass for the win.
This time it was Justin Barger sliding by Michael Parent to score the win aboard his JBR Racing No. 5.  It was Barger's second point show win on the season and it came in the American Universal, SUNY Canton 25-lap A-Main event.  It was his first win at the speedway since 2007.
"Feels really good to be here," said Barger.  "It's been a while since we've won here.  We used to run this place like this all time and we've been missing the last few times.  They did a hell of job bringing the track back there."
Parent started the race from the outside of the front row and jumped to the lead at the green over Jeff VanDusen.  Those two held the top spots when the first caution came out on lap five when Charlie Donk slowed and stopped in turn two.
A couple attempts were made to restart the race and once it got going again Parent asserted himself as the leader.  He opened up a half-straightaway lead over the second place battle that included VanDusen and Lance Yonge.
At the halfway point it was Parent the leader with Yonge and Barger now swapping the runner-up spot each time across the start-finish line.
Things remained dicey for second while Parent led but things changed on lap 19 as Kevin Ward Jr. spun in the first turn bringing out the caution.  On the restart Parent held of the challenges of Young and then Barger for the first three laps after the caution.
On the final lap, Barger got a run off of the second corner and drove deep into the third turn.  He slid up the speedway and made slight contact with Parent as they came off of turn four.  He was able to beat Parent to the line for the victory.
"We got close enough coming down the backstretch that I could make something happen in turns three and four," said Barger.  "I followed him for at least five or six laps and saw where he was running.  I had to shorten the track up there but he did a good job.  We just came up one spot better at the end."
Parent, of Granby, Que., settled for a runner-up finish.  He didn't hear Barger as he raced into turn three and had he known he was there he would entered the corner differently to take away the slide-job.
"I should have known better on the last lap," said Parent.  "I didn't hear him so I didn't think he was there.  He (Barger) did a slide job on the last lap and he earned it.  I learned that tonight.  I learn every race and next time I'll know better."
For the second night in a row Lance Yonge walked out the track with a podium finish as he finished in third.  Yonge was in the mix for the win but ultimately had to settle for a third place run.
"We've needed this," commented Yonge when asked about running strong.  "This car has been great and I knew if we could get some decent starting spots we've be right there with them.  He's running good (Barger) but we'll keep trying."
Modified regular Larry Wight, of Phoenix, N.Y., crossed the line in fourth with Paul Kinney using his home track experience to finish in fifth after starting 20th.
ESS/Utica-Rome Notes: Another solid field of 33 sprints in the pits…Jeff VanDusen made his return to ESS competition after several years…Legendary Kramer Williamson made his annual trip north but troubles under the hood forced him pit side early in the A-Main…Michigan's Dain Naida also made his first ever appearance at the Vernon oval but just missed qualifying…Next visit to Utica-Rome will be with the Lucas Oil Late Models on Wed. July 25.
Universal American/SUNY Canton A-Main – Justin Barger ($1,675), Michael Parent, Lance Yonge, Larry Wight, Paul Kinney, Shawn Donath, Dylan Swiernik, Chuck Hebing, Kevin Ward Jr., Tim Kelly, Matt Tanner, Jason Barney, Jessica Zemken, Mike Stelter, Patrick Vigneault, Jeff Cook, Jami Russell, Kory Gurney, Sam Reakes IV, Cory Sparks, Jeff VanDusen, Etienne Girard, Kramer Williamson, Charlie Donk.
Lap Leaders – Parent 1-24, Barger 25.
Did Not Qualify – Dain Naida, James Hanson, Kyle Dutcher, Paul Pekkonen, Joe Trenca, Paul Habeck, Josh Pieniazek, Warren Alexson, Brandon Warner.
Car Mate Custom Built Trailer Heat 1 – Barger, Barney, VanDusen, Reakes IV, Girard, Kelly
Car Mate Custom Built Trailer Heat 2 – Wight, Hebing, Williamson, Sparks, Ward Jr., Gurney
Car Mate Custom Built Trailer Heat 3 – Tanner, Parent, Swiernik, Yonge, Zemken, Dink.
Kountry Kafe/Cobra Coaches Dash – Barger
B-Main – Cook, Kinney, Russell, Donath.
Provisional Starters – Vigneault, Stelter.
Bonuses:
Westward Painting Company Halfway – Parent $100
Lee's Repair Auto and Truck – Kinney (15 pos.) $50
Ohsweken Speedway Winners Bonus – Barger $50
North Eastern Pool and Spa Power Pick – Williamson, Russell $50
Fondations 55 Pick 5 – Kinney $50
Car Mate Custom Built Trailers Heats – Barger, Wight, Tanner $25