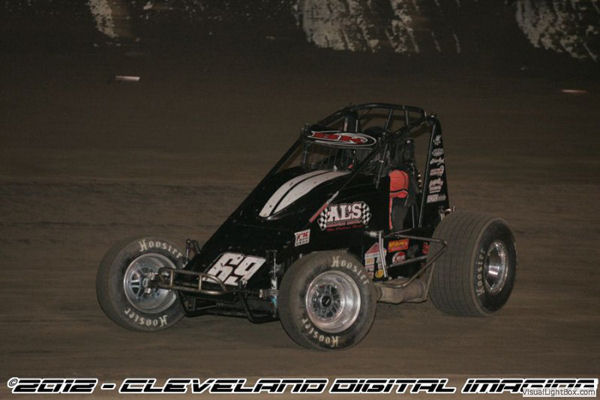 Steven Blakesley
WATSONVILLE, CALIFORNIA (July 7, 2012) – In a race held in honor of his father Howard Kaeding, Brent Kaeding led all 30 laps for the $2,000 victory in Friday night's feature for the USAC Western Classic Sprints at Ocean Speedway Watsonville. Kaeding defeated red hot Kyle Hirst of Loomis, CA in a thrilling duel throughout the final 12 laps of the contest.
"To win a race that's in my dad's honor is just awesome," Kaeding said. "To come back here and win this USAC race without a wing is something that I don't do that often. Me and Kyle's dad used to race together and he's a good kid. He raced me hard and clean. Fortunately in lapped traffic we all out and went for it and here we are again! I didn't settle for second."
Kaeding led lap one from the outside pole ahead of Corralitos' Jerry Bonnema. Hollister's Ryan Bernal jumped up into the third position from sixth starting as well. Bernal challenged Hirst for the second position before the first caution on lap three. The yellow came out for national Sprint Car wins leader Bud Kaeding after he broke steering.
On the restart, Bernal and Hirst made contact to bring Bernal to a stop in turn one. The incident also collected Ocean Sprints presented by Taco Bravo points leader Shane Golobic of Fremont. Golobic took his car to the pits but was unable to return.
The next restart saw two-time Ocean Speedway USAC/CRA feature winner Cory Kruseman spin to bring out the caution on lap five, handing the third position over to eight-time USAC champion Tony Hunt of Lincoln.
The stage was set for a Kaeding versus Hirst showdown. Kaeding had a strong restart working the bottom while Hirst ran along the cushion. Gilroy's Eric Rossi swept past Hunt for third on lap 13 and Kruseman had driven back up to sixth by lap 15.
Hirst began to close in on Kaeding as they approached lapped traffic, with Hirst doing a crossover move to run side-by-side with Kaeding on lap 18. Kaeding went up to the cushion in more lapped traffic on lap 20 and drove away with a comfortable advantage.
Kaeding was able to keep Hirst at bay throughout more lapped traffic in the closing stages and took a well-earned five car length lead at the checkered flag. Kaeding and Hirst were followed by Rossi, Kruseman, and Santa Rosa's Marty Hawkins to round out the top-five. Incoming series points leader Shauna Hogg finished eighth while Hunt drifted back to seventh at the finish.
Heat race wins went to Bernal, Golobic, and Hirst. Bernal set quick-time with a 12.600 second lap around the quarter-mile dirt oval.
The USAC Western Midgets were also in action on Friday night with 27 cars in the pits. Atascadero's Randi Pankratz led the first two laps of competition before sixth place starting Scott Pierovich of Alamo took over the top spot. Golobic moved up into second on lap eight and brought Kruseman with him to third.
Ryan Bernal was charging through the field after starting eighth but his Midget drive was over on lap 12 when he flipped in turn one. On the restart, the caution came back out for Norco's Cody Swanson stalled on the backstretch. The next restart saw a serious looking flip when young Frankie Guerrini III flipped over the turn one wall but was uninjured.
Kruseman capitalized on the restart to steal the lead away from Pierovich and lead the final 14 laps for the victory. Pierovich back-pedaled to a ninth place finish in the 30 lap event. Kruseman won over points leader Shannon McQueen of Bakersfield, Golobic, Danny Ebberts, and Ronnie Gardner.
Heat race wins went to Sean Dodenhoff, Jimmy Christian, Golobic, and Bernal, while Ebberts won the Semi. Pierovich was fastest in qualifying with a 13.463 second lap.
The Howard Kaeding Classic continues tonight with the Golden State King of the West in the lone appearance for winged 410s at Ocean Speedway Watsonville. The Ocean Sprints presented by
Taco Bravo return to Ocean Speedway on Friday July 20.
For more information on the Ocean Sprint Cars presented by Taco Bravo log onto http://www.oceansprints.com and for more on the Ocean Speedway visit http://www.oceanspeedway.com