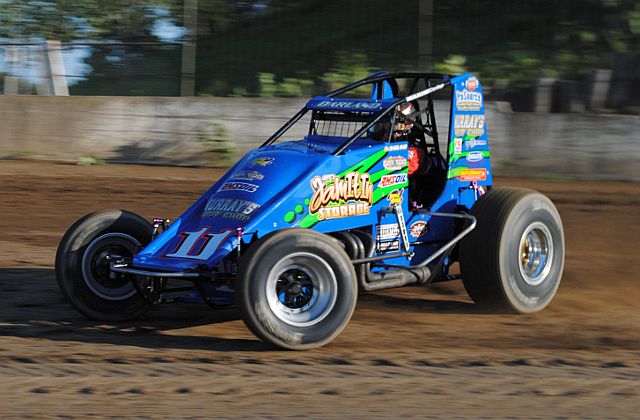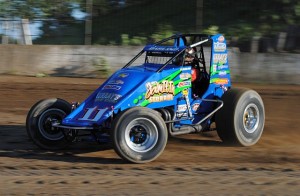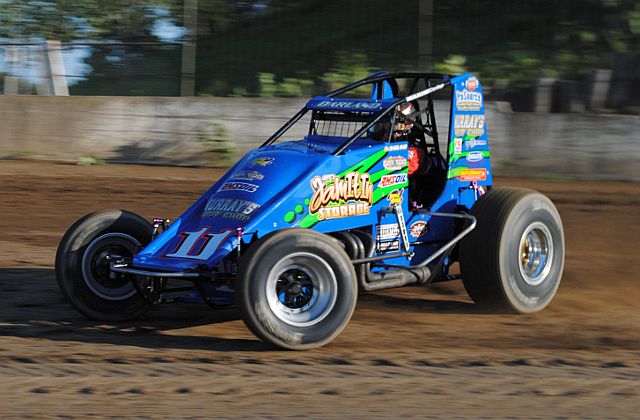 By T.J. Buffenbarger
Hartford, MI – (August 11, 2012) — Dave Darland won Saturday night's Amsoil USAC National Sprint Car Series feature in dominating fashion Saturday night at Hartford Motor Speedway. Darland battled with Jerry Coons, Jr. during the first third of the feature until taking over the lead for good, winning by a full straightaway driving his Jeff Claxton owned Claxton powered Maxim Chassis.
"Jeff Walker gave me a great race car, we had a good starting spot, and I took advantage of it," said Darland. "I was trying not to spin the wheels off the corner much and keep the car hooked up, and we were able to do that."
Robert Ballou and Jerry Coons, Jr. started on the front row for the 30-Lap feature event. Ballou led the field into turn one, but Coons diamonded off the corner and took the lead down the backstretch. Behind Ballou, Darland and Levi Jones raced side by side for third. Darland disposed of Jones and by lap four moved past Ballou for the second spot after Ballou drove over the cushion between turns three and four.
Darland quickly closed in on Coons and drove under him for the lead on lap eight. Coons countered by crossing over to retake the lead. Darland and Coons continued to battle for the lead with Darland motoring ahead just as Nick Landon came to a stop on the front stretch, bringing out the caution flag. The field reverted back to the previous lap, allowing Coons to retain the lead.
After the restart Darland and Coons exchanged slide jobs with Darland taking the lead on lap 10. One lap later Dustin Shriver stopped in turn three to bring out another caution flag. Darland motored away during the restart while Coons and Jones battled for second. Then on lap 12 Coons slowed on the front stretch to bring out the caution flag. Coons was unable to make the restart.
Darland pulled away again with Jones, Ballou, and Jon Stanbrough racing for the second spot. Ballou took over the second spot on lap 16, but Darland had built up a full straightaway advantage. From that point on Darland cruised through the slower traffic to win by a full straightaway. Ballou ran out of fuel coming to the finish line, allowing Stanbrough to take second place at the line. Ballou, Jones, and Chase Stockon rounded out the top five.
AMSOIL USAC NATIONAL SPRINT CAR RACE RESULTS: August 11, 2012 – Hartford, Michigan – Hartford Motor Speedway
QUALIFICATIONS: 1. Levi Jones, 20, Stewart/Curb-Agajanian-18.669; 2. Chase Stockon, 32, Stockon-18.783; 3. Bryan Clauson, 7, Tucker/BCI/Curb-Agajanian-18.891; 4. Dave Darland, 11, Walker-18.896; 5. Jerry Coons Jr., 71p, Phillips-18.920; 6. Robert Ballou, 81, MPHG-18.992; 7. Tracy Hines, 4, Hines-19.028; 8. Jon Stanbrough, 21x, Roberts/Tate-19.058; 9. Damion Gardner, 71, DG-19.155; 10. Hunter Schuerenberg, 35, Byram-19.197; 11. Chris Windom, 21, Pollock-19.247; 12. Kevin Thomas Jr., 9k, Black Jack-19.260; 13. Bobby East, 5E, East-19.321; 14. Steve Irwin, 1x, Flying Zero-19.434; 15. Dustin Daggett, 2M, Mott-20.489; 16. Dustin Shriver, 73, Shriver-20.646;17. Nick Landon, 82, Landon-21.073; 18. Jay Steinebach, 10s, Steinebach-21.860.
FIRST HEAT: (8 laps) 1. East, 2. Schuerenberg, 3. Darland, 4. Jones, 5. Hines, 6. Shriver. 2:36.11
SECOND HEAT: (8 laps) 1. Stockon, 2. Stanbrough, 3. Windom, 4. Irwin, 5. Coons, 6. Landon. 2:39.31
THIRD HEAT: (8 laps) 1. Thomas, 2. Ballou, 3. Gardner, 4. Daggett, 5. Clauson, 6. Steinebach. 2:38.04
FEATURE: (30 laps) 1. Dave Darland, 2. Jon Stanbrough, 3. Robert Ballou, 4. Levi Jones, 5. Chase Stockon, 6. Tracy Hines, 7. Damion Gardner, 8. Bryan Clauson, 9. Chris Windom, 10. Bobby East, 11. Hunter Schuerenberg, 12. Dustin Daggett, 13. Kevin Thomas Jr., 14. Steve Irwin, 15. Jay Steinebach, 16. Jerry Coons Jr., 17. Dustin Shriver, 18. Nick Landon. NT
——————————–
FEATURE LAP LEADERS: Laps 1-10 Coons, Laps 11-30 Darland.
NEW AMSOIL NATIONAL SPRINT POINTS: 1-Stanbrough-1,505, 2-Jones-1,499; 3-Darland-1,406, 4-Clauson-1,298, 5-Gardner-1,222, 6-Hines-1,195, 7-Ballou-1,157, 8-Stockon-1,147, 9-Thomas-1,137, 10-Schuerenberg-1,105.
NEXT AMSOIL NATIONAL SPRINT RACE: August 23-25 – Kokomo (IN)Speedway – "Sprint Car Smackdown"
Photo Gallery