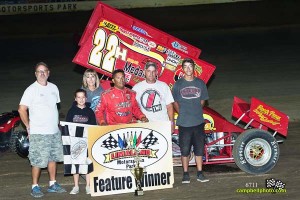 From Limaland Motorsports Park
Lima, OH — (August 17, 2012) — The 2012 racing season at Limaland Motorsports Park still has two weeks of competition remaining to decide the division champions and additional feature winners. A theme for this season has already stamped itself as having dominating performances in both the Thunderstocks and Sprint car fields.
The Elwer Fence Sprints has seen defending track champion Kyle Sauder move back into the lead in the championship point's. Sauder's move has been a result of his recent success and Randy Hannagan having competed at the famed Knoxville, IA, Nationals event for the past few weeks.
Sauder took full advantage of his pole starting position in the 25-lap feature. The veteran rocketed to the lead and quickly occupied his preferred high line on the ¼-mile oval. He led Dallas Hewitt, Hud Horton and Hannagan around through a pair of cautions during the opening ten laps.
At lap twelve, Randy Hannagan had moved into the runner-up slot and the defining moment of the event came when Sauder himself made contact with the wall in turn two. The damage forced Sauder to the pit area and gave Hannagan the lead for the race restart on lap sixteen. Point's runner-up Hud Horton and Hewitt gave chase, but never really threatened Hannagan as he rolled to an impressive sixth win of the 2012 season.
"I was just sitting there in the cat bird seat trying to figure out where I need to be on the track," recalled Hannagan in the winner's circle. "When the 7K car (Sauder) got into the wall it gave me an opening. I want to thank Charley Fisher for this motor. I went to Knoxville and hurt the thing. Charley and the guys came through in a big way. They just finished preparing this car after Knoxville today."
The K&N Modifieds began the evening with former champions Terry Hull and Todd Sherman tied for the point's lead. Fellow Indiana resident Jake Reufer was third in the standings. Reufer had car troubles in his heat race and was never a factor on this night.
When the 20-lap feature began, outside front row starter Jeff Babccock in only his second start of the season, bolted to the front and was on his way to a second consecutive triumph in the division. Pole starter Jerry Bowersock was in hot pursuit, but the experienced Babcock was strong and fast racing up on the cushion. Bowersock started to work the middle racing groove and moving inside of Babcock, but was unable to execute a pass.
Point's co-leaders Terry Hull and Todd Sherman had two very different outcomes. Hull left the race early with mechanical problems, while Sherman stayed in the hunt following Babcock and Bowersock across the finish line posting a third place result.
"Even with my good starting spot, I was worried about the quality of the field," said Babcock, now two-for-two in Modified features. "Anytime you can hang on to win with guys like Todd Sherman and Jerry Bowersock, it's a good night."
Nowhere has individual dominance been more evident this season than in the Budweiser Thunderstocks, where either Shawn Valenti or Jeff Koz have captured every feature race contested. This night would prove to be more of the same as Fostoria, Ohio, driver Valenti took the lead from the pole and cruised to an amazing seventh season win.
Koz and defending track champion Tony Anderson were Valenti's biggest challengers during the 15-lap Budweiser Thunderstocks feature, but neither could sustain momentum to execute a pass for the lead.
"I've been on a roll all season and winning keeps your confidence up," stated Valenti. "Big thanks to my car owners (the Babcocks) for putting me in their car."
Limaland Motorsports Park returns to action on Friday, August 24, with Fan Appreciation Night, featuring the visiting Tuff Trucks, the K&N UMP Modifieds and the Budweiser Thunderstocks. There will be a number of prizes awarded to race fans including bicycles, a gas grill and a remote control car.
Special Fan Appreciation Night admission is just $10 for adults, $5 for young adults and kids 10 and under admitted for free. Gates open at 5:00 p.m. with hot laps beginning at 6:30 p.m. Racing begins promptly at 7:30 p.m.
All the latest news and information about America's premier quarter-mile dirt track, can be found at www.limaland.com<http://www.limaland.com>. You can also find 2012 Limaland Motorsports Park on Facebook and Twitter.
Limaland Motorsports Park – 8/17/2012
K&N Modifieds
Heat 1 – (8 Laps – Top 8 Transfer)
1. 20K-Bill Keeler; 2. 65-Todd Sherman; 3. O1-Ryan O'Dette; 4. 33-Clint Reagle;
5. 55M-Justin Matson; 6. 45P-Brain Post; 7. 28-Chad Rosenbeck; 8. F16-Matt Custer
Heat 2 – (8 Laps – Top 8 Transfer)
1. 40-Terry Hull; 2. 20-Jeff Babcock; 3. 93-Tyler Stump; 4. 22T-Tony Anderson;
5. 69-Tommy Beezley; 6. 18N-Derrick Noffsinger; 7. 53-Brad Johnson;
8. L5-Casey Luedeke
Heat 3 – (8 Laps – Top 8 Transfer)
1. O3-Cory Seeling; 2. 5X-Jerry Bowersock; 3. 1-Kody Weisner;
4. 10B-Scott Bowersock; 5. 70-Dona Marcoullier; 6. OO-Jake Reufer;
7. 22B-Andy Bibler; 8. 47-Nick Rosselit
A-Main – (20 Laps) [#]-Starting Position
1. 20-Jeff Babcock[2]; 2. 5X-Jerry Bowersock[1]; 3. 65-Todd Sherman[3];
4. O3-Cory Seeling[4]; 5. 93-Tyler Stump[8]; 6. 70-Dona Marcoullier[15];
7. 20K-Bill Keeler[6]; 8. 69-Tommy Beezley[14]; 9. 45P-Brain Post[16];
10. 33-Clint Reagle[10]; 11. 22T-Tony Anderson[11]; 12. 28-Chad Rosenbeck[19];
13. 18N-Derrick Noffsinger[17]; 14. 10B-Scott Bowersock[12]; 15. OO-Jake Reufer[20]; 16. 47-Nick Rosselit[21]; 17. 1-Kody Weisner[9]; 18. 40-Terry Hull[5];
19. 55M-Justin Matson[13]; 20. 53-Brad Johnson[18]; 21. O1-Ryan O'Dette[7]
Elwer Fence Sprints
Heat 1 – (8 Laps – Top 7 Transfer)
1. 7K-Kyle Sauder; 2. 28H-Hud Horton; 3. 49-Shawn Dancer; 4. 23-Devon Dobie;
5. 11-Tim Allison; 6. 22D-Dennis Yoakam; 7. 23M-Jack Miller
Heat 2 – (8 Laps – Top 7 Transfer)
1. 27-Beau Stewart; 2. 18-Todd Heuerman; 3. 35-Ron Blair; 4. 5M-Max Stambaugh;
5. 27B-Brad Lamberson; 6. 4J-Bob Gehr; 7. 17-Jared Horstman
Heat 3 – (8 Laps – Top 7 Transfer)
1. 2M-Dallas Hewitt; 2. 22H-Randy Hannagan; 3. B20-Butch Schroeder;
4. 6S-Jr Stewart; 5. 57-Mike Dunlap; 6. 4U-Rick Boughan; 7. 2-Brent Gehr
Dash – (6 Laps – Top – Transfer)
1. 49-Shawn Dancer; 2. 23-Devon Dobie; 3. 4J-Bob Gehr; 4. 27-Beau Stewart
A-Main – (25 Laps) [#]-Starting Position
1. 22H-Randy Hannagan[6]; 2. 28H-Hud Horton[4]; 3. 2M-Dallas Hewitt[3];
4. 6S-Jr Stewart[12]; 5. 18-Todd Heuerman[5]; 6. 27-Beau Stewart[2];
7. 17-Jared Horstman[20]; 8. 49-Shawn Dancer[7]; 9. 11-Tim Allison[13];
10. 5M-Max Stambaugh[11]; 11. 57-Mike Dunlap[15]; 12. 4U-Rick Boughan[18];
13. 27B-Brad Lamberson[14]; 14. 4J-Bob Gehr[17]; 15. 2-Brent Gehr[21];
16. 23M-Jack Miller[19]; 17. 7K-Kyle Sauder[1]; 18. 22D-Dennis Yoakam[16];
19. B20-Butch Schroeder[9]; 20. 35-Ron Blair[8]; 21. 23-Devon Dobie[10]
Bud Thunderstocks
Heat 1 – (8 Laps – Top 7 Transfer)
1. 16-Jeff Koz; 2. 2-Luke Schostkewitz; 3. 1-Brad Kemp; 4. 2B-Nick Bowers;
5. 52B-Sam Bodine; 6. 89-Keith Shockency; 7. 99-Andy King
Heat 2 – (8 Laps – Top 7 Transfer)
1. 27-Frank Paladino; 2. 82-Chris Douglas; 3. 7C-Jordan Conover; 4. 57S-Billy Siferd;
5. OOS-Josh Sutter; 6. 327-Randy Crossley; 7. O1-Sebastian  Font
Heat 3 – (8 Laps – Top 7 Transfer)
1. 7B-Shawn Valenti; 2. 22T-Tony Anderson; 3. OOM-Bryan Martin;
4. 19-Bill Reimund; 5. 26-Justin Long; 6. 45-Kyle Bronson
A-Main – (15 Laps) [#]-Starting Position
1. 7B-Shawn Valenti[1]; 2. 16-Jeff Koz[3]; 3. 22T-Tony Anderson[6];
4. 57S-Billy Siferd[11]; 5. 7C-Jordan Conover[8]; 6. 82-Chris Douglas[5];
7. 19-Bill Reimund[12]; 8. 2-Luke Schostkewitz[4]; 9. 26-Justin Long[15];
10. OOM-Bryan Martin[9]; 11. 1-Brad Kemp[7]; 12. O1-Sebastian  Font[20];
13. OOS-Josh Sutter[14]; 14. 45-Kyle Bronson[18]; 15. 2B-Nick Bowers[10];
16. 89-Keith Shockency[16]; 17. 27-Frank Paladino[2]; 18. 99-Andy King[19]
Photo Gallery