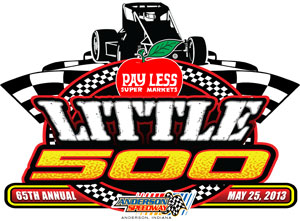 From Eric Bunn
Lebanon, IN (March 15, 2013) — The 65th running of the Pay Less Little 500 at Anderson Speedway early entry list is starting to read like a who's who of open wheel racing's greatest stars.  Racing in conjunction with Must See Racing, the Pay Less Little 500 is the second round in the USSA Sprint Car Challenge Series Built by the UAW championship.  The green flag will drop on the 65th Pay Less Little 500 on Saturday May 25.
Anderson Speedway has received the entry for Dave Darland, a four time USAC Champion and a fan favorite of open wheel fans every where.  2012 Pay Less Little 500 pole sitter Tony Hunt has also registered his entry for pavement sprint car racing richest event.  Hunt's entry is of particular interest to the men and women of the UAW, the Official Workforce of USSA, as his sprinter is powered by a Chevrolet engine based on the LS7 built by UAW Local 653 at the GM Performance Build Center in Wixom, MI.
Open wheel stars Jerry Coons, Jr and Tony Elliott are also listed as early entries for the race while Canadian Ryan Litt also plans to compete in his BS and B Radiator Sprinter.  The state of Florida will be well represented with three entries from Green Star for Brian Gingras, Garrett Green and Mathew Hall.
The USSA Sprint Car Challenge Series Built by the UAW racing season opens Sunday April 14 at Anderson Speedway with the Glen Niebel Classic Mel Kenyon 100.  The USSA Sprint Cars will be joined by the Mel Kenyon Midget Series, promising race fans a full afternoon of open wheel racing on Anderson's high banks.