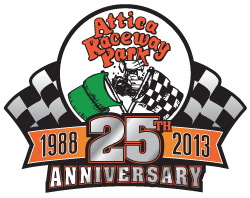 By Brian Liskai
Attica, OH — (April 4, 2013) —  Attica Raceway Park Officials have moved this week's racing from Friday, April 5 to Saturday, April 6 due to weather conditions.
"It's suppose to get down to the 30s Friday night while Saturday it's suppose to warm up to the 60s and only have a low in the 50s. We had Saturday as a scheduled rain date any way so we have moved this weekend's show to Saturday," said Rex LeJeune, Director of Operations at ARP.
Gates will open Saturday at 4 p.m. with racing under way at 7 p.m. with the O'Reilly Auto Parts 410 Sprints, Summit Racing Equipment UMP Late Models and Foster Auto Body 305 Sprints in action on Fisher Performance Night.
Adult general admission is $14; seniors $12; teens ages 11-15 are $10; and kids 10 and under are free. Pit passes are $25.
Go to www.atticaracewaypark.com for more information or like Attica Raceway Park on  Facebook at fb.com/atticaracewaypark and follow ARP on Twitter at www.twitter.com/atticaracewyprk.