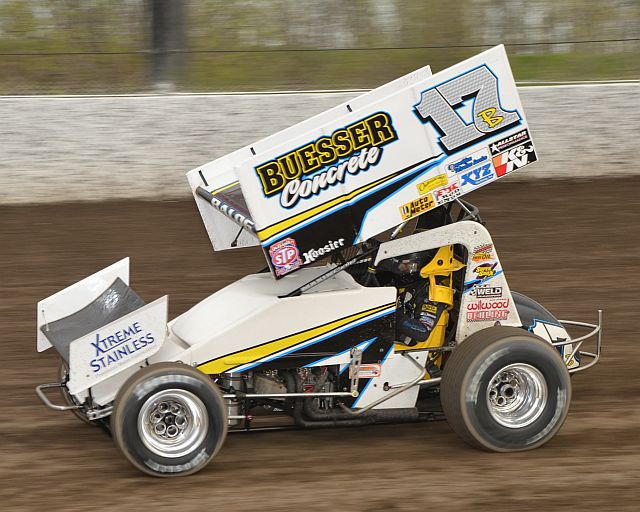 Wilmot, WI — (May 24, 2014) — Four consecutive top five finishes and a point lead is hardly what one would call a slump, still something was noticeably missing from Bill Balog's resume in 2014. That missing piece was an A-main victory.
The six time and defending Bumper to Bumper IRA Outlaw Sprint series champion had been locked out of victory lane thanks to the likes of Phillip Mock and Craig Dollansky, but on Saturday Night at Wilmot Raceway, Balog found his mojo and on a tricky racing surface he placed his #17b machine out front of the pack, taking the checkered flag.
Balog talked about the start of the year so far. "We just kept working on it, and tried to remain confident. We changed some stuff back to how we had it. It (the car) was just awesome. It feels great", noted Balog.
Though he wasn't sure if the car had the speed to win this evening once the race began he knew he had a shot at the victory. "At the start of that race it didn't feel that good but a couple laps in I felt we got something. It feels good to be back here at Wilmot and get our first win of the season," exclaimed Balog.
Balog had been chasing race leader Tommy Sexton, when Sexton lost grip in his #83 machine right at the halfway point of the 30 lap main event. The miscue elevated Balog to the top of the running order, a position he would hold for the duration of the contest. Balog was out front of a spirited battle between Bill Rose and Jordan Goldesberry by a dozen car lengths when the checkered flag waved. Goldesberry earned runner-up honors after taking the spot from Rose with two laps to go with a well-timed slide job. Rose comprised the podium finishers with a third place showing.
Goldesberry was pleased with his second place finish. "We had a lot of fun, the car was working real good. I knew Bill (Rose) wouldn't run me over he's a clean driver", said Goldesberry.
Rose echoed the statement of Goldesberry. "That was a lot of fun, we'll get the car a little better for next time and hopefully we'll have something for them tomorrow"(at 141 Speedway), claimed Rose.
The largest field of the season in Bumper to Bumper IRA Outlaw Sprint action had checked into the pit area with 32 drivers vying for the 22 starting spots in the A-main.
The original start of the 30 lap main event was red flagged due to an unfortunate incident which saw Michael Decker take a violent tumble down the back stretch. Decker's machine as made contact with the wall and started a series of end over end flips coming to rest in turn three.
Safety crews were quick to the scene and Decker was extracted from his ride and transported to a local hospital for examination. Conscious, and alert, Decker received a standing ovation as the ambulance rolled down the front stretch enroute to the hospital. Decker will be undergoing additional testing to determine his injuries which are not life threatening.
The second attempt at the start would see Sexton, the 2012 Wilmot Raceway champion, take the opening lead with Dave Uttech, and Jeremy Schroeder in tow. Balog, who had started eighth, quickly reached the top five, and began to duel with Rose for the fourth spot by the tenth circuit.
Sexton was turning in impressive laps on what is considered his home track, pulling away to a solid lead. Balog meanwhile continued to utilize every inch of the racing surface to make his way forward, maneuvering by both Rose and Schroeder to reach third by lap 13.
Sexton, now reaching lapped traffic, had extended his lead to nearly a half lap by the time Balog had powered his way around Uttech for the second position.
It was the next lap that would see a significant change in the event. Sexton made a rare miscue heading into turn three looping his ride, and drawing the yellow flag thereby turning the lead over to Balog. Sexton, who had won a local 410 sprint event at the track a couple weeks ago, resumed the race from the tail of the field as action resumed.
On the restart Balog found himself under pressure from Uttech who drew alongside him on a couple occasions before Balog found his rhythm and took control of the lead.
Uttech placed himself solidly in second chased by the trio of Rose, Goldesberry and rookie of the year contender Scotty Thiel who tossed the third position back and forth.
Uttech's best showing of 2014 came to an unfortunate end on lap 24 when he clipped a tire heading into turn three and as a result did a quick spin drawing a caution.
Uttech headed to the tail of the field for the restart leaving Balog, Rose, Goldesberry, Theil and Todd Daun in the top five spots for the for the dash to the finish.
The field came back to full song with Balog getting a solid jump on the competition. His lead was further bolstered as Rose and Goldesberry became engaged in a wing to wing duel for second. Balog would pull away leaving the action behind him.
With two laps to go Goldesberry powered deep into turn one pulling off a well-timed slide job on Rose putting a firm grasp on the second spot.
Goldesberry would run out of time to mount any serious challenge to Balog who claimed his 63rd career A-main event win in the Bumper to Bumper IRA Outlaw Sprints and added to his early season point lead. Goldesberry and Rose collected second and third respectively after putting on a great show for the fans.
With his fourth place run Thiel matched his best performance of 2014. Daun comprised the top five finishers.
Brian Kristan making his first series appearance of the 2014 season netted a sixth place run.
2013 Rookie of the Year Jeremy Schultz capped an otherwise frustrating evening on a positive note with a seventh place performance. To make the show Schultz had to come through the B-main, a race where he had to start at the tail of the field due to an early trip to the work area. After making a transfer spot Schultz had started the main event in the 19th spot, passing an impressive 12 cars.
Lance Fassbender turned in a solid eighth place showing, while fast qualifier and two time winner this season, Phillip Mock, earned a ninth place finish. Kris Spitz completed the top ten finishers.
19 of the 22 starters were still running at the conclusion of the contest.
An attrition filled B-main event was captured comfortably by Mock. Brandon Thone, Schultz, Decker, Bill Wirth and Russell Borland made up the transfer cars.
With the large field of cars on hand, four heat races were held with victories going to Sexton, Kristan, Uttech and Fassbender.
Mock was the fastest of the 32 drivers on hand with a lap of 12.897 seconds. Balog turned in the second fastest effort with a time of 13.011 seconds and Ryan Irwin with third quick at 13.126 seconds. 28 of the 32 participants timed within one second of each other.
The series now concludes its double header weekend, traveling two hours north from Wilmot Raceway to the 141 Speedway's quarter-mile bullring located just north of Francis Creek, Wisconsin.
The Bumper to Bumper IRA Outlaw Sprints will be joined by Vintage Cars, INEX Legends and IMCA Hobby Stock for the 141 Speedway program.
Adult admission is $20 and the first green flag of the night is set to fly at 6:00pm. For those who wish to arrive early for the best seating spectator gates will open at 4:00pm. The pits will open at 2:00pm.
For more information please check 141speedway.com. You can also follow us on both Facebook and Twitter. The track phone is (920) 863 3377 or for further information you can call (702) 218-9000. 141 Speedway is located 15 minutes south of Green Bay on County "R" in Francis Creek.
The 2014 Bumper to Bumper IRA Outlaw Sprint Series season will consist of 30 shows to be held at 15 different area tracks.
IRA proudly moves into 2014 backed by its long time supporting series partners led by title sponsor Bumper to Bumper Auto Parts & Service Centers, and associate series partners Osborn & Son Trucking, TW Metals, Hoosier Tire, Cedar Creek Motorsports, Cummins Onan, and Carriage Auto Body.
The Bumper to Bumper IRA Outlaw Sprints are a featured member of Racetext.net a website dedicated to bringing fans the best possible coverage of local short track racing.
For more information on the IRA Outlaw Sprints check out the tour website at www.irasprints.com or by logging onto the series Facebook page at www.facebook.com/irasprints the series is also on twitter at #IRA_sprints.
Event # 4 – Wilmot Raceway – Wilmot, WI – May 24, 2014
Bumper to Bumper Auto Parts A Feature (30 Laps): 1. 17B-Bill Balog[8]; 2. 65-Jordan Goldesberry[6]; 3. 6-Bill Rose[4]; 4. 64-Scotty Thiel[5]; 5. 19-Todd Daun[7]; 6. 5-Brian Kristan[10]; 7. 5J-Jeremy Schultz[19]; 8. 7F-Lance Fassbender[9]; 9. 1M-Phillip Mock[11]; 10. 4K-Kris Spitz[18]; 11. 14AJ-Wayne Modjeski[14]; 12. 2W-Scott Neitzel[17]; 13. 35-Ben Schmidt[13]; 14. 53W-Bill Wirth[21]; 15. 23-Russell Borland[22]; 16. 43-Jereme Schroeder[2]; 17. 41-Dennis Spitz[16]; 18. 83-Tommy Sexton Jr.[1]; 19. 68-Dave Uttech[3]; 20. (DNF) 94-Brandon Thone[12]; 21. (DNF) 50-Rusty Egan[15]; 22. (DNF) 12-Michael Decker[20]
Behling Racing Products B Feature (15 Laps): 1. 1M-Phillip Mock[1]; 2. 94-Brandon Thone[5]; 3. 5J-Jeremy Schultz[3]; 4. 12-Michael Decker[6]; 5. 53W-Bill Wirth[9]; 6. 23-Russell Borland[8]; 7. 16-Don Durham[10]; 8. 01-Rick Kelsey[7]; 9. (DNF) 5H-Patrick Haynes[4]; 10. (DNF) 56-Ryan Irwin[2]; 11. (DNF) 38-Allen Hafford[14]; 12. (DNF) 79-Blake Nimee[11]; 13. (DNF) 11-Darrell Dodd[12]; 14. (DNF) 72-Dave Maynard[13]; DNS 7-Scott Uttech; DNS 70-Raymond Hensley
Weld Racing Heat 1 (10 Laps): 1. 83-Tommy Sexton Jr.[1]; 2. 50-Rusty Egan[2]; 3. 35-Ben Schmidt[3]; 4. 6-Bill Rose[4]; 5. 5J-Jeremy Schultz[5]; 6. 1M-Phillip Mock[6]; 7. 79-Blake Nimee[8]; 8. 01-Rick Kelsey[7]
All-Star Performance Heat 2 (10 Laps): 1. 5-Brian Kristan[1]; 2. 17B-Bill Balog[6]; 3. 41-Dennis Spitz[2]; 4. 65-Jordan Goldesberry[5]; 5. 12-Michael Decker[3]; 6. 94-Brandon Thone[4]; 7. 16-Don Durham[7]; 8. 38-Allen Hafford[8]
Diversified Machine Inc. Heat 3 (10 Laps): 1. 68-Dave Uttech[4]; 2. 4K-Kris Spitz[1]; 3. 14AJ-Wayne Modjeski[3]; 4. 2W-Scott Neitzel[2]; 5. 56-Ryan Irwin[6]; 6. 53W-Bill Wirth[7]; 7. 5H-Patrick Haynes[5]; 8. (DNF) 72-Dave Maynard[8]
King Racing Products Heat 4 (10 Laps): 1. 7F-Lance Fassbender[1]; 2. 43-Jereme Schroeder[4]; 3. 19-Todd Daun[6]; 4. 64-Scotty Thiel[5]; 5. 23-Russell Borland[2]; 6. (DNF) 11-Darrell Dodd[7]; 7. (DNF) 7-Scott Uttech[3]; DNS 70-Raymond Hensley
Osborn & Son Qualifying: 1. 1M-Phillip Mock, 12.897[12]; 2. 17B-Bill Balog, 13.011[26]; 3. 56-Ryan Irwin, 13.126[27]; 4. 19-Todd Daun, 13.235[32]; 5. 5J-Jeremy Schultz, 13.244[21]; 6. 65-Jordan Goldesberry, 13.247[23]; 7. 5H-Patrick Haynes, 13.257[19]; 8. 64-Scotty Thiel, 13.306[30]; 9. 6-Bill Rose, 13.407[9]; 10. 94-Brandon Thone, 13.453[18]; 11. 68-Dave Uttech, 13.496[8]; 12. 43-Jereme Schroeder, 13.500[2]; 13. 35-Ben Schmidt, 13.505[15]; 14. 12-Michael Decker, 13.516[31]; 15. 14AJ-Wayne Modjeski, 13.523[17]; 16. 7-Scott Uttech, 13.527[4]; 17. 50-Rusty Egan, 13.527[16]; 18. 41-Dennis Spitz, 13.577[1]; 19. 2W-Scott Neitzel, 13.608[22]; 20. 23-Russell Borland, 13.609[20]; 21. 83-Tommy Sexton Jr., 13.669[7]; 22. 5-Brian Kristan, 13.672[11]; 23. 4K-Kris Spitz, 13.752[28]; 24. 7F-Lance Fassbender, 13.799[5]; 25. 01-Rick Kelsey, 13.802[25]; 26. 16-Don Durham, 13.851[10]; 27. 53W-Bill Wirth, 13.875[6]; 28. 11-Darrell Dodd, 13.877[13]; 29. 79-Blake Nimee, 13.950[3]; 30. 38-Allen Hafford, 14.426[14]; 31. 72-Dave Maynard, 15.068[29]; DNS 70-Raymond Hensley