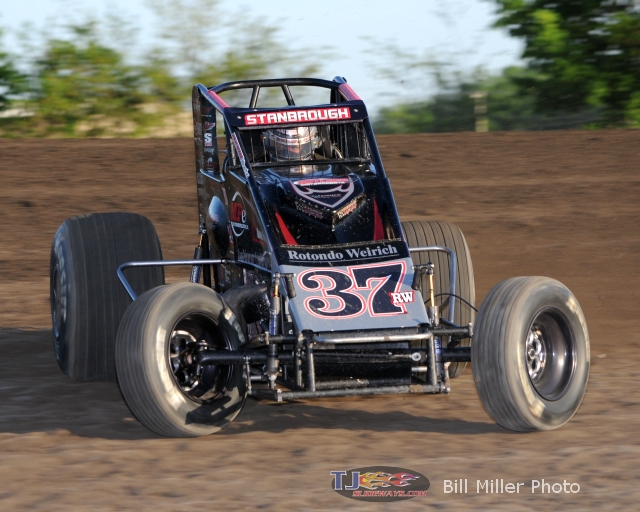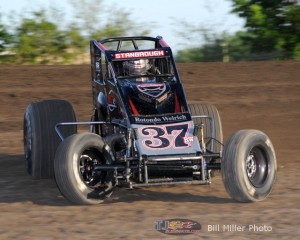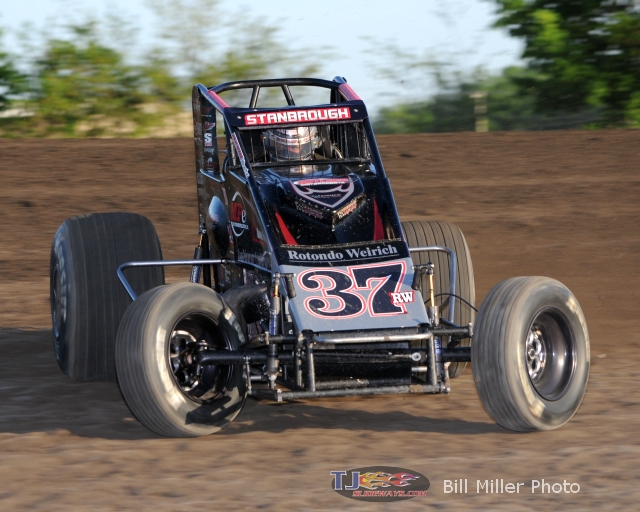 From Mike O'Leary
Paragon, IN — (May 31, 2014) — Jon Stanbrough led the King of Indiana Sprint Series feature wire-to-wire as the KISS tour wrapped up its 2014 tour at Paragon Speedway.  Kokomo's Shane Cottle claimed the series championship, edging Brady Short with a strong third place run.
The victory was Stanbrough's 21st in KISS competition and second this year.  "I'm just excited that we got an-other win in the series and really just happy for my team," he said after the front stretch celebration.  "We've been so close, so many times this year, and a lot of nights when we come home second or third, I always feel like I let them down.  They are very supportive and know that I'm doing the best that I can, but I still take a lot of that weight on my own shoulders.  I'm just excited to have them in victory lane."
Driving the #37rw Dutcher/Rotondo-Weirich/Tri-Star MP Environmental/Indiana Underground Maxim, Stan-brough outran Robert Ballou into turn one, and began to build a half-straightaway lead.  With the best line around the inside, Stanbrough didn't allow any openings going into the turns and stayed tight at both ends of the track.  Behind him, Cottle took third from Jeff Bland Jr. after starting sixth, and Short had scrapped his way into fourth and made several attempts to get around Cottle.
Stanbrough had expanded his advantage to a full straightaway by the time the caution came out for Chris Phillips' spin on lap 21.  With the restart, he rocketed away from the pack and wasn't challenged, taking the checkers nearly a straightaway ahead of Ballou.  Wheeling the #2e Epperson Painting Spike, Cottle held his ground in third as Short battled with Bland and both fought to get around him.  On lap 24 Short tried a differ-ent approach in turn one, but got out of shape and was quickly passed by both Ethan Barrow and Chris Win-dom when he slipped up the track.
Stanbrough said that his strategy was to stay on the bottom, "I knew as slick as it was, I needed to get the jump and get off the corner better than the pole sitter.  A lot of times I don't like being out in the lead be-cause you don't know if you're on the fastest part of the track or not.  Even tonight I wasn't sure, but I knew how hard it was for everybody to pass in the heat races.  I just gambled on down on the bottom is where it was going to be and if anyone was going to pass me, they were going to have to go around the outside.  I guess that the top or the middle never really got blown off enough to get fast enough to make another groove out there."
Cottle was elated with winning the championship, noting, "It's something that I've wanted to do my whole career running sprint cars, but I just never had the opportunity to do it.  Tony Epperson gave us the chance to do it this year and we capitalized on it."
After opening the KISS schedule with back-to-back wins at Bloomington and Kokomo, Cottle ran fourth at Lawrenceburg and sixth at Tri-State.  With the third place finish, he earned the title by 34 points over Short.  He added, "I think we had at least second, I don't think we had anything for Stanbrough.  But we lost our brakes with about five laps to go and we just kind of faded.  We'll take it."
King of Indiana Sprint Series, Round 5
Paragon Speedway, Paragon, IN
May 31, 2014
(37 cars)
Heat 1: 1. Shane Cottle 2e (2), 2. Ethan Barrow 15 (9), 3. Jake Scott 22 (5), 4. Dave Darland 41 (10), 5. Tony Reed 8 (4), 6. Nick Johnson 15j (7), 7. Pat Giddens 2g (6), 8. Kevin Chambers 18 (8), 9. Kaitlyn O'Neal 23k (1), 10. Randy Johnson 1 (3)
Heat 2: 1. Bub Cummings 71c (5), 2. Danny Harris 19 (2), 3. Doug Heck 55 (4), 4. Chris Windom 11 (9), 5. Jordan Kinser 9T (8), 6. Bradley Sterrett 90 (10), 7. Josh Cunningham 6s (6), 8. Billy Frye 7f (7), 9. Buddy Lowther 31 (1), 10. Landon Simon 24 (3)
Heat 3: 1. Brady Short 11p (7), 2. Robert Ballou 12 (5), 3. Braxton Cummings 71b (1), 4. Thomas Meseraull 41m (2), 5. Hunter O'Neal 77 (3), 6. Jeremy Potts 72j (8), 7. Buddy Cunningham 17c (6), 8. Kent Christian 1c (4), 9. Matt Brannin 27 (DNS)
Heat 4: 1. Jon Stanbrough 37rw (7), 2. Jeff Bland Jr. 04 (5), 3. Brad Cummings 71x (1), 4. Chris Phillips 6c (2), 5. Ray Kenens k9 (4), 6. C.J. Leary 30 (6), 7. Brian Lake 7bb (3), 8.Mitch Cunningham 6x (8), 9. Daniel Meyer e85 (9)
B Main: 1. Sterrett (6), 2. J. Cunningham (10), 3. Kinser (2), 4. Reed (1), 5.Giddens (9), 6. Kenens (4), 7. Simon (22), 8. R. Johnson (21), 9. Potts (7), 10. Leary (8), 11. Frye (14), 12. Chambers (13), 13. Lowther (18), 14. Lake (12), 15. M. Cunningham (16), 16. Meyer (20), 17. N. Johnson (5), 18. H. O'Neal (3), 19. B. Cunningham (11), 20. K. O'Neal (17), Brannin, Christian (DNS)
Feature (30 laps): 1. Jon Stanbrough (2), 2. Robert Ballou (1), 3. Shane Cottle (6), 4. Jeff Bland Jr. (3), 5. Ethan Barrow (5), 6. Chris Windom (14), 7. Brady Short (7), 8. Dave Darland (13), 9. Josh Cunningham (18), 10. Bub Cummings (4), 11. Thomas Meseraull (15), 12. Jordan Kinser (19), 13. Brad Cummings (12), 14. Braxton Cum-mings (11), 15. Jake Scott (9), 16. Chris Phillips (16), 17. Tony Reed (20), 18. Bradley Sterrett (17), 19. Danny Harris (8), 20. Doug Heck (10)
Final 2014 KISS Points: 1. Shane Cottle 851, 2. Brady Short 817, 3. Robert Ballou 654, 4. Jon Stanbrough 619, 5. CJ Leary 568, 6. Jeff Bland Jr. 514, 7. Jerry Coons Jr. 496, 8. Kevin Thomas Jr. 473, 9. Daron Clayton 416, 10. Ethan Barrow 404
2014 KISS SCHEDULE
April 27    Terre Haute Action Track    – Rain
May 2     Bloomington Speedway  – Shane Cottle
May 4        Kokomo Speedway – Shane Cottle
May 9        Gas City I-69 Speedway – Rain
May 17     Lawrenceburg Speedway – Jon Stanbrough
May 25    Tri-State Speedway – Jeff Bland Jr.
May 31    Paragon Speedway – Jon Stanbrough
Champion – Shane Cottle