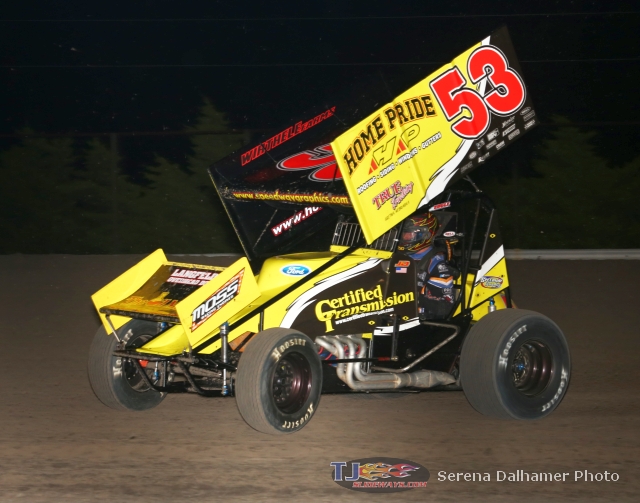 Inside Line Promotions

LEXINGTON, Neb. (June 16, 2015) – Jack Dover is back on track following a weekend sweep with the Carpetland Nebraska 360 Sprints.
Dover claimed a pair of victories last weekend to give him three wins and five finishes in the top four within his last six races.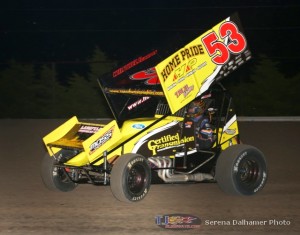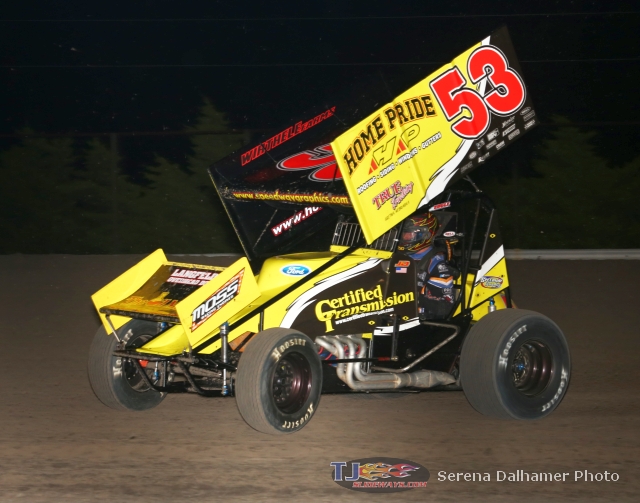 "Considering we ran top five with the national guys (two weeks ago) and getting two wins last weekend our program is getting where it should be," he said. "We've been doing everything we always do with the car, but my confidence was kind of down. Those wins got my confidence going and when you get your confidence built up it makes you more comfortable."
Dover kicked off last weekend, which was delayed because of a rain out last Friday at U.S. 36 Raceway in Cameron, Mo., by advancing from sixth to third place during a heat race on Saturday at Junction Motor Speedway.
"On the first start of the heat we went into turn one and me and another car were side by side," he said. "He slid up and his right rear jumped my left front and ran my nose wing over. I just tried my hardest to get to third."
That was enough to lock him into the feature redraw. Dover then lined up on the outside of the front row after pulling the No. 2 during the random draw.
"The first couple of laps I battled with the guy who started on the pole," he said. "We raced side by side before I finally pulled away. We were really good in lapped traffic. There were no problems. My car was able to maneuver wherever I wanted."
Dover's victory, which was his fourth in the last six races at Junction Motor Speedway, gave him extra confidence heading into his debut at Dawson County Raceway on Sunday.
"It was our first time there and we guessed on the gear for hot laps," he said. "It seemed to be all right. I went into the first corner of the heat race and one of the local racers got in front of me and his rear end broke. I had nowhere to go and ran into the back of him, which knocked down another nose wing. After we restarted I started running the bottom and my car was working better. We finished about half a car from second at the finish line."
Dover ended third in a heat race, which lined him up on the inside of the fifth row for the 25-lap main event.
"My confidence was there from the night before," he said. "On the first lap we were up to third. We passed six cars the first lap so I knew we were going to be good the rest of the race. I got up to second about three laps into it and it took another four laps from there to get the lead. The car would go wherever I wanted to, but the preferred line was on the bottom."
Not only did Dover garner the win, he also scored the Hard Charger Award and a $200 bonus for passing the most cars.
Dover is scheduled to return to action Friday and Saturday at Butler County Speedway in Rising City, Neb., with the Carpetland Nebraska 360 Sprints. If those races go well he might compete on Sunday at Kansas State Fairgrounds in Hutchinson, Kan., with the NCRA.
QUICK RESULTS –
June 13 – Junction Motor Speedway in McCool Junction, Neb. – Heat race: 3 (6); Feature: 1 (2).
June 14 – Dawson County Raceway in Lexington, Neb. – Heat race: 3 (4); Feature: 1 (9).
SEASON STATS –
11 races, 3 wins, 6 top fives, 8 top 10s, 8 top 15s, 9 top 20s
UP NEXT –
Friday and Saturday at Butler County Speedway in Rising City, Neb., with the Carpetland Nebraska 360 Sprints
MEDIA LINKS –
Website: http://www.JackDoverRacing.com
Twitter: https://twitter.com/JackDoverRacing
Facebook: https://www.facebook.com/jackdoverracing?fref=ts
SPONSOR SPOTLIGHT – Home Pride Companies, Inc.
Home Pride Companies, Inc., is a leader in vinyl siding, window replacement, roofing and guttering. Based in Omaha, Neb., Home Pride Companies, Inc., also specializes in storm damage repair and has served Nebraska and Iowa for more than 25 years. For more information, visit http://www.HomePrideCompanies.com.
"Luke Cochran has become a family friend the last few years and he's been instrumental in keeping our program going," Dover said. "He also has a great company, which we've seen firsthand when Home Pride Companies, Inc., roofed my parent's house."
Dover would also like to thank Certified Transmission, Eagle Motorsports, Moss Racing Engines, Thorpe's Body Shop, Backlund Plumbing, Trail Performance Coatings Inc., The Oil Medics, ButlerBuilt Professional Seat Systems, Keizer Wheels, Schoenfeld Headers, Shaver Racing Engines, Langfeldt Overhead Doors, K&N Filters, FK Rod Ends, DMI, Speedway Motors, Vortex Wings and True Trucking for their continued support.
PARTNERSHIP OPPORTUNITIES –
Jack Dover Racing is close to being able to compete across the country by returning to the Lucas Oil ASCS National Tour, where Dover has finished in the top 10 both seasons he has raced full time with the premier 360 sprint car series. He is also ready to compete with the World of Outlaws Sprint Car Series en route to his dream of racing in NASCAR. The only variable missing is a reliable truck and trailer. For more information on partnership opportunities, e-mail TeamDover@gmail.com.
INSIDE LINE PROMOTIONS –
Inside Line Promotions specializes in affordable public relations and media management for motor sports drivers, teams, sponsors, tracks, series, events, organizations and manufacturers. ILP Founder Shawn Miller leverages professional journalism with new media technologies and social networking to improve your exposure and the return on investment for your sponsors.
To meet the media relations needs of your program by joining Team ILP, contact Shawn at 541-510-3663 or Shawn@InsideLinePromotions.com. For more information on Inside Line Promotions, visit http://www.InsideLinePromotions.com.