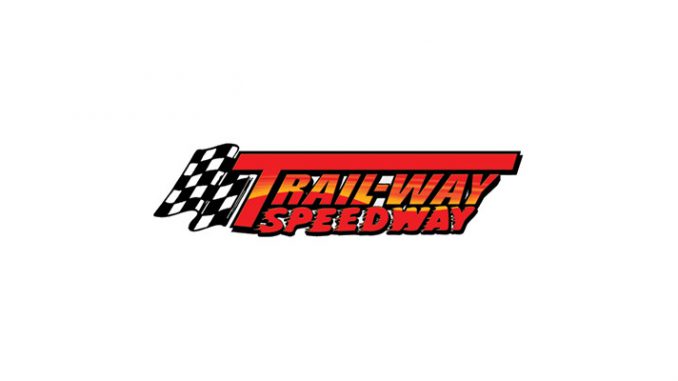 From Trail-Way Speedway
Hanover, PA — (June 19, 2015) — It's been two decades since the Fletcher #66A has graced victory lane.
And what a way for Cody Fletcher to score his first career 358 sprint car feature win, holding off the all-time winner and current points leader to claim the 25-lap feature at Trail-Way Speedway Friday night.
Grandfather Harry Fletcher was there to see it and join Cody in victory lane, but father Bob, the last driver to win in a Fletcher sprinter, is vacationing in Italy and will see the victory lane photos via social media.
"I couldn't do this without my parents and grandparents," said the jubilant Fletcher in victory lane, "When you start up front you can only hurt yourself…and I've done that enough."
"It's been coming," continued Fletcher reflecting on his first win, "We've been running good, and it feels good to finally be standing here."
The Fletcher Farms/Rocco's Pizza & Subs sprinter started on the pole and led every lap despite early-race pressure from fourth-starting Isaac Sneeringer (laps 1-12) and then third-starting and third-starting Brad McClelland (laps 13-20).
J.B. Cunningham was uninjured in a spectacular flip on the backstretch while racing Zach Euculano for fourth on lap 10.
Euculano was able to restart fourth and finished there, with hard-charger Tyler Reinhardt coming from ninth to cross fifth.
Qualifiers for the 12 "358" sprint cars were won by Dwight Leppo and Cunningham.
Friday June 19, 2015
Trail-Way Speedway
Hanover, PA
For Immediate Release
HOOSIER TIRE MID-ATLANTIC 358 SPRINT CARS
FEATURE (25 Laps) – 1. 66A-Cody Fletcher; 2. 6R-Brad McClelland; 3. 19Z-Isaac Sneeringer; 4. 10-Zach Euculano; 5. 00-Tyler Reinhardt (Big Mike's Crabhouse Hard Charger); 6. 4-Dwight Leppo; 7. 30-Seth Kearchner; 8. 77-David Holbrook; 9. 2-Dennis Gross; 10. 10T-Brody Treaster; 11. 19-JB Cunningham, Jr. (DNF); 12. 0-Anthony Bay (DNF). No time.
Lap Leaders: Cody Fletcher (1-25)