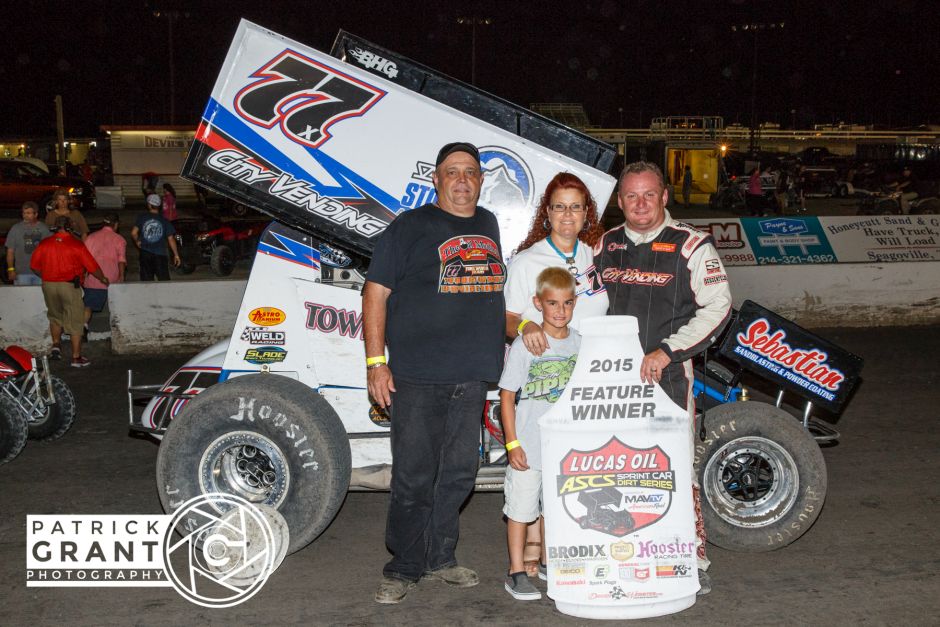 From Bryan Hulbert
Mesquite, TX — (October 16, 2015) — Wayne Johnson picked up his second Lucas Oil American Sprint Car Series presented by the MAVTV Motorsports Network victory of the season at the Devil's Bowl Speedway; leading non-stop on the opening night of the 42nd annual Devil's Bowl Winter Nationals.
The second night on a new Eagle Chassis, Wayne was more than pleased with the car's handling, "I've got to thank Mike Long with Eagle Chassis. He's been talking with me a long time about these cars, wanting me to try one and we did at I-80 Speedway a couple weeks ago and won that race and this is the second night on this car and won again," said Johnson.
"I don't know that we had the best car out there. We could have adjusted a little more, and need to for tomorrow but clean air out front makes everything a little easier. I ran the bottom there and I saw Joe Wood once off of turn four, but I drove away, then a caution came out and my guys signaled to me the top was the place to be. I was going to run the bottom of three and four until someone passed me, and when I saw Joe it got me thinking but I was still pretty good down there but this is our second National Tour win of the year, and that just unacceptable to have two wins under our belt coming into the final three races so hopefully we'll walk away with a few more."
Johnson's 45th career National Tour triumph, the No. 77x would have to win the drag race into the first turn three times as the initial start went red for a three car crash involving Chance Morton, Tony Bruce, Jr., and Michael Lang who went off the wall and upside down. Morton and Bruce were unharmed. Lang was alert and talking with officials, but was stabilized and transported for further evaluation.
False start on the second attempt, the green finally flew with Joe Wood, Jr. giving chase to the Oil Medics No. 77x.
Keeping Johnson in sight, slower traffic played to the advantage of Joe Wood, Jr. to allow him to challenge. Pulling even with the No. 77x a couple times off the fourth turn, Johnson nearly gave up the top-spot before finally clearing a pair of back markers on Lap 8.
Caution on the tenth round for Josh Baughman, the caution lights blinked on again the following lap.
With a two lapped car buffer gone between Wayne and Joe, the pair diced it up for a moment before Johnson began pulling away.
Darting through traffic, Johnson crossed 2.858 seconds ahead of Joe Wood, Jr. who placed on the podium for the first time with the Lucas Oil ASCS presented by the MAVTV Motorsports Network.
"That was a great race. I wish we could have gotten up there and challenged Wayne a little bit more, but I'll take second. This is a good run for this team and we'll see if tomorrow night we can get another podium, and maybe a win."
Matt Covington put the A-Rock Material No. 95 on the final podium step; his second appearance in as many races.
"I had a blast like normal when I come here. The track is tricky. It's a trick shape, and the surface can throw you for a loop but it always seems to be pretty racy. I just had a lot of fun. This is my favorite place to race at. It's just too bad the National Tour doesn't race here every weekend."
In a mad scramble through traffic in the final five laps, John Carney II moved the MSD Ignition No. 74b into the final transfer spot for Saturday's A-Feature with a three-in-one slide through the first two turns on Lap 21; taking the spot away from Oklahoma's Blake Hahn who was tangled up in slower cars. Hahn, who charged from 11th, would hold on to finish fifth.
Seth Bergman was sixth followed by Johnny Herrera. However, it was found after reviewing onboard footage from Herrera's car, a complaint of the right side muffler missing on the No. 45x during the A-Feature was validated, thus causing Johnny's disqualification. The footage, combined with the Muffler found at the point it was seen leaving the car were concurrent. Herrera was scored 24th and given last place points.
Seventh place was instead awarded to Kevin Ramey with Aaron Reutzel coming from 18th to finish eighth. Josh Baughman and Derek Hagar completed the top-ten.
With the shake up on the finish, Wayne Johnson has taken over the runner-up spot in series standings; trailing Aaron by 69 markers. Johnny fell to third, 75 points removed from the lead.
The 42nd annual Devil's Bowl Winter Nationals concludes on Saturday, October 17, 2015 with races getting underway at 8:00 P.M. (CT).
For continued updates on the Lucas Oil ASCS presented by the MAVTV Motorsports Network, log onto http://www.ascsracing.com.
Race Results:
Lucas Oil ASCS National Tour
ASCS Red River Region
Devil's Bowl Speedway – Mesquite, Texas
42nd Winter Nationals
Friday, October 16, 2015
Car Count: 45
Heat Races (8 Laps): Winners plus the next 10 highest in passing points to the A-Feature.
Heat 1 (8 Laps): 1. 11-Joe Wood Jr[1]; 2. E85-Derek Hagar[2]; 3. 22-Koby Barksdale[4]; 4. 2K-Brandon Long[6]; 5. 4X-Shawn Petersen[7]; 6. 76-Zane Lawrence[8]; 7. 92-Jordan
Weaver[5]; 8. 6-Kaden Taylor[3]
Heat 2 (8 Laps): 1. 17W-Harli White[1]; 2. 95-Matt Covington[7]; 3. 55-Brad Queen[4]; 4. 31-Justin Webb[3]; 5. 2-Mickey Walker[8]; 6. 10K-Kyle Ezell[6]; 7. (DNF) 45-Martin Edwards[2]; 8. (DNF) 88M-Keith Meyer[5]
Heat 3 (8 Laps): 1. 74B-John Carney II[1]; 2. 17T-Dustin Gates[3]; 3. 52-Blake Hahn[5]; 4. 17X-Josh Baughman[7]; 5. 14-Michael Lang[8]; 6. 33-Kris Miller[2]; 7. (DNF) 1J-Danny Jennings[6]; 8. (DNF) 14K-Kyle Bellm[4]
Heat 4 (8 Laps): 1. 72-Raymond Seemann[2]; 2. 8M-Kade Morton[1]; 3. 17M-Carl Bowser[3]; 4. 87-Aaron Reutzel[6]; 5. 22X-Payton Williams[5]; 6. 40-Howard Moore[7]; 7. 05M-Charles McManus[4]
Heat 5 (8 Laps): 1. 77XX-Alex Hill[1]; 2. 77X-Wayne Johnson[4]; 3. 12W-Dale Wester[2]; 4. 45X-Johnny Herrera[5]; 5. 15H-Sam Hafertepe Jr[7]; 6. 22K-Kevin Barksdale[3]; 7. (DNF) 18-Tony Bruce Jr[6]
Heat 6 (8 Laps): 1. 23-Seth Bergman[1]; 2. 1A-Kevin Ramey[7]; 3. 7M-Chance Morton[2]; 4. 84-Brandon Hanks[5]; 5. (DNF) 17-Channin Tankersley[3]; 6. (DNF) 3-Raven Culp[6]; 7. (DNF) 50Z-Zach Chappell[4]
B-Features (12 Laps): Top 3 in each advance to the tail of the A-Feature.
B Feature 1 (12 Laps): 1. 2K-Brandon Long[1]; 2. 4X-Shawn Petersen[5]; 3. 7M-Chance Morton[4]; 4. 2-Mickey Walker[2]; 5. 45X-Johnny Herrera[6]; 6. 17M-Carl Bowser[3]; 7. 17-Channin Tankersley[9]; 8. 40-Howard Moore[8]; 9. 92-Jordan Weaver[12]; 10. (DNF) 3-Raven Culp[10]; 11. (DNF) 22X-Payton Williams[7]; DNS 1J-Danny Jennings; DNS 50Z-Zach Chappell; DNS 14K-Kyle Bellm; DNS 88M-Keith Meyer
B Feature 2 (12 Laps): 1. 87-Aaron Reutzel[1]; 2. 14-Michael Lang[2]; 3. 18-Tony Bruce Jr[11]; 4. 15H-Sam Hafertepe Jr[7]; 5. 84-Brandon Hanks[4]; 6. 76-Zane Lawrence[6]; 7. 12W-Dale Wester[3]; 8. 33-Kris Miller[10]; 9. 22K-Kevin Barksdale[8]; 10. 10K-Kyle Ezell[9]; 11. 31-Justin Webb[5]; 12. (DNF) 6-Kaden Taylor[14]; 13. (DNF) 05M-Charles McManus[12]; DNS 45-Martin Edwards
A-Feature (25 Laps, top 4 into Saturday's Feature event):
A Feature (25 Laps): 1. 77X-Wayne Johnson[1]; 2. 11-Joe Wood Jr[2]; 3. 95-Matt Covington[8]; 4. 74B-John Carney II[7]; 5. 52-Blake Hahn[11]; 6. 23-Seth Bergman[9]; 7. 1A-Kevin Ramey[3]; 8. 87-Aaron Reutzel[18]; 9. 17X-Josh Baughman[12]; 10. E85-Derek Hagar[13]; 11. 17T-Dustin Gates[10]; 12. 2K-Brandon Long[17]; 13. 8M-Kade Morton[14]; 14. 72-Raymond Seemann[6]; 15. 7M-Chance Morton[21]; 16. 55-Brad Queen[16]; 17. 77XX-Alex Hill[5]; 18. (DNF) 17W-Harli White[4]; 19. (DNF) 14K-Kyle Bellm[24]; 20. (DNF) 4X-Shawn Petersen[19]; 21. (DNF) 22-Koby Barksdale[15]; 22. (DNF) 14-Michael Lang[20]; 23. (DNF) 18-Tony Bruce Jr[22]; DQ 45X-Johnny Herrera[23]
Lap Leader(s): Wayne Johnson 1-25
KSE Hard Charger: Aaron Reutzel +10
FSR High Point: Matt Covington
Provisional(s): Johnny Herrera P1 / Kyle Bellm P3
=======================
2015 Lucas Oil ASCS Winners: Aaron Reutzel 6; Seth Bergman 4; Jason Solwold 3; Johnny Herrera 3; Brian Brown 2; Wayne Johnson 2; Jason Sides 1; Mark Smith 1; Blake Hahn 1; Tony Bruce, Jr. 1; Ian Madsen 1; Jack Dover 1; Dusty Zomer 1; Danny Lasoski 1; Terry McCarl 1; Justin Henderson 1; Billy Alley 1; Brad Loyet 1;
Lucas Oil ASCS Driver Points (Top 10): 1. Aaron Reutzel 3,925; 2. Wayne Johnson 3,856; 3. Johnny Herrera 3,850; 4. Seth Bergman 3,614; 5. Matt Covington 3,469; 6. Blake Hahn 3,324; 7. Kyle Bellm 3,186; 8. Jordan Weaver 2,919; 9. Kris Miller 2,430; 10. Jeff Swindell 1,855;