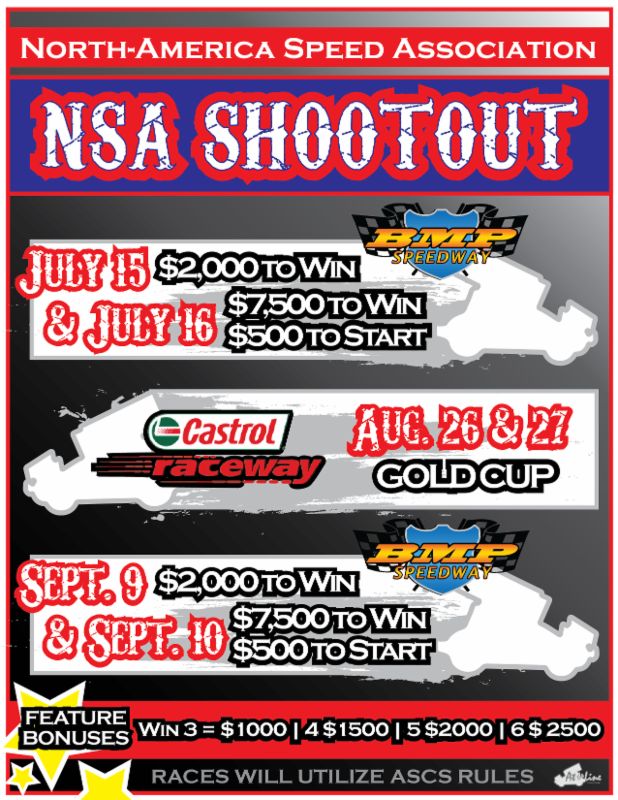 Inside Line Promotions

BILLINGS, Mont. (Sept. 6, 2016) – A mega purse and points fund will be distributed to the national and regional sprint car racers invading Billings Motorsports Park this Friday and Saturday for the Dan Laber Memorial, which is the final weekend of the NSA Shootout.
Not only will the fans be treated to two nights of intense action featuring slide jobs and wheel-to-wheel competition around the 3/8-mile oval, Billings Motorsports Park is also offering free admission to any first responder or military member who brings his or her valid identification to the track.
Additionally, the marines will have a display featuring trucks and weapons and will present the colors both nights.
Hall of Fame drivers Danny Lasoski and Sammy Swindell will be making their NSA Shootout debuts as a strong crop of drivers are in the thick of a battle for the $5,000 points fund, which will be divided among the top 12 in the final standings.
Texas native Travis Rilat, who has recorded a podium finish during all three previous NSA Shootout races, enters this weekend on top of the championship standings. Round 3 winner Kelly Miller ranks second – 27 points behind Rilat – with Skylar Gee only 10 points behind Miller.
A total of 40 drivers have competed this season in NSA Shootout competition with Texas native Aaron Reutzel, Miller and Trey Starks reaching Victory Lane after the opening round rained out. If Reutzel, Miller or Starks sweeps the weekend to earn three total NSA Shootout triumphs he will net a $1,000 bonus.
All of those drivers are expected this weekend when the opening night pays $2,000 to win and the finale offers $7,500 to win and $500 to start.
Also competing this weekend will be the sport sprints for the first time this year as well as the midwest modifieds. Dennis Hurd claimed the midwest modifieds track championship with Cal Rossner, John Miner, Bill Carey and Tyson Kern placing second through fifth, respectively, in the standings.
Online tickets are on sale for this weekend's two-day spectacle at Billings Motorsports Park at http://www.BMPSpeedway.com. Adult tickets are $20 for Friday ($17 pre-buy) and $25 for Saturday ($21 pre-buy) and $10 each night ($7 per night pre-buy) for children ages 7 to 11. Children ages 6 and younger get in free. There's also a pre-buy bundle for the weekend providing adult tickets for both nights for only $37 and children ages 7 to 11 for only $11 total.
2016 NSA SHOOTOUT –
Dates :
JULY 15 – Billings Motorsports Park in Billings, Mont. – (RAINED OUT)
JULY 16 – Billings Motorsports Park in Billings, Mont. – (WINNER: AARON REUTZEL)
AUG. 26 – Castrol Raceway in Edmonton, Alberta, Canada – (WINNER: KELLY MILLER)
AUG. 27 – Castrol Raceway in Edmonton, Alberta, Canada – (WINNER: TREY STARKS)
SEPT. 9 – Billings Motorsports Park in Billings, Mont. – $2,000 to win
SEPT. 10 – Billings Motorsports Park in Billings, Mont. – $7,500 to win, $500 to start
Type : 360ci winged sprint cars
Rules : ASCS
MEDIA LINKS –
Website: http://www.BMPSpeedway.com
Twitter: https://twitter.com/NSA_Shootout
Facebook: https://www.facebook.com/NSA-Shootout-270333829988406/?fref=ts
CHAMPIONSHIP STANDINGS (After Round 4 of 6) –
.1. 39c-Travis Rilat 231; 2. 2jr-Kelly Miller 204; 3. 99-Skylar Gee 194; 4. 11eh-Marc Dupperon 170; 5. 8r-Trey Starks 164; 6. 97-Matthew Dusseault 157; 7. 12-Casey Adams 151; 8. 8j-Jared Peterson 139; 9. 2-Kyle Evans 132; 10. 16-David Miller 126; 11. 19-Dennis MacEachern 123; 12. 36-Chevy Goodhope 120; 13. 35m-Cody Masse 116; 14. 22-Eric Fisher 114; 15. 98-Joe Ramaker 109; 16. 34-Johnny Wiersma 108; 17. 38-Trevor Turnbull 107; T18. 10b-Brody Anderson 100; T18. 6-Tom Watts 100; T18. 51-Jeff Bienert 100; 21. 9-Sean MacDonnel 97; 22. 14-Kyle VanUlden 94; 23. 57-Ed Wiersma 90; 24. 55-Aaron Reutzel 84; 25. 15h-Sam Hafertepe Jr. 80; 26. 11-Roger Crockett 74; T27. 2l-Logan Forler 71; T27. 3-Jordan Milne 71; 29. 27dd-David Hoiness 64; 30. 2c-Wayne Johnson 62; 31. 37-Trever Kirkland 60; 32. 75-D.J. Brink 59; 33. 95-Matt Covington 58; T34. 51t-Tristan Spiers 56; T34. 14-Bill Holler 56; 36. 0-Roger Cummings 55; 37. 12-Josh Ostermiller 54; 38. 13-Ryan Parks 53; 39. 0-Cal Hawkes 38; 40. 69-Jordan Malene 35.
THE EVENT –
The inaugural NSA Shootout features six total 360ci winged sprint car races – four at Billings Motorsports Park in Billings, Mont., and two at Castrol Raceway in Edmonton, Alberta, Canada – this summer. All races have elevated pay and the event will showcase feature bonuses as well as a points fund.
RACE FORMAT –
All cars will qualify with the fastest qualifier earning 50 points. Each subsequent position drops one point. If there are 32 or more cars there will be split qualifying.
Heat races are inverted by six with the fastest qualifier lining up on the outside of the third row for the first heat race, the second fastest qualifier on the outside of the third row for the second heat race, etc. Heat race winners receive 50 points with each subsequent position dropping three points.
The top six drivers in combined qualifying and heat race points advance into the dash, which will be lined up via a redraw. Drivers ranked seven through 16 are locked into the main event with the B main transferring the top four into the back of the A Main.
POINTS FUND –
A points fund of at least $5,000 is up for grabs and will be divided among the top 12.
FEATURE BONUSES –
Any driver who wins three of the six NSA Shootout main events will receive a $1,000 bonus. Four A Main victories nets a $1,500 bonus with five triumphs providing a $2,000 bonus. Sweeping all six races is worth an extra $2,500.
BILLINGS MOTORSPORTS PARK –
Billings Motorsports Park , also known as BMP Speedway, is a semi-banked, 3/8-mile oval located in Billings, Mont. The track hosts weekly racing from the middle of May through late September. For more information, visit http://www.BMPSpeedway.com.
CASTROL RACEWAY –
Castrol Raceway is a semi-banked, 3/8-mile dirt track located in Edmonton, Alberta, Canada. It showcases weekly racing and special events from May through October. For more information, visit http://www.CastrolRaceway.com.
INSIDE LINE PROMOTIONS –
Inside Line Promotions specializes in affordable public relations and media management for motor sports drivers, teams, sponsors, tracks, series, events, organizations and manufacturers. ILP Founder Shawn Miller leverages professional journalism with new media technologies and social networking to improve your exposure and the return on investment for your sponsors.
To meet the media relations needs of your program by joining Team ILP, contact Shawn at 541-510-3663 or Shawn@InsideLinePromotions.com. For more information on Inside Line Promotions, visit http://www.InsideLinePromotions.com.
*PHOTO BY HURD PHOTOGRAPHY*