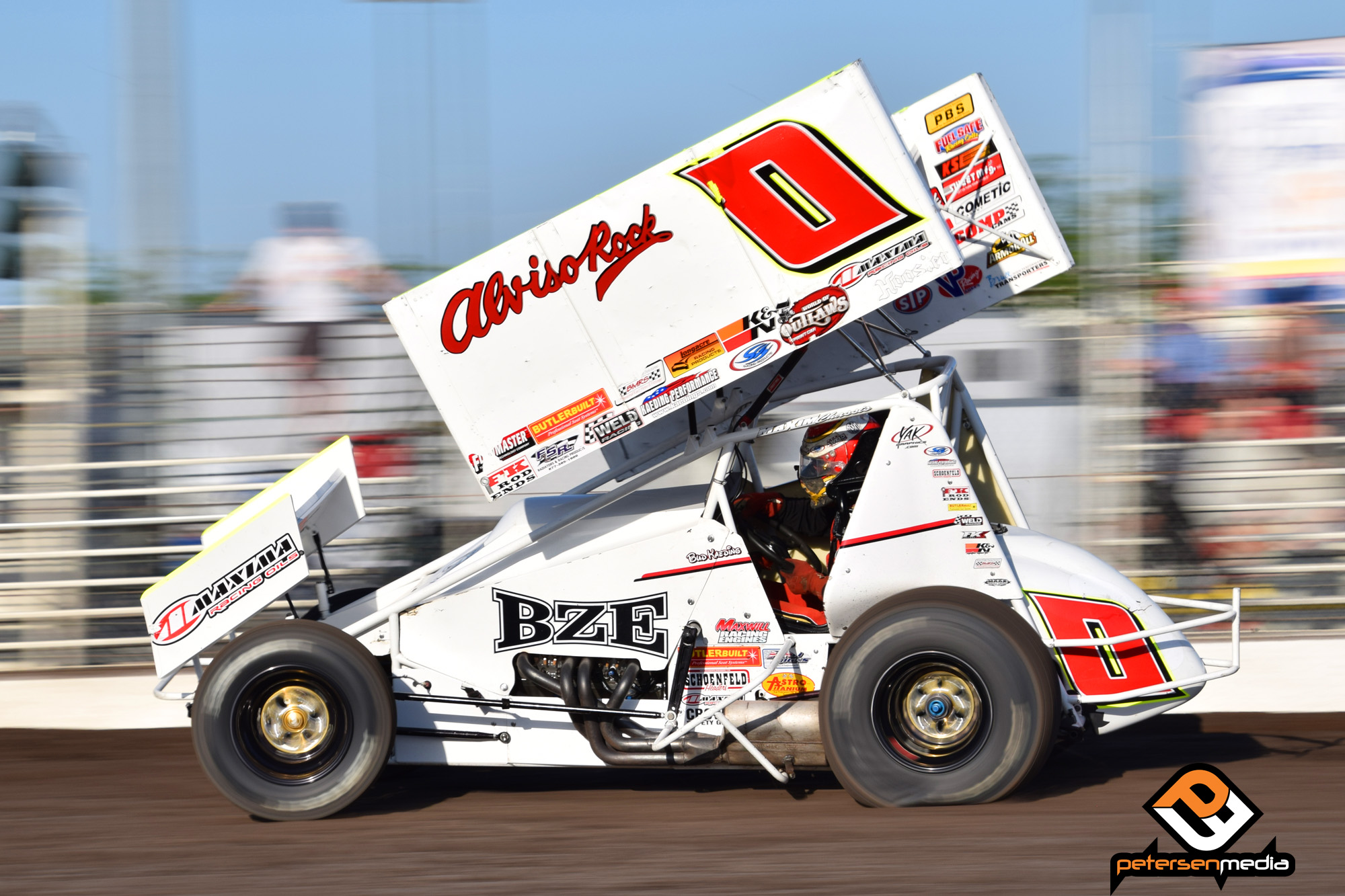 By Gary Thomas
Placerville, CA – September 24, 2016…After scoring his first career Placerville Speedway victory in April Campbell's Bud Kaeding returned to the high-banked bullring on Saturday night and added another, by claiming the 30-lap main event with the King of the West 410 Sprint Car Series.
It was the fourth overall triumph of the season for Kaeding and the Williams Motorsports team, in what has been a solid year for the Oakhurst, CA based team. It also marked his 16th career King of the West 410 Sprint Car win, which gives him sole possession of seventh on the all-time series list, breaking a two-way tie between himself and Tim Green. Kaeding is now just one victory away from tying Los Angeles driver Tyler Walker for sixth on the win list.
"We've had a really good season overall and to win twice in Placerville this year is pretty special," commented Kaeding. "This hasn't always been my best track over the years, but Sean Grealy and my guys gave me an outstanding car tonight. These races are never easy to win, so you have to celebrate them when you get the chance. We've had a great group of racers out here and I hope all the fans are enjoying the close competition this season. Thanks to everyone for coming out tonight and supporting all of us. We hope everyone can make it out to Watsonville & Tulare in a couple weeks."
The 30-lap feature got off to a rather slow start, with multiple stoppages plaguing the flow early on. After lap 10 however, the race went green to checkered and saw Kaeding have his way out front for the duration of the contest. Roseville's Colby Copeland tried to keep pace through lapped traffic, but Kaeding was ultra strong picking his way through the slower cars.
Hollister's Ryan Bernal, who was making his first ever King of the West Placerville start, looked like a veteran as the laps wound down in the feature. After starting 10th in the field he battled his way under Hanford's DJ Netto on lap 19 for third and then sliced under Copeland for second on lap 26.
Bernal then closed the gap between himself and Kaeding over the final few laps, but would come up just short, having to settle for second at the stripe. The official margin of victory for Kaeding at the line was 0.682 seconds. The runner up effort was a career best with the King of the West 410 Sprint Car Series for Bernal aboard the Mike Phulps owned Metal Works No. 56 machine.
"I'm pretty pumped to finish on the podium with the King of the West Series tonight," said Bernal. "We had a really good car in the feature and I got into a nice groove on the bottom the last 10-laps. I think with a couple more laps we would have had a shot at Bud (Kaeding). I'll take a second though considering the kind of competition we are running against. It was a great weekend for us to get a couple of second place finishes with the winged car."
Copeland crossed under the checkered flag in third to claim his second podium finish of the King of the West season. It was also his first series start in the Goodguys Rod & Custom Association/ Antaya Motorsports No. 20 Sprinter. "I thought we had a shot to get a win early on, but a third place finish is pretty good for us tonight. This is a new deal for me so I can't thank Larry Antaya, Tim Werbach and this entire team enough for giving me the chance to drive this car. I'm excited for the remainder of the season.
After winning the night's dash DJ Netto had a solid run in the feature to come home in fourth behind the wheel of the Tri-C Manufacturing No. 3c mount. Fremont's Shane Golobic thrilled the crowd after having to go to the rear of the field on lap one aboard the Keith Day Trucking No. 22 Sprinter. He proceeded to charge around the high-side of the quarter-mile and march his way back to fifth by the finish. If a yellow had come out at some point in the race Golobic certainly would have made things interesting up front.
The top-10 was completed by Elk Grove's Bobby McMahan, Hanford's Mitchell Faccinto, Paradise' Kyle Hirst, Clarksburg's Justyn Cox and Fresno's Cory Eliason. Hirst was able to recover for an eighth place finish after getting upside down in his heat race and also being caught up in an early race incident in the feature. After the night he still maintains a 30-point lead over Kaeding with four events remaining in 2016.
A-main finish: 1. 0 Bud Kaeding, 2. 56 Ryan Bernal, 3. 20 Colby Copeland, 4. 3c DJ Netto, 5. 22 Shane Golobic, 6. 25 Bobby McMahan, 7. 37 Mitchell Faccinto, 8. 21x Kyle Hirst, 9. 31c Justyn Cox, 10. 83jr Cory Eliason, 11. 00 Jason Statler, 12. 68 Chase Johnson, 13. 12 Jarrett Soares, 14. 19 Chase Majdic, 15. 98 Sean Watts, 16. 29 Willie Croft, 17. 58 Matt Barber, 18. 1h Billy Wallace, 19. 45 Jake Morgan, 20. 8 Jim Richardson
As noted DJ Netto captured the dash, while heat race victories went to Colby Copeland, DJ Netto and Justyn Cox. Bud Kaeding started off the night by setting his first fast time of the season by clocking a 10.587 around the Placerville Speedway. Full results are available at
www.racepmg.com
The King of the West 410 Sprint Car Series will take this coming weekend off, before getting back underway with a double header outing on Friday October 7 at the Ocean Speedway in Watsonville and then Saturday October 8 at the Thunderbowl Raceway in Tulare for the KRC Safety Fall Shootout.