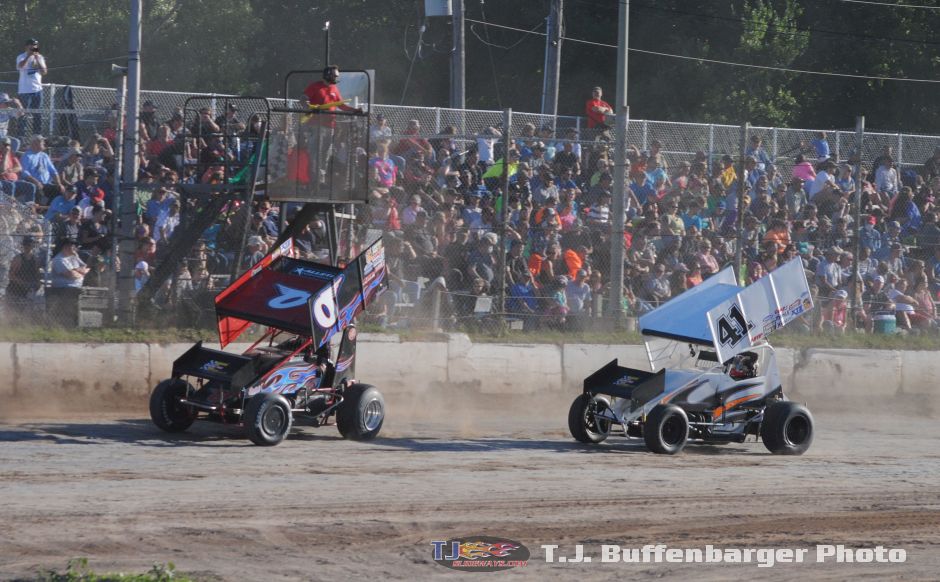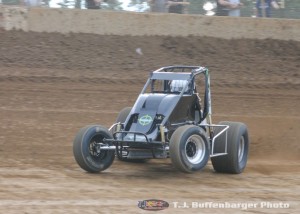 By T.J. Buffenbarger
With the 2016 season completed in the state of Michigan I am already looking forward to next season. With that in mind I comprised a short "wish list" of things I would enjoy seeing in 2017. Some of these might be far fetched, but others seem reasonable. Hopefully we get to see some of them next summer.
Lane Automotive Michigan Traditional Sprints at I-96 Speedway and Thunderbird Raceway: I-96 provided for excellent racing for every class that took to the 3/8-mile oval as the new configuration appears to be hitting its stride. With that in mind I'd love to see a non-wing sprint car show on the new configuration. MTS seems the most likely candidate based on fan interest and price point. Hopefully the parties involved can make this happen next year.
Thunderbird's round, high banked layout would make for a fun non-wing sprint car program. Hot laps, if contested with enough moisture in the surface, would make for an awesome experience.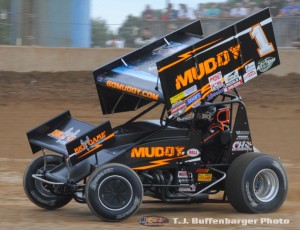 All Star Circuit of Champions at Tri-City and/or Merritt Speedway: All Star programs at I-96 and Hartford Motor Speedway were awesome in 2016. I think fan interest in the series is strong enough to support a couple of more races in the state.
Tri-City Motor Speedway in Auburn, Michigan is a sleeping giant market wise. Positioned directly between Bay City, Saginaw, and Midland and a stone's throw away from Flint, I think the All Stars could make a huge splash here.
Merritt Speedway continues to undergo a massive transformation with new grandstands, more lighting, and other improvements over the off season. Merritt hosts several big late model touring series throughout the season, but maybe it's time for some northern exposure for the All Stars? Paired with Tri-City would keep the shows far enough away from Hartford and I-96 so it likely wouldn't impact their programs. I think Northern Michigan would be very receptive to a major touring sprint car series event as long as the track had plenty of moisture in it and didn't lay rubber.
SOD or MTS / American Ethanol Series Late Model Double Header: One of the most enjoyable nights of racing last year involved the pairing of the Arctic Cat All Star Circuit of Champions and UMP Late Models. SOD rarely gets paired up with late models, and never with any of the touring divisions. I think if a track could pull off putting these together with one support division it could expose fans to both groups and provide for awesome night of racing.
Saturday date for the ASCS National Tour: Last season the three day swing for the ASCS Lucas Oil National Tour ended up with one date at Hartford with the other two rained out. Fan and car turnout was solid for Hartford's ASCS date, but for it to truly succeed it needs a solid Saturday pairing. This year Plymouth Speedway had a Wednesday date, but the Saturday following Hartford makes more sense. Maybe Plymouth or another track nearby can provide that date so ASCS can continue to visit the area.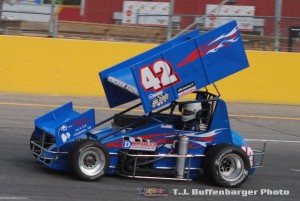 More of a local focus on pavement sprint car racing: While the King of the Wing series and trips to South and North Carolina are nice, I believe it is time for more of a local focus on the winged pavement sprint car racing in the area. When this division was at its strongest in the area races were booked in Michigan, Indiana, Ohio, and occasionally Wisconsin. While I like the concept of unifying things nationally 90% of these teams are weekend warriors that are not going to travel to California, Washington, Arizona, or Idaho. I think it would behoove both series to focus on the product in the Great Lakes region and not worry so much about what is happening out west. Must See Racing has gravitated this way, AVSS had more of a local focus this year, but having races locally and enough incentive for teams to develop some "want to" for going to them is vital.
Pavement Sprint Car Races at Flat Rock and Springport: Springport Speedway always provided for good pavement sprint car races. It's been a very long time since the Auto Value / Bumper to Bumper Super Sprints visited Springport and Flat Rock, and Must See Racing has never been to either venue. I really don't care which one gets booked, but I would love to see either one at one or both venues.
Better weather: This might be asking for too much, but it would be nice to see decent weather for sprint car racing in 2016. Every series encountered issues with rain in the area. Hopefully we do not end up with as much weekend rain as took place this year.
Do you have something you would like to see in 2017 for sprint car racing in the state of Michigan? Visit our Facebook fan page and tell us what you want to see next season.
On a special note please take a moment to read this post about Timmy Dibble, son of Hartford Motor Speedway owners Tim and Leah Dibble. Timmy will be in Bronson's Children's Hospital for an extended period with some health issues and he could use some encouragement from our racing community. If you have a moment please leave a note on this Facebook post for the family to read to Timmy.