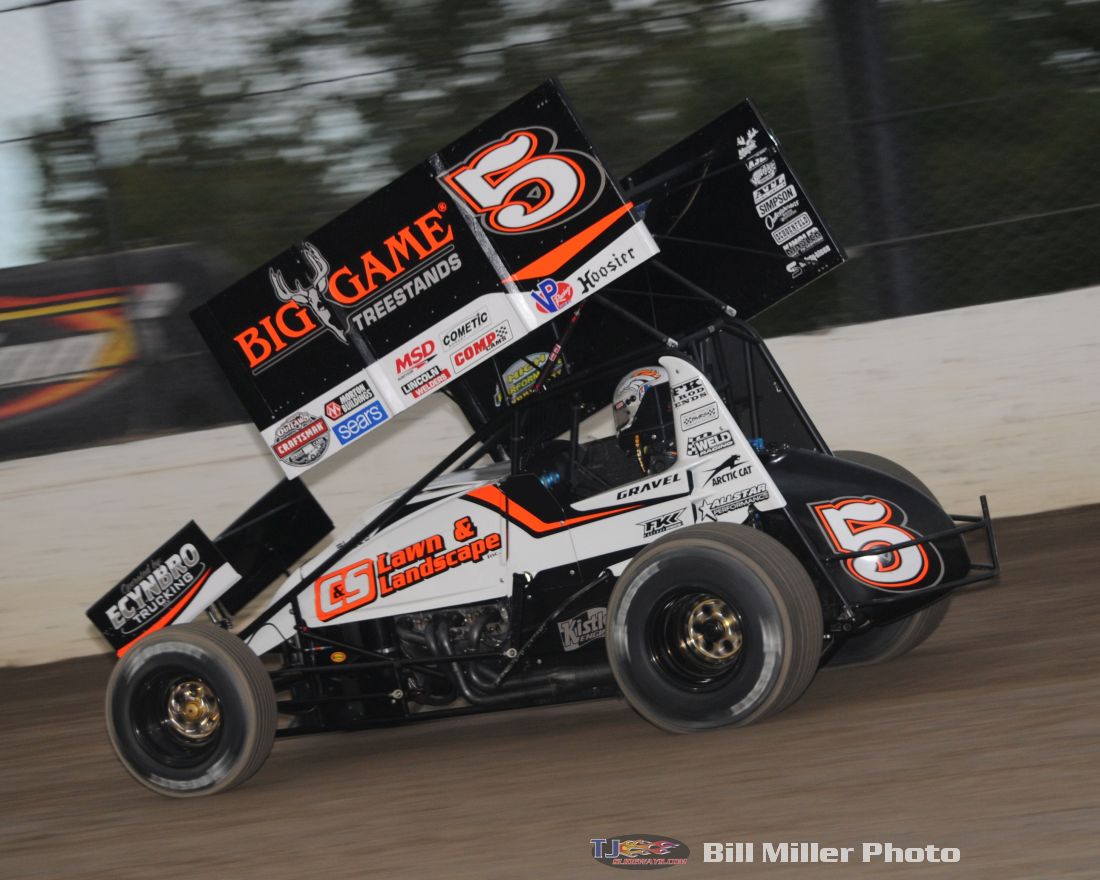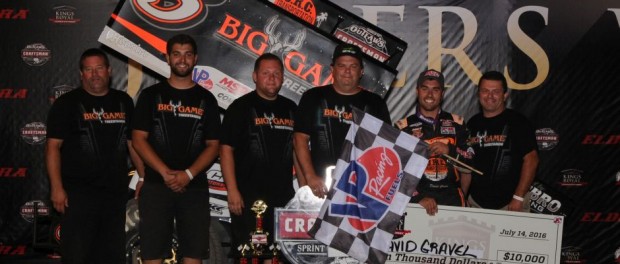 From CJB Motorsports
CARLISLE, Penn. (November 21, 2016) – CJB Motorsports team owners Chad & Jenn Clemens seemed to sum up their 2016 season pretty well when asked.
"We felt like it rocked," said the couple that fielded the #5 Big Game Treestands, J.R.C. Transportation Inc., C&S Lawn & Landscape machine for David Gravel and the #1 Big Game Treestands, GoMuddy.Com for Sammy Swindell. "All in all, we were very satisfied with what we achieved together as a team.
The Pennsylvania based organization began the season with strong runs in Florida and the momentum carried on throughout the year. While Sammy Swindell barnstormed the Midwest, Gravel toured with the World of Outlaws Craftsman Sprint Car Series. It was the first year the 2013 Kevin Gobrecht Rookie of the year was with the team and the results were astounding.
"David picked up nine wins for us and we really wanted to get to double digits," said Clemens. "When Barry (Jackson) and I sat down last year and talked about our goals. Double digits in wins was one of them and we came dangerously close to that. We had a few that slipped away from us. We won some big races, like the Jokers Wild at Eldora (Speedway) and the Don Martin Memorial Silver Cup at Lernerville (Speedway.) I also think we gave away some big races too. Either way, between how strong David was out on the tour and Sammy was in the Midwest."
Gravel's stat line included nine wins, eight quick times, 48 top-5's and 70 top-10's while Swindell notched three wins, two quick times, 17 top-5's and 21 top-10's. Both teams ran well in the sports marquee events and were often a threat each and every time they pulled into the track.
Part of what made the 2016 season so successful was an enhanced and expanded partnership with Mainstream Holdings, LLC.
"It was huge for us to have Tod Quiring and his folks recognize the potential in our team and how we run our organization and want to partner with us," explained Clemens. "They have been a tremendous asset for us and we are very appreciative for their support. It's a dream come true for us and it's taken a while to get there. We also want to thank the entire army of partners we have that make racing possible. We had several folks continue to stand by us and that means the world. We're also very excited and thankful for the new partners that came on board for 2016 as well."
For the Clemens family, 2017 represents an opportunity to continue to build on the impressive 2016 campaign.
"We believe that if we continue down the path we are, we will get to where we are winning
championships and major races, year in and year out," said Clemens. "Our team is getting there
and 2016 was a big step towards there. We can't wait to see what the future will bring and
sincerely appreciate everyone's support. May everyone have a happy and safe holiday season."