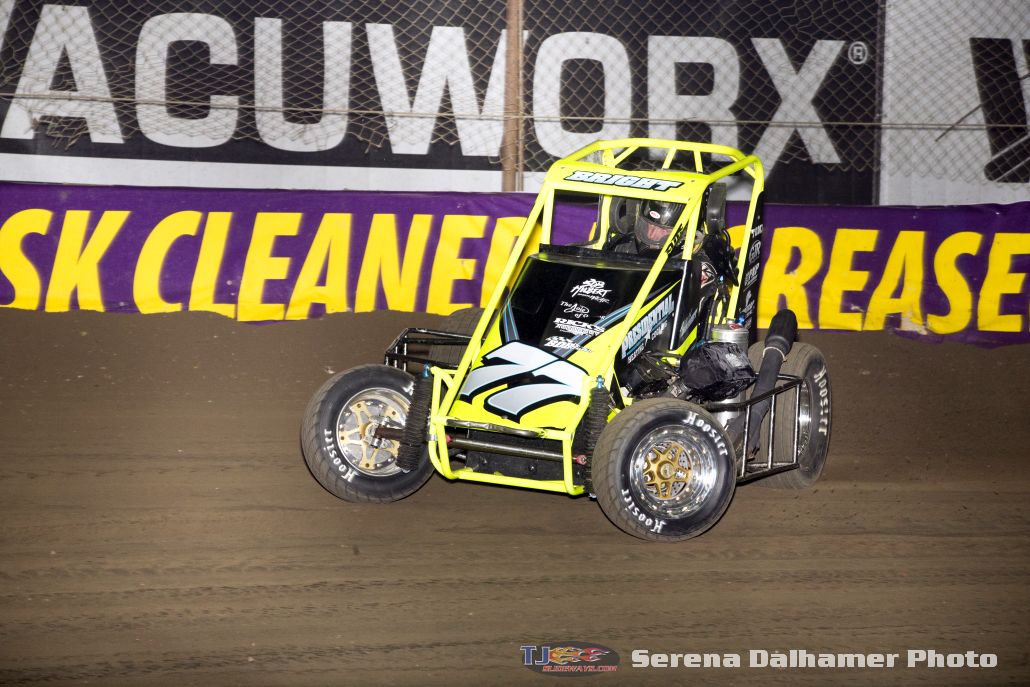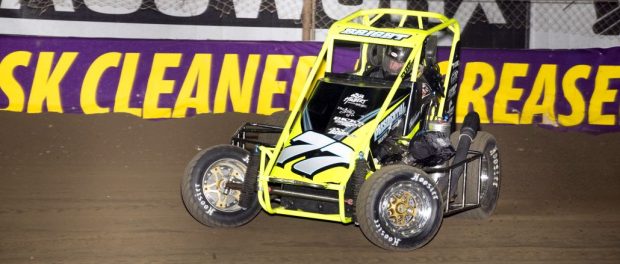 By T.J. Buffenbarger
The 2017 edition of the Chili Bowl Nationals starts tonight with the first of four preliminary races leading into Saturday's finale. As of Tuesday morning 92 entries are scheduled to compete. Chili Bowl is the only race all season I formally throw out predictions. Here are my picks for favorites, dark horses, and notable entries for Tuesday:
Favorites to lock into Saturday's A-Main:
Mack DeMan (Serena Dalhamer photo)

Tyler Courtney: With some standout runs in 2016 ending with a win indoors at DuQuoin, Illinois Tyler Courtney has elevated himself from notable entry to one of the contenders for Tuesday to lock into Saturday's finale through the feature on Tuesday. Driving for the highly motivated Clauson-Marshall Racing – Matt Wood Racing combination will field a top flight effort for Courtney at Tulsa.
Joey Saldana: With a DuQuoin victory on his resume Joey Saldana is fielding his own car again for a run at a Golden Driller trophy at the Chili Bowl. Saldana has quickly figured out racing midgets indoors and will be a strong contender to lock into a starting position for Saturday. This year his team has more to do in Tulsa after expanding into a two car effort with Ryan Bernal in the other entry.
Michael Pickens: While Pickens has focused more on sprint car racing over the past year he is still a formidable opponent in the midgets. January 1st Pickens came from the B-Main to win at Western Springs Speedway against a field full of entries from New Zealand, Australian, and the United States.
Kyle Larson: Larson has extensive accolades throughout motorsports in his relatively young career, but a Golden Driller would likely be the biggest short track win of Larson's career. Teaming up again with Keith Kunz Motorsports Larson proved he hasn't missed a team in the midgets with wins last year during Indiana Midget Week and the Turkey Night Grand Prix.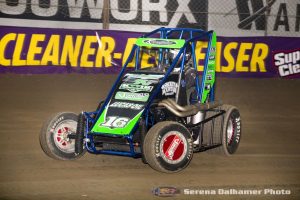 Alex Bright: Forget the budgets, square tail tanks, and crazy bodywork. Alex Bright won Tuesday's preliminary feature last year with the same car and engine he runs outdoors. Bright already has a feature win this season at Western Springs this month.
Dark Horses that could make some noise Tuesday:
Chase Briscoe: The 2016 ARCA Stock Car champion has a solid midget effort for the indoor races this season. Briscoe had a strong run going at DuQuoin before having mechanical issues. It wouldn't surprise me to see Briscoe continue his hot streak and lock himself into the A or B-Main for Saturday night.
Joe B Miller: Two weeks ago at the Tulsa Shootout Miller started last and won the Winged Outlaw 600cc Micro Sprint main event. Miller obviously knows how to pass cars at Tulsa, and Tuesday we get to see if that translates into Chili Bowl success.
Larry Wight: From modifieds to sprint cars Wight is a gasser. Back for a second shot at Chili Bowl fun with a car fielded by Michael Heffner with Sean Michael turning wrenches look for Wight to go to the front.
Other notable entries on Tuesday:
Larry Wight (Serena Dalhamer photo)

There are several notable entries that are likely going to make me regret not putting them in picks.Chili Bowl is a home game for Hard 8 Racing. They will have former preliminary feature winner Jonathan Beason behind the wheel on Tuesday.Spencer Bayston will have a second Keith Kunz entry in action.Other veteran drivers in tonight's lineup with extensive midget experience that could be contenders tonight include Kevin Thomas Jr, Brad Loyet, and Zac Daum.From the sprint car world ASCS Sprint Car star Aaron Reutzel runs tonight in a Robert Hall owned entry. Reutzel is looking to improve on his N-Main performance last season. Very fast in sprint cars keep an eye on Reutzel now that he has some laps under his belt last year at Tulsa.
One of the feel good stories of the Chili Bowl will be in the spotlight on Tuesday when World Racing Group videographer and editor Ross Wece pushes off for his first even midget race at the Chili Bowl. Wece blew an engine during practice on Monday in his entry owned by the eclectic Johnny Murdock, but indicated the team had a spare engine lined up to compete on Tuesday.Wece will be joined by fellow World Racing Group employee and veteran driver Mike Hess. Hess is driving a top flight car fielded by Jim Neuman. Even though he wears a headset more than a helmet these days, this is a solid effort for Hess at Tulsa.
Canadian drivers Glenn Styers and Mack DeMan are in competition tonight. Styres has been a regular competitor at Tulsa while DeMan is making his first start. DeMan is a standout in the TQ Midgets and crate sprint cars. Styres and DeMan are joined by Michigan's only entry for the Chili Bowl, Ryan Ruhl.
Ohio is well represented on Tuesday with Matt Westfall and Chris Andrews in competition. This is Andrew's second start at Tulsa while Westfall makes his annual return to midget racing for the indoor season.
Sports car racer Chris Dyson makes his first start since a vicious accident during ARDC competition at Big Diamond Speedway. Dyson has recovered from back and rib injuries and is back to 100% to drive his entry fielded out of Cory Kruseman's shop.
Its likely Kevin Olson will have something fun up his sleeve for tonight's preliminary event. The veteran driver from Machesney Park, Illinois has a top five finish to his credit at the Chili Bowl, but is likely the all time leader in fun.