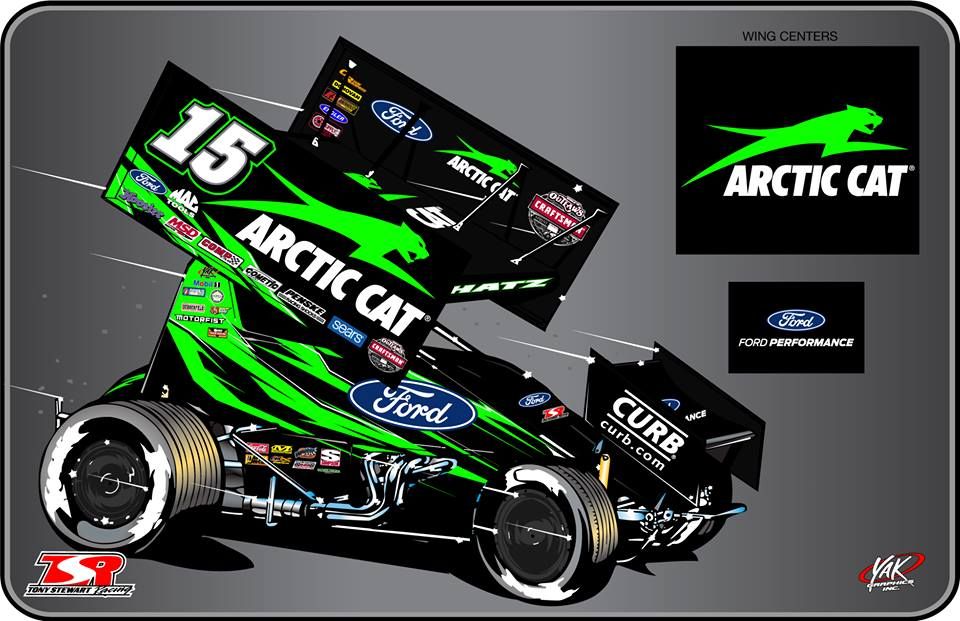 By T.J. Buffenbarger
Tony Stewart Racing unveiled Donny Schatz's paint scheme for the 2017 season on Thursday on their social media outlets. Schatz will have primary sponsorship by Arctic Cat for the 2017 season during this 20th consecutive season racing with the World of Outlaws.
The sponsorship is a natural fit for Schatz who frequently snowmobiles during the off season.
"Growing up in North Dakota always being an avid snowmobiler I've always been an Arctic Cat guy," said Schatz. "Whether it be a farmer, rancher, or a snowmobile guy like me Arctic Cat is a brand that we are going to carry very proudly and close to the heart."
For Schatz it's not just an opportunity to partner with a product he uses, but a chance to carry a color many racers would shy away from.
"I'm looking forward to having the green color. I always enjoyed the green, even from the Steve Kinser days, and looking forward to having that bright green color. "
The other noteworthy news from the release of Schatz's paint scheme was the large Ford logo on the hood of the car. Schatz confirmed that his team will eventually have a Ford engine under the hood, but no timetable has been set for making the change.
"At this time the Ford is there and we are working with Ford developing the 410 (engine) for World of Outlaws competition. There are a few hiccups in the road we would have to overcome and Ford is well aware of those. To start the season we're going to using the same power plants we have been using in the past. We're going to continue to work with Ron Shaver, and that's the way the season starts. As the year transpires obviously there would be a transition to the Ford motor through the development, and we're all excited about it. So we're going to have to wait and see. At this time there just aren't any fine details we can release, so we'll just continue to build on that each week and then we'll know something."