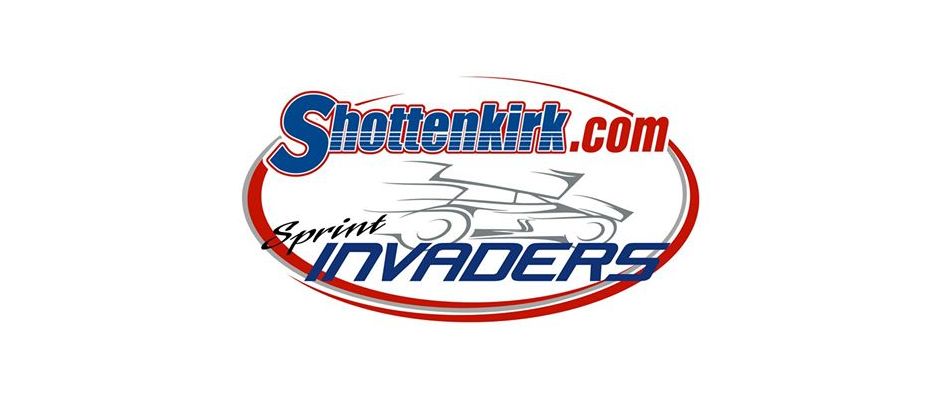 From Bill Wright
WEST BURLINGTON, Ia. (April 1, 2017) — Carson McCarl topped a talented 33-car field on a demanding racetrack to take the Shottenkirk.com Sprint Invaders feature event at 34 Raceway in West Burlington, Iowa Saturday. The 2017 season opener commenced thanks to a herculean effort by track staff after nearly four inches of rain fell in days prior to the event. It was the second career win with the series for the Altoona, Iowa driver. It also meant three generations of McCarl's had won at 34 Raceway, as Carson followed his father Terry and grandfather Lenard to Victory Lane there.
Pole-sitter, Tasker Phillips earned that spot when his brother, Rager Phillips drew a two after winning the Golden Eagle Distributors – Budweiser Shake-Up Dash. Tasker shot out to an early lead in the 25-lapper on a heavy track that was prone to ruts, thanks to the moisture. Rager and McCarl followed him in the early going.
On lap eleven, Tasker got sideways in turn four, opening the door for both Rager and McCarl to slip past him. Heavy lapped traffic encircled the leaders. Rager coasted high in turn one to avoid backmarkers and slipped over the top of turn one, coming to a stop, and relinquishing his lead with thirteen laps in the books.
McCarl inherited the lead on the restart, ahead of Tasker, Jon Agan, Jake Blackhurst and Josh Schneiderman. Agan shot around Tasker for second on the restart and slowly reeled McCarl back in as the pair hit traffic again. The leader maintained. Blackhurst shot by Tasker for third, but the move was negated when Sawyer Phillips tumbled, as did Cody Wehrle, who tipped over trying to avoid him. Both were o.k., though Wehrle complained of soreness.
The incident left a green, white, checker finish, that saw McCarl leading Agan, Tasker, Blackhurst and Schneiderman. McCarl would shoot away for the $1,500 win aboard the Jeremy Scadden Construction #6, followed by Agan, Blackhurst, Schneiderman and Ryan Jamison. Donnie Steward, Jarrod Schneiderman, Jamie Ball, Tanner Gebhart and Tasker completed the top ten.
Blackhurst, Tasker, Agan and Rager won heats. Ben Wagoner and Nate Van Haaften claimed twin B mains. Rager won the Shake-Up Dash.
"The track was tricky," said Carson in Victory Lane. "It was a lot less fun than it probably looked. We had a pretty good run in Florida. There was good competition down there, just like there is here. The track was really hooked up and so was my car. It was treacherous. I was following the Phillips' and I knew I had to be patient in traffic and take advantage of any mistakes. We were able to capitalize on that."
"We were pretty good," said Agan. "We were too tight, and honestly, we're lucky to put the car back in the trailer. We biked up once in turn four and almost got upside down. I don't know how I saved it. It was really hard in traffic with close quarters and not trying to get into people. The last restart, our motor didn't take off and (McCarl) got a good run. I haven't raced since August 20, and we feel pretty good about how we ran here. We'll be just fine."
"I think if we weren't starting sixth, we would have had a good shot at it," said Blackhurst. "That lapped traffic wasn't working in my favor. Everyone was a similar speed and it was hard to pass. But we'll take a third for our first race of the year. The track was so heavy and rough. Actually, the harder you ran it, the better it was. Where a lot of people messed up, was letting up and biking. I'm worn out, but it was a good run."
The next Sprint Invaders event will be Wednesday, May 10 at the Southern Iowa Speedway in Oskaloosa. For more information on the Shottenkirk.com Sprint Invaders, visit www.SprintInvaders.com!
Sprint Invaders
www.sprintinvaders.com
The Sprint Invaders Association is proud to welcome Mohrfeld Electric, Inc. as a Heat Race Sponsor for 2017. Fort Madison based Mohrfeld Electric, with over 10 years …
Results
Shottenkirk.com A main (started), 25 laps: 1. 6, Carson McCarl, Altoona, IA (3) 2. 4, Jon Agan, Knoxville, IA (4) 3. 25, Jake Blackhurst, Hanna City, IL (6) 4. 49, Josh Schneiderman, West Burlington, IA (10) 5. 51J, Ryan Jamison, Mediapolis, IA (8) 6. 16HD, Donnie Steward, West Burlington, IA (9) 7. Jarrod Schneiderman, West Burlington, IA (12) 8. 5J, Jamie Ball, Knoxville, IA (11) 9. 81, Tanner Gebhart, Burlington, IA (5) 10. 7w, Tasker Phillips, Pleasantville, IA (1) 11. 78, Ben Wagoner, Emden, IL (17) 12. 3, Nate Van Haaften. Otley, IA (16) 13. 1st, John Greenwood, Woodward, IA (13) 14. 13, Brayden Gaylord, Wever, IA (20, alt.) 15. 3P, Sawyer Phillips, Pleasantville, IA (15) 16. 40c, Cody Wehrle, Burlington, IA (7) 17. 22, Rager Phillips, Pleasantville, IA (2) 18. 4*, Bailey Goldesberry, Springfield, IL (19) 19. Tyler Groenendyk, Oskaloosa, IA (18) 20. 50P, Harold Pohren, Lowell, IA (14) DNS – 99, John Schulz. Lap Leaders: T. Phillips 1-10, R. Phillips 11-13, McCarl 14-25. KSE Hard-charger: Jo. Schneiderman.
Randall's Performance Heat one (started), Top four to A main, Top two to Dash, 10 laps: 1. Jake Glasgow (2) 2. Ryan Jamison (1) 3. Donnie Steward (3) 4. John Greenwood (5) / 5. 69, Justin Buchholz, Davenport, IA (4) 6. 1x, Levi Michener, Newton, IA (9) 7. 83, Dave Getchell, Sperry, IA (6) 8. 15, Christian Bowman, Altoona, IA (7) 9. 44, Chris Martin, Ankeny, IA (8)
CenPeCo Lubricants Heat two (started), Top four to A main, Top two to Dash, 10 laps: 1. Tasker Phillips (2) 2. Cody Wehrle (4) 3. Josh Schneiderman (6) 4. Jarrod Schneiderman 3G (5) / 5. Bailey Goldesberry (1) 6. Brayden Gaylord (3) 7. Ben Wagoner (7) 8. 1, Damian Getchell, Sperry, IA (8)
Mohrfeld Electric Heat three (started), Top four to A main, Top two to Dash, 10 laps: 1. Jon Agan (2) 2. Tanner Gebhart (4) 3. Jamie Ball (7) 4. Sawyer Phillips (8) / 5. 9L, Hunter Lane, Milo, IA (5) 6. 50, Chase Viebrock, New Richmond, WI (1) 7. 10T, Tim Moore, Rock Island, IL (6) 8. 9, Daniel Bergquist, Burlington, IA (3)
Shottenkirk.com Heat four (started), Top four to A main, Top two to Dash, 10 laps: 1. Rager Phillips (4) 2. Carson McCarl (6) 3. John Schulz (1) 4. Harold Pohren (2) / 5. Nate Van Haaften (7) 6. 19, Rob Weuve, Oakland Acres, IA (5) 7. 17J, Joey Laue, Morning Sun, IA (8) 8. Tyler Groenendyk (3)
B main one (started), Top two to A main, 12 laps: 1. Ben Wagoner (6) 2. Bailey Goldesberry (2) 3. Brayden Gaylord (4) / 4. Damian Getchell (7) 5. Chris Martin (8) 6. Dave Getchell (5) 7. Justin Buchholz (1) 8. Levi Michener (3) DNS – Christian Bowman
B main two (started), Top two to A main, 12 laps: 1. Nate Van Haaften (2) 2. Tyler Groenendyk (5) / 3. Chase Viebrock (3) 4. Rob Weuve (4) 5. Hunter Lane (1) 6. Joey Laue (6) DNS – Tim Moore, Daniel Bergquist
Budweiser King of Beers – Golden Eagle Distributors Shake-up Dash (started), 6 laps: 1. Rager Phillips (2) 2. Carson McCarl (4) 3. Jon Agan (5) 4. Tanner Gebhart (1) 5. Jake Blackhurst (3) 6. Tasker Phillips (8) 7. Cody Wehrle (6) 8. Ryan Jamison (7)
Contingencies
Pyrotec – Brayden Gaylord
Saldana Racing Products – Cody Wehrle
Kreitz Oval Track Products – John Greenwood