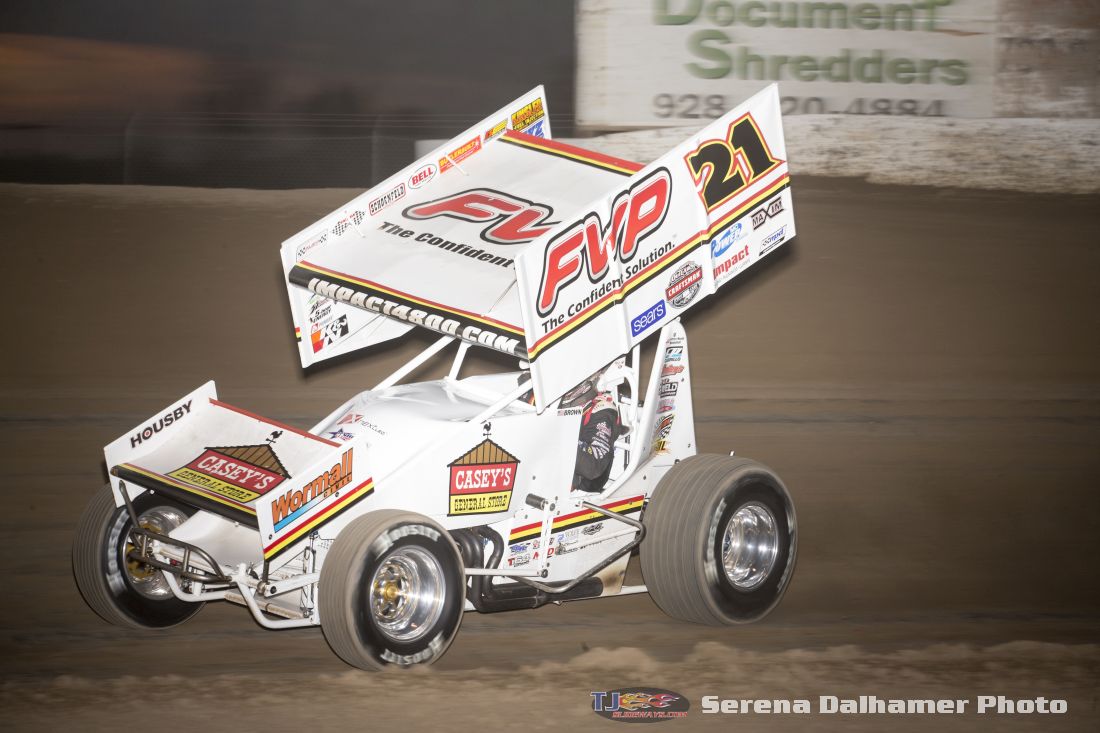 By Bill W
April 10, 2017 – Brian Brown and the Casey's General Stores/FVP #21 team finished their west coast swing with the World of Outlaws in winning fashion last weekend in Arizona. Brian picked up the win with the WoO at Cocopah Speedway near Yuma on Friday, and came back Saturday to post another podium finish at Arizona Speedway near Queen Creek. The Grain Valley, Missouri driver has picked up seven top five finishes in twelve features with the WoO thus far in 2017. This week, he's happy to be home, and is looking forward to Saturday night's Knoxville Raceway opener.
Last week was a tough one. How did you come out so strong at Cocopah on Friday?
We were excited to get to Cocopah, but it hasn't always been our place. We got together and talked about things. We were coming off a bad weekend, and we didn't want that to continue. Cocopah is a track that fits our style, and we wanted to kind of hit the reset button.
You timed in well enough to get on the front row of your heat.
We were two-tenths better than the field hot-lapping. Unfortunately, we drew a late number (for qualifying). We were a little worried, but we were able to get sixth quick, which was two or three tenths better than anyone around us.
You capitalized by finishing second in the heat and qualifying for the Dash.
We were lucky enough with the Dash draw (an invert of six). Chad (Morgan) and Michael (Williams) made good changes to the car. Every time we hit the track we got better and better. Some nights don't go that way. You make changes that go the wrong way. We were able to get the car very good in the Dash and win it easily.
Knowing that you were starting on the pole of the feature, what was your thought process?
We knew it was probably going to lay rubber. We just didn't know exactly when or where. That makes it nerve-wracking for the driver. You go into the first turn on the first lap and it's twenty car widths wide, where do you go? You make one wrong move with those guys and you are fourth or fifth quick. We were able to make some good moves and get the lead. We were by some lapped cars before the rubber came. We were able to find it, and conserve our tires while being aggressive when we needed to. We had a yellow with five to go. We knew if we didn't have any problems and did our job, we should be o.k.
And you brought it home.
It was just an awesome night! To win those Outlaw races…it's really tough. We've been in a position two or three times this year, but we haven't been able to seal the deal. To go there and do that on neutral turf is really great. It's great for all of our partners, especially ones like FVP that have a big footprint on the west coast.
You repeated your early performance from Friday on Saturday at Queen Creek.
It was almost identical to Cocopah early on. We were quickest in hot laps, then sixth quick, and second to Jason Sides in the heat again. We were able to win the Dash. Things were different in the feature. Even though we had done well earlier, I never felt as comfortable as I needed to be. We made changes all night, but we didn't gain enough for me to feel good in the car. The car was tight.
Again, you're starting on the pole of the feature, but you're not as comfortable?
I thought I may be able to hold them off for a while, but I knew we were in trouble if we got to traffic. I'd have to be committed to one part of the track. That's the way it played out. We were able to get the lead and lap a couple of cars. There was one car that the field was having trouble getting around. I feel if I could have cleared him on lap 16 or 17, I could have had a chance to win. But I didn't.
And that's when you lost the lead?
Rico (Abreu) and (David) Gravel got by me at that point. They had trouble with the same lapper, and I found the rubber a little earlier than them. Things didn't end up playing out the way we wanted though. Honestly, with the Outlaws, you need to be really good, and we weren't. In the end, we finished third and that was solid for us on that night.
You have to be feeling good after your trip out west.
Our confidence is sky high right now. Chad and Michael are doing a phenomenal job. You don't win Outlaw races without good help. Everything has to go right, and they're doing everything they can for us. Without any of our 53 partners, we wouldn't be able to do what we're doing. I'm really proud to be a part of it.
Knoxville awaits on Saturday.
We can't wait to get there. The season opener is always a really cool event. When you're running well, you are all the more anxious to get there. But just because we won an Outlaw show last week, that doesn't mean anything. We've got the toughest weekly racers in the country waiting, and we have to have our ducks in a row, just like everyone else.
Follow Brian on the Web, Twitter and Facebook!
Follow Brian at his website located at www.BrianBrownRacing.com
!
Also keep up with FVP, Casey's and Brian on Facebook and Twitter at the following links…
Twitter Links – @BrianBrown21, @FVPRacing, @CaseysGenStores
Facebook Links
Brian Brown Racing – www.facebook.com/pages/Brian-Brown-Racing/200630163294222
Casey's General Stores – www.facebook.com/pages/Caseys-General-Stores/112073528804354
Casey's General Stores
www.facebook.com
Casey's General Stores, Inc., is a chain of convenience stores in the Midwestern United States,…
FVP Racing – http://www.facebook.com/FVPRacing?ref=ts&fref=ts
FVP Racing – Home | Facebook

www.facebook.com

FVP Racing. 8,048 likes · 6 talking about this. Welcome to the FVP Brian Brown Sprint Racing Page! Be sure to check out our Events tab to stay…
Other Web site info
Casey's: www.caseys.com
FVP: www.fvpparts.com
Brian's Bits
Brian has one season opening win at Knoxville. That came on April 21, 2007. After timing in just 20th quick in the 30-car field, he went from seventh to fourth in his heat, and charged from 17th to win the main event. He got to second by the halfway point, and passed Skip Jackson on lap 14 to take the win. Ricky Logan (from 10th), Scott Winters (19th), Kaley Gharst (16th) and Dennis Moore Jr. (15th) rounded out a top five that definitely passed its share of cars!
About Casey's General Stores
Casey's General Stores is a Fortune-500 company (NASDAQ CASY) operating over 1,900 convenience stores in 14 states through the Midwest. Known for its "Homemade To-Go" pizza, sandwiches, donuts and bakery items, Casey's strives to consistently deliver quality gas, fresh kitchen-prepared food, clean environments and friendly service at every retail location.  Casey's is currently the 4th largest c-store chain and fifth largest pizza chain in the United States.
About FVP
Built on a commitment to quality and delivered with unmatched service, FVP is the confident solution for all of your OEM needs. FVP products are engineered to provide customers with OE quality products that are equal or superior in performance to the major national brands at a competitive price.  FVP is proud to carry a full line of high quality oil, air, cabin air and fuel filters, powerful batteries for multiple applications including cars, trucks, SUV's, commercial, boats and other specialty vehicles as well as automotive chemicals and oil, antifreeze, DEF, hub assemblies, radiators and condensers.    To learn more about FVP or to find out where you can have FVP products installed in your vehicle, visit  FVPparts.com!  FVP…The Confident Solution.
Marketing Partner of the Week – Maxim Racing
In October of 2014, Dan Musselman (Previously Director of Operations) and his brother Ron formed a partnership and acquired Maxim Inc. Both have been involved in sprint car racing for over 40 years and have over 30 years of business, manufacturing and customer satisfaction experience. Dan and Ron would like to thank the sprint car racing community for embracing the change in ownership. The outcome has been very humbling.
Maxim Racing conducts business in its 12,600 square foot building located in Springfield, Illinois. At present, Maxim is fourteen employees strong and builds over 400 chassis annually.
Maxim Racing prides itself on providing great customer service, helping our clients on setup advice along with focusing on the highest level of quality and safety.
\Visit Maxim Racing online at www.RaceMaxims.com and on Facebook at Maxim Racing Inc.
Associate Marketing Partner of the Week – Ti64
Whether motorsports, sailing, or biking, Ti64 has performance fasteners and components to meet and Exceed Your Speed Dreams. They strive to create the best possible products at the best possible prices. They believe in their products and use them in their personal vehicles. With over 40 years of combined engineering expertise, they put their heart and soul into everything they do. Browse their site, compare their prices, place an order, and enter the age of Ti64. Visit them on the web at www.Ti64.com!
Brian Brown Racing would like to thank Casey's General Stores, FVP, Wormall Civil, Impact Signs Awnings Wraps/ impact4800.com, Champion Brands, Weld Wheels, Ditzfeld Transfer, Maxim Racing, Smiley's Racing Products, MSD ignition, MC Power, Housby, Searsboro Telephone Company, Next LED Sports, Hope for the Warriors, Factory Kahne Shocks, Arctic Cat, Lincoln Electric, K&N, www.hostiowa.net, FSR Race Products, TI64, ATL Tanks, Wolfe Eye Clinic, Bell Helmets, Hinchman Uniforms, CP Pistons, Carrillo Rods, Vortex Wings, Penray, All Pro Cylinder Heads, Butler Built Seats, AkzoNobel, Kenny's Components, Snap-On Tools, Rod End Supply, KSE Racing Products, Winters Performance, Cometic Gaskets, Shell Shock, Donovan, ISC Racers Tape, Kinsler Fuel Injection, Racing Optics, 5-hour ENERGY, Hoosier Tires, NGK Spark Plugs, XYZ Machining, Brown and Miller Racing Solutions, Red Devil Brakes, Schoenfeld Headers, 6B Apparel, Garrett Racing Engines, and Fortress Wealth Management for all their support!