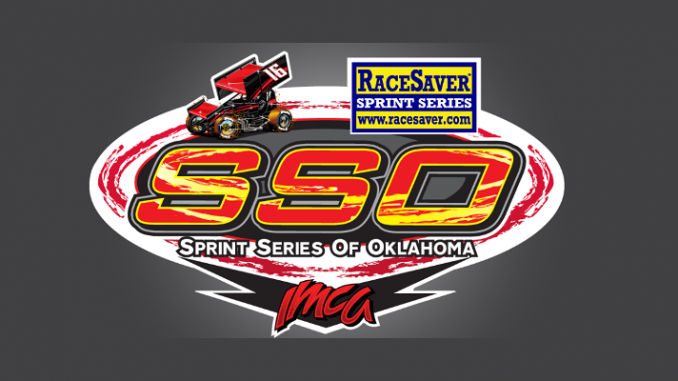 By David Smith Jr.
Meeker, Oklahoma – May 5, 2017 – Defending series champion Andy Shouse passed race long leader Zach Blurton on the last lap to claim his first victory of the season Friday night as the Sprint Series of Oklahoma IMCA RaceSaver Sprint Car Series presented by Smiley's Racing Products made their first of two appearances of the season at Red Dirt Raceway in Meeker, Oklahoma.
Shouse and Jake Martens started on the front row for the twenty-five-lap feature with Martens taking the lead as the green flag fell. Joe Wood, Jr., Blurton, Shayla Waddell and Shouse were the top five after the first lap with Martens utilizing the bottom of the reworked quarter mile oval and Wood choosing the top side.
Martens kept a three-car-length lead for the first half of the race while Wood had to contend with fifth starting Blurton in a battle for the runner-up position.
The leader reached the back of the field on lap seven and as he began putting cars a lap down, Blurton snuck underneath Wood for the runner-up position and began to set his sights on Martens.
The first of two caution flags fell on lap nine when Triston Oakes spun in turn two.
While sitting in third position during the caution, Wood would retire pit side after bicycling earlier and losing a header.
On the attempted restart Waddell, who was running fifth, spun in turns three and four to bring out the night's final caution flag.
The final restart saw Martens jump into the lead and still working the bottom of the track while Blurton kept his momentum up top and on lap thirteen, drove around the leader exiting turn two to take the lead.
Blurton would reach the slower cars with ten laps to go while behind him, Shouse got past Martens to take over the
runner-up position. Blurtons lead was five car lengths with just three laps remaining and that would soon change as slower cars would come into play
Entering turns one and two on the final lap and with two cars battling for position in front of the leader, Blurton hesitated briefly to find and opening allowing Shouse to sneak pass exiting turn two to take the lead. Shouse worked low coming out of turn four and Blurton up high coming out of turn four with Shouse holding on to take the one-car-length victory.
Martens settled for third while eighth starting Blake Daccus and seventh starting Brandon Long rounded out the top five.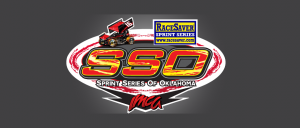 The three, eight lap heat races for the twenty-seven-car field were won by Long, Shouse, Todd Schwartz and Martens.
Wichita Falls, Texas driver Chad Koch, who came into the night fourth in the point standings, broke a throttle linkage in his heat race causing him to run the ten lap "B" Feature. Koch would be rewarded the victory after Dillon Laden was penalized for a rules infraction. Koch would start the feature finale seventeenth and come home with a seventh-place feature finish.
Next up for the Sprint Series of Oklahoma IMCA RaceSaver Sprint Car Series presented by Smiley's Racing Products will be this coming Saturday night, May 13, at Elk City Speedway in Elk City, Oklahoma.
Sprint Series of Oklahoma
Red Dirt Raceway/Meeker, Oklahoma
May 5, 2017
27 Cars
1st Heat: 1) Brandon Long, 2) Blake Daccus, 3) Shayla Waddell, 4) Nick Bates, 5) Eric Matthews, 6) Darrell McQuire, 7) Chad Koch
2nd Heat: 1) Andy Shouse, 2) Zach Blurton, 3) Cody Whitworth, 4) Brandon Anderson, 5) Dillon Laden, 6) Jerry Jumper, 7) Blake Scott
3rd Heat: 1) Todd Schwartz, 2) Joe Wood, Jr., 3) Stan Constant, 4) Justin Mowery, 5) James Fabian, 6) Chase Smith, DNS) Mike Scott
4th Heat: 1) Jake Martens, 2) Justin Fisk, 3) Sheldon Barksdale, 4) Loyd Clevenger, 5) Tristian Oakes, 6) Michael Gossman
B Feature: 1) Chad Koch, 2) Tristian Oakes, 3) Michael Gossman, 4) Jerry Jumper, 5) Blake Scott, 6) Darrell McQuire, 7) Chase Smith, 8) Nick Bates, 9) James Fabian, 10) Dillon Laden, DNS: Mike Scott
A Feature: 1) Andy Shouse, 2) Zach Blurton, 3) Jake Martens, 4) Blake Daccus, 5) Brandon Long, 6) Todd Schwartz, 7) Chad Koch, 8) Cody Whitworth, 9) Sheldon Barksdale, 10) Brandon Anderson, 11) Justin Fisk, 12) Tristian Oakes, 13) Justin Mowery, 14) Loyd Clevenger, 15) Shayla Waddell, 16) Eric Mathews, 17) Michael Gossman, 18) Jerry Jumper, 19) Stan Constant, 20) Joe Wood, Jr.
Lap Leaders: Martens 1-12; Blurton 13-24; Shouse 25
Long, Shouse, Schwartz and Martens picked up contingencies from Saldana Racing Products, Pryotech Fuel Cells, Keizer Wheels and CSI.