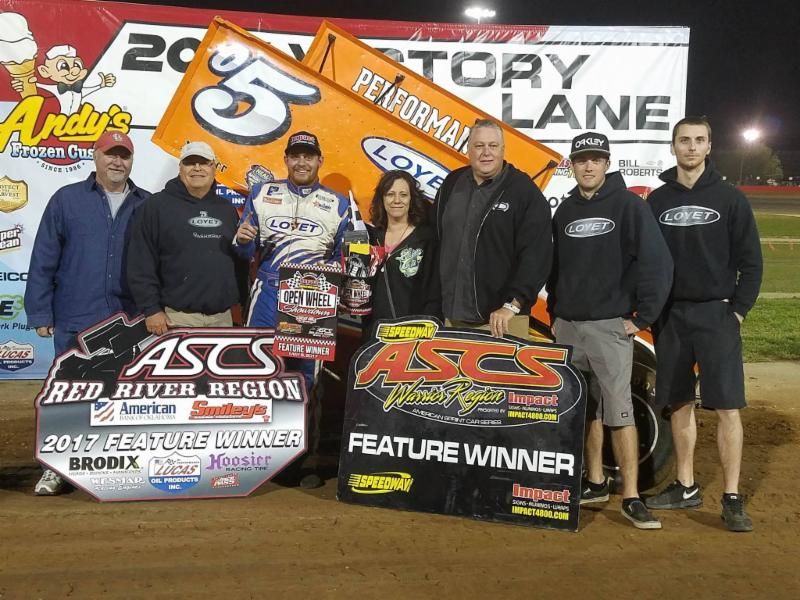 By Bill W
May 9, 2017 – Brad Loyet picked up his second win of the season in dramatic fashion Saturday night at the Lucas Oil Speedway near Wheatland, Missouri. The Sunset Hills, Missouri driver used a last lap pass to capture the ASCS-Warrior region victory. Mechanical issues after hot laps Friday night with the World of Outlaws at Missouri State Fair Speedway in Sedalia slowed the Vacuworx Global #o5 team's start to the weekend.
The draw on Saturday in Wheatland went as bad as it could. "I drew 72 out of 72 (good for an eighth place starting spot in the heat)," says Brad. "We were able to move up to third in the heat. Actually on the initial start, I was able to get up to second, but there was a caution and they called it back. We have a good base setup there, and we had a really good car. The thing that helped us in the heat, was that the track had really gone away. There were over fifty midgets and a bunch of non-wing cars. We basically had a feature setup for the heat. That caught some people off guard."
Brad redrew a six, putting him outside row three for the feature. "They reworked the track a little bit," he says. "It was about perfect. I think I only cut one lap on the bottom though. The rest of the time, we were up top making that work. It was definitely a heck of a race. We got to second pretty quickly."
He set his sights on leader, Jonathan Cornell. "We were all over Cornell and it seemed any time we got a run at him, there was a lap car there," says Brad. "Then it took a couple laps to get regrouped. The biggest problem, was we caught a lapped car and Cornell at the same time. The lapped car threw a parachute out the back and started pulling off the racetrack in front of me. If I would have made any sort of contact with him, it would have been a big one. But somehow, we missed him. We fell back to third at that point with five laps to go."
That's when things got exciting for Brad and for the fans. "We worked our way back up and threw a couple sliders on Jonathan, and he turned back underneath me both times," he says. "I honestly thought we had lost our chance. We had a heck of a run through one and two on the final lap, and got right up to him. He dove through the middle of the track to block a slider. We went through that car length that he left me on the bottom and got to the cushion as quick as we could. We beat him to the finish line."
It was good for the former Jesse Hockett/Daniel McMillin Memorial winner to get back to Victory Lane at Lucas Oil Speedway. "It's always fun when you win one on the last lap," says Brad. "It's not so fun when you are on the other side of that I can tell you. It was great to get another win there."
Friday night's trip to Sedalia with the WoO started slow. "In hot laps, we busted a hole in the radiator," says Brad. "We had to turn around and get that swapped out, and get it filled back up. By that time, we were pushing out for qualifying, and I didn't get to watch anything. We were obviously well off where we needed to be."
Timing in 29th quick, it was an uphill climb on a track not conducive to passing. "They watered the track before the heats, and I was thinking there goes any chance of us coming from the back," says Brad. "It was pretty much follow the leader. The car was really good in the heat and B. Starting in the back is tough with a field like that. We got by a couple of cars, but we just didn't have the speed we needed early in the night."
Brad's Website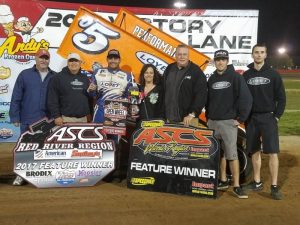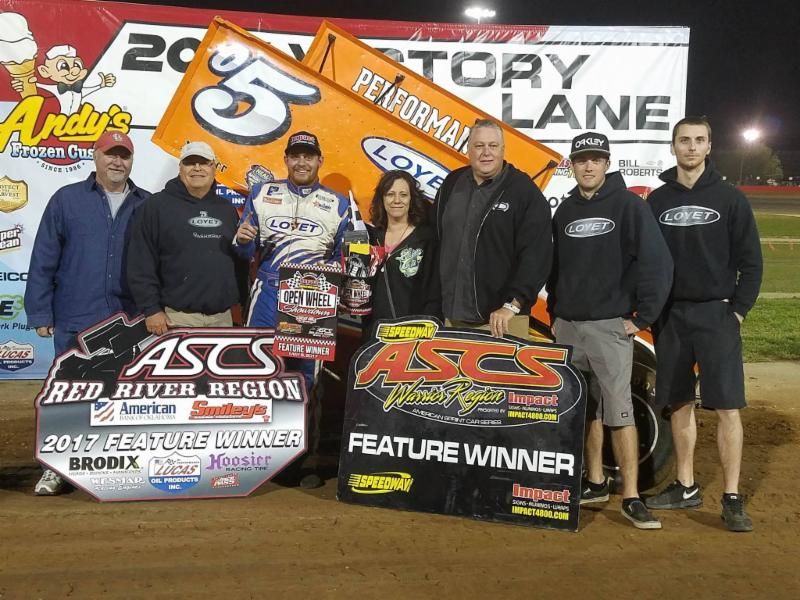 Visit Brad on the web at www.LoyetMotorsports.com!
Brad's Weekly Releases
If you'd like to be added to Brad's e-mail list for weekly releases, e-mail sprntcar@hotmail.com with "Loyet" in the Subject Line.
Brad and the Loyet Motorsports team would like to thank primary sponsors: Vacuworx Global and Loyet Landscape Maintenance. Associate sponsors: Maxim Race Cars, J and D Performance Racing Engines, Butlerbuilt Professional Seat Systems, Meramec Heights Collision Center, KSE Racing, Weld Wheels, Penske Shocks, Wilwood Disc Brakes, Hepfner Racing Products, DMI, Saldana Racing Products, Rod End Supply, Bell Helmets, TI 64, Conroy Control, The Engine Heater, Ealey Transportation, and Speedway Motors.