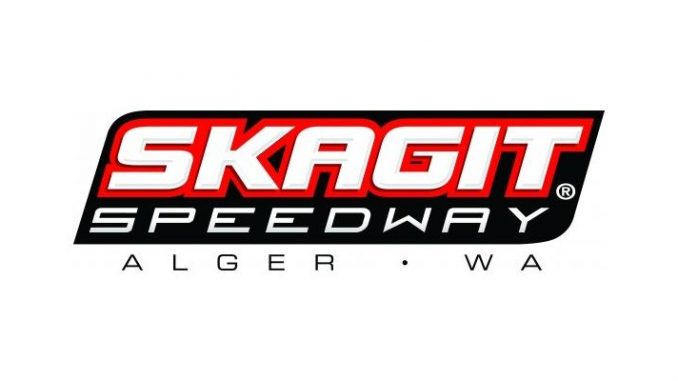 From Kaleb Hart
ALGER, Wa. (May 13, 2017) — The first appearance of The Washington Modified Tour at Skagit Speedway in 2017 paid big dividends for Kevin Smith, who came out on top of an exciting main event for his first win of the year. Devin Barnes joined him in victory lane after leading every lap of the Cook Road Shell Sportsman Sprints main event. Clint Meins went wire to wire for the Outlaw Hornet win.
The early laps of the Washington Modified Tour feature were hard to keep track of, with the lead changing hands nearly every corner. Rick Smith and Adam Holtrop dueled early with Holtrop leading laps 1 and 2 before Smith got the lead for laps 3 and 4. Holtrop got back by Rick, as did his brother Kevin in laps 5 and 6. On lap 7, Kevin got past Holtrop, but Holtrop looked to be driving back past Smith before a caution flag came out. With the lead and open track in front of him, Smith stretched his advantage all the way into the win, his first of the year. Kyler Moore was second with Austin Kerrigan coming on strong late for third. Heat winners were Kerrigan, K Smith and Scott Miller.
Devin Barnes succeeded in grabbing the Cook Road Shell Sportsman Sprint Main Event win, despite heavy lapped traffic trying to throw him off in the late stages. Barnes led every lap relatively comfortably until about lap 20, when slower cars in front of him made Barnes slow his pace to find the most effective way to clear them. Second place finisher Steve Parker and third place Kelsey Carpenter took the opportunity to close up on Barnes, but a back straightaway pass of two of the slower cars on lap 23 gave Devin the space he needed to take the win. Parker was the fast qualifier. Eric Turner, Bill Rude and Clayton Sibley won heat races.
For the second time on the year, Clint Meins was the top dog in the Outlaw Tuner class, leading all 17 laps of the main event. Kevin Reuter and DJ Beaver waged and entertaining battle for second, with Reuter just nipping Beaver on the last lap by mere hundredths of a second. Meins won the first heat with Vance Hibbard winning heat number two.
Cook Road Shell Sportsman Sprints
Fast Time – Steve Parker 12.388
Heat 1 – Eric Turner, Steve Parker, Devin Barnes, Cale Brooke, Dustin Johnson, (DQ) Bert Johnson
Heat 2 – Bill Rude, Kelsey Carpenter, Michael Millard, Brett McGhie, James Bundy, Julian Fuentes
Heat 3 – Clayton Sibley, Paul Burdick, Chris Ochs, Adam Hinds, Derek Roberts, Ashleigh Johnson
Main – Devin Barnes, Carpenter, Parker, Millard, McGhie, Burdick, Turner, Roberts, Bundy, Brooke, Bailey Sucich, A Johnson, D Johnson, Fuentes, Ochs, Hinds, Rude, Sibley, (DQ)B Johnson
Lap Leaders – Barnes 1-25
Washington Modified Tour
Heat 1 – Austin Kerrigan, Kyler Moore, Louis Nutter Sr, Mel Decker, Tom Warner, Brandon Berg
Heat 2 – Scott Miller, Adam Holtrop, MIke Knox Jr, Tyson Blood, Dan Butenschoen, Bill Tomer, Becky Boudreau
Heat 3 – Kevin Smith, Rick Smith, Craig Moore, James Wolford, Jeff Blanton, Tyler Ketchum
Main – Kevin Smith, K Moore, Kerrigan, C Moore, Miller, Decker, Knox Jr, Wolford, Blood, Warner, Butenschoen, Berg, Boudreau, Holtrop, Blanton, Ketchum, Nutter Sr, R Smith, Tomer
Lap Leaders – Holtrop 1-2 R Smith 3-4 Holtrop 5-6 K Smith 7-25
Outlaw Tuners
Heat 1 – Clint Meins, TJ Campbell, DJ Beaver, Jack Desrosier, Kevin Reuter, Curtis Cameron, Howard Vos
Heat 2 – Vance Hibbard, Jon Gunderson, Brian Michelson, Dylan Acidera, Matt Ploeg
Main – Clint Meins, Reuter, Beaver, Campbell, Michelson, Desrosier, Cameron, Acidera, Hibbard, Vos
Lap Leaders – Meins 1-17